This Top-Rated Vacuum for Pet Hair Is on Sale During Amazon's Holiday Dash
Get 35 percent off one of the best Shark vacuums on the block, and whip your house into tip-top shape before the holidays.
Keep in mind: Price and stock could change after publish date, and we may make money from these links.
I'll be the first to admit that I hate vacuuming. Lugging my bulky vacuum around the house, trying unsuccessfully to maneuver it around the furniture, listening to the ancient machine wheeze and groan as I sweep through the living room — it's all just as unpleasant as it sounds. It never occurred to me that the real problem might be the vacuum and not the task itself until I discovered the Shark Navigator Lift-Away Deluxe during Amazon's latest savings event, the Holiday Dash.
Now through November 27, Amazon is offering Black Friday-worthy deals daily, so you can score steep discounts on gifts and goods ahead of the usual holiday hustle. On top of that, most items shipped now through December 31 can be returned until January 31, 2021, giving you and your loved ones plenty of time to make exchanges if needed. The selection is truly epic, and I'm already putting the Shark Navigator at the top of my list.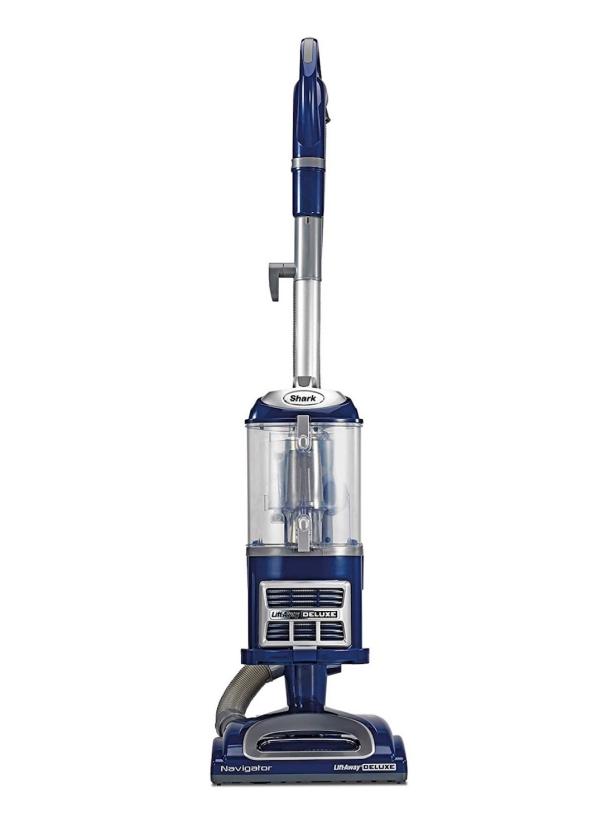 Vacuuming definitely won't feel like a chore with this clever unit. Though it looks like a traditional upright vacuum, the Shark Navigator Lift-Away Deluxe boasts a dynamic design complete with smooth swivel steering, so you can finally sweep under and between the furniture. And as if that's not enough, the base actually converts into a lift-away pod at the touch of a button, so you can target those high-traffic and hard-to-reach areas like the stairs, baseboards and even the ceiling.
Buy It
Did I mention that the Shark Navigator has anti-allergen seal technology, too? A special, built-in HEPA filter traps 99.9 percent of dust and debris, so you can rest easy knowing that your space really is as clean as it seems. It's a huge hit with pet parents for this reason.
With 9,335 reviews and a 4.5-star rating, it's clear that I'm not the only one who thinks this vacuum is amazing. Here are just a few of the wonderful things that people are saying about it.
"One of the reviews I read had this vacuum beating a $500 model. I now believe it. My wife and I have both noticed that our carpet is now softer feeling. The swivel 'steering' makes for easy control. The sound is so much quieter than our old one that our dog now walks away instead of running into the next room!" — David H.
"It's perfect. Hair? Dealt with. Fluff? Managed. Spills? Handled. Fine particulates? Banished. [...] This minimalist, modular, low-profile, light, sensible machine is unusually quiet, it does what it's supposed to do, never breaks down, is easy to maintain, and is essentially the vacuum we've all been waiting for." — Ingrid H.
"I have cleaned houses for a living and used many different vacuum cleaners. Shark is by far my favorite. I even prefer them to Dyson — not to mention how much better their price. This is my third Shark Navigator, and it is so far living up to my expectations. I bought it for my 82-year-old father because it's so lightweight and easy to move around, even up and down the stairs. It's easy to empty and clean, and so simple and quick to use the hose and attachments. You just can't beat this vacuum." — Christi M.
Shop Great Products for Pet Parents