Achieve Luxury Hotel Comfort at Home With a Top-Rated Featherbed Mattress Topper
Want the cozy bedtime experience of sleeping on a cloud? Feel like you are staying at a fancy hotel and upgrade the comfort level of your mattress with a plush, downy featherbed mattress cover. Read on for our top picks.
Keep in mind: Price and stock could change after publish date, and we may make money from these links.
Want to instantly up the comfort factor of a not-great mattress or just give yourself the cozy, plush feeling of staying in a great hotel?
Your answer: a featherbed mattress topper.
Filled with goose feathers and down, featherbeds have been around for hundreds of years and provide an extra layer of comfort when placed on top of traditional mattresses. Unlike a pillowtop mattress, featherbed mattress toppers have an advantage in that they can be professionally cleaned.
The Merrion Hotel
The beds at Dublin's Merrion Hotel are my top pick for some of the most comfortable I've experienced. Hack the feeling of a plush luxury hotel bed at home with a featherbed mattress topper.
Experienced featherbed users say the key to getting the most out of your featherbed is a nightly — or at least regular — fluff of the topper as the feathers become compacted each night you sleep on them. I'm not sure how many of us have the kind of dedication required to unmake and then fluff our mattress topper each night but that regular fluffing undoubtedly accounts for why hotel featherbed toppers are so very comfy: they get a nightly shake out and re-fluff.
Editor's note: all featherbed prices listed are for Queen featherbeds.
The priciest, but also the best of the featherbed mattress toppers we tried was the 3-inch thick mattress topper from Pottery Barn which stayed plush and fluffy even without regular fluffing. With its 230 thread count cotton exterior, this was the coziest and most indulgent of the lot.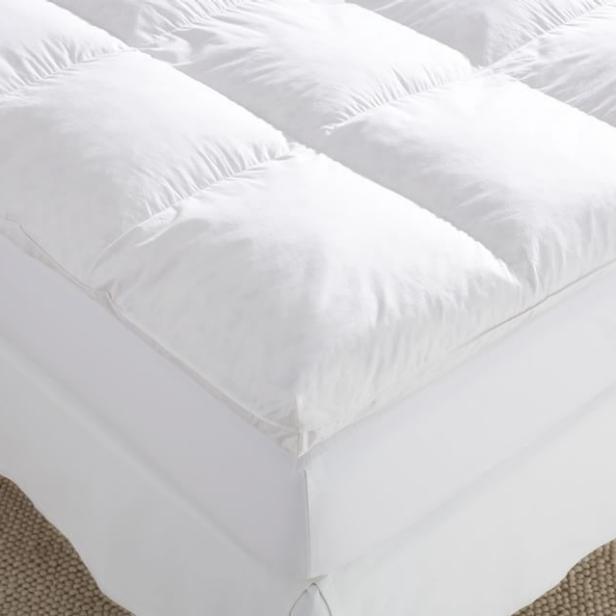 Free Shipping With Code COZY
Designed with baffle-box stitching to limit shifting, this Pottery Barn featherbed was the most comfortable and plush featherbed mattress topper of the three we tried. With some luxury featherbeds pushing up into the $350 plus range, this Pottery Barn topper is plenty cozy and luxurious for a reasonable price.
Buy It
A very close second and extra points for the cotton cover that came with it, was the plush 5-inch Overstock featherbed which offers a lower price point and comfort that felt nearly close to that of the Pottery Barn featherbed. With its 230 thread count cotton cover, the Overstock topper featured a decadent, voluminous feel.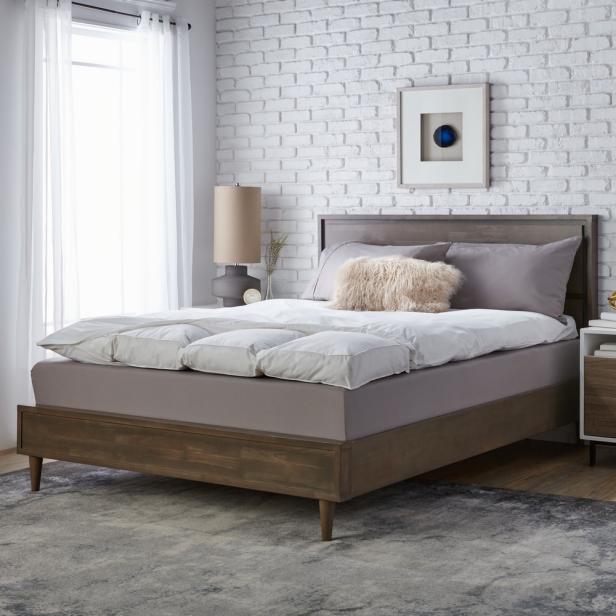 This cozy featherbed has a cover to keep feather leakage at bay and, at 5-inches thick, delivers enough fluffiness to transform a too-firm mattress with a little bit of luxury. With its washable cover and competitive price point, this is a glorious way to transform an ordinary bed experience into a sumptuous retreat. A great pick.
Buy It
How to choose sheets that are soft, comfortable and long-lasting. Plus, comparing microfiber vs. cotton sheets.
Less lofty and cloud-like but the most budget-friendly choice was the Wamsutta featherbed from Bed, Bath and Beyond which would be my choice to give a little softness (but not too much) to a too-firm mattress without a great deal of fluff. This would be a good option for someone with back issues who wants a less cushy experience and a more stable featherbed.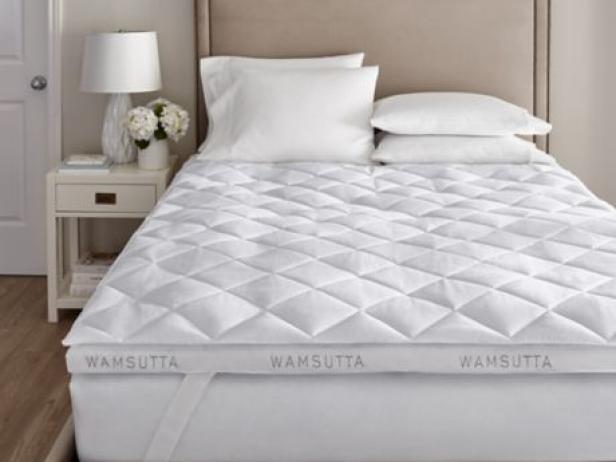 This Wamsutta Double Support Technology Featherbed features a snap-off protective pad you can wash, to keep this featherbed fresh. While this featherbed lacks significant fluffy volume it would be a good choice to give a little more padding to a substandard mattress for a sleeper with back issues who likes a more stable, less downy sleep experience.
Buy It
Tip: A featherbed hack I discovered is instead of pulling the entire fitted sheet over the featherbed and mattress, which significantly compacts the featherbed, just put the fitted sheet on the featherbed, or lay a flat sheet on top of the featherbed. This will allow the featherbed to maintain some loft and also makes it easier to fluff up your featherbed on a daily basis. Even if you can't manage it daily, feather beds should be regularly taken off the bed, shaken, fluffed and rotated to keep them extra downy.