Specialty Features for Kitchens
Put some wow in your remodel with luxuries like wine fridges and recycling centers
Your kitchen project, no matter the scale, will take time, money and energy. You are investing in the most marketable area of your home, and the most important. After all, life happens in the kitchen. It is where we gather, where we cook, eat and play. So as you choose storage, surfaces, appliances and lighting, why not select a special feature (or several) that excites you?
Love to settle down in the evening with a glass of wine? Check out wine coolers and beverage center options. Wish the dog food bag wasn't stuffed in the cabinet with the rest of the "people food" in the house? Consider a pet center.
The options for kitchen designs are such that if you can dream it, you can do it. Meanwhile, as technology advances, our appliances get smarter. How would you like to "talk" to your oven while you're driving home from work, tell it to preheat and get dinner going? It's possible.
Check out our gallery below to see some specialty features you might include in your kitchen.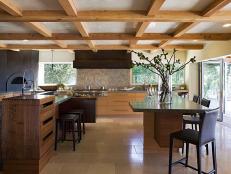 Learn to make a spending plan so your renovation won't be a wallet buster