Kitchen Appliance Buying Guide
Before shopping for a refrigerator or range, have a design plan and budget for your remodel
Renovating your kitchen isn't as simple as going out and buying a new fridge or stove. It's a major undertaking that requires significant planning before you even step into the appliance section of your home improvement store.
Once you have a solid design plan, check out the articles below for tips on choosing your kitchen appliances: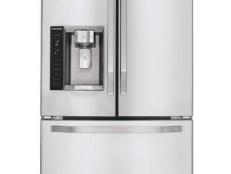 Consider space, features and budget when shopping for a fridge for your kitchen renovation.