Boutique-Inspired Bedroom Retreat
Traveling publicist Meghann Gibbons brings her love for boutique hotels to a master bedroom makeover that's bold and trendy.
Meghann Gibbons is an Atlanta-based publicist who is just as passionate about her job as she is her love of travel. Specializing in the travel and tourism industry, the easygoing, bubbly brunette sometimes travels as much as two weeks of every month. "My job can have me away from home for a week at a time," she says. "I manage productions ranging from local or national morning shows to feature films or helping launch new company initiatives, so I often get to the office before the sun rises and stay until after it sets."
While out of town for work or pleasure, Meghann loves to stay at fun, trendy boutique hotels whenever possible. Unfortunately, for the first five years living in her 1,050-square-foot loft, she came home from long days on the job to a drab master bedroom that looked more like a college rental than the home of a jet-setting PR pro.
As far as what wasn't working with the space in its existing condition, Meghann says, "The high ceilings made changing the vertical wall space overwhelming. I felt stuck with blue knockdown-textured walls and furniture that was bought when I first graduated from college. My personal style has evolved and changed quite a bit, and my bedroom wasn't representative of my new taste."
When putting together her to-do list, Meghann decided on a boutique hotel-inspired space with elements of Hollywood glamour and packed with custom pieces. She tied it all together by layering patterns and textures with a unique color scheme of black, white, magenta, plum and hot pink. To create her dream bedroom, Meghann set a budget of $10,000 and a timeline of four weeks.
First on the list was updating the area underfoot. Meghann was eager to get rid of the existing linoleum. "When I came home from being out of town, I wanted a warm and inviting bedroom to throw off my shoes, and have something soft under my feet," she says. "The blonde linoleum felt cold, harsh and cheap. Carpet was the way to go."
In order to tackle this, Meghann had her contractor remove the existing traditional-style baseboards and shoe molding, pull up the linoleum, and then install basic padding and commercial-grade nylon carpet in a dark charcoal tone. In explaining why she opted for commercial-grade, Meghann says, "A lot of the hotels I love have carpet in their rooms that's meant to withstand a ton of foot traffic and wear and tear. It's the chic, lush carpet, not the tacky wall-to-wall stuff you think of from the 1980s. I have a King Charles cavalier spaniel, Finnegan, whose dirty paws are always a factor, so durability is really important. I opted for commercial-grade loop which looks really nice and can take a beating."
With the flooring portion of her project complete, Meghann turned her focus to the rest of the room, including:
Re-facing her knockdown-textured drywall
Adding wall covering
Brightening the space with a skylight
Building a custom bed from scratch
Creating a space plan that would allow the room to be used for lounging as well as sleeping
Photographer: Christina Wedge
Instead of choosing wall covering made from paper, Meghann opted for vinyl wall covering, an extremely durable and easy-to-clean alternative that is often used in hotels, restaurants and nightclubs.
Of all these elements, the publicist recalled that the wall covering was the most challenging. "I'd never dealt with wall covering before and when I told my friends and family that I was thinking about adding it, all they kept saying was how difficult it was to work with and how horrible it was for resale," she says. "Because I knew I wasn't moving anytime soon, I decided to go for it, so that the space could feel like me. I called a paperhanger to get an estimate without any clue of how much it would cost or what it would entail." After an hour of scouting her loft, the paperhanger informed Meghann that her walls needed to be perfectly smooth before wall covering could be hung. This involved adding a skim coat to her knockdown-textured walls, then priming the entire room. Altogether this process cost $1,500 and took two full days.
While the skim-coat process was rather quick, the sanding process seemed neverending. "Sanding was the worst part," Meghann says. "It's messy and also takes its toll on your lungs. I think I was still coughing for two days after the dust was finally all vacuumed up." With the walls smooth, it was time to put the wall covering up. In order to install it properly, Meghann's paperhanger spent an entire day priming the walls and allowing them to cure.
"First he had to lay the paper out on a special table, measure and match every strip in the entire room, cut it, lay it out and then add paste to the back," Meghann says. "As if that's not enough, the paste has to sit for five minutes before it can be hung. It's a tedious process, and I will always pay someone to do it for me." Meghann also learned that the new available primers allow wall covering to come off easily. Gone are the days of ripped drywall that caused patching repairs and added expense. The primer protects the drywall so that when it is time for the paper to come down, it won't damage the surface.
Photographer: Christina Wedge
Meghann chose contract-grade vinyl that looks and feels like ostrich and is treated with a glaze to give it a pearlescent sheen.
With the flooring and walls complete, Meghann made a list of boutique hotels that had the type of furniture she loved most, then used those hotels as inspiration for creating custom pieces. "I love the custom beds of the W Hotels, because they're always sleek, tailored and modern," she says. "I thought mostly of the rooms at the Kimpton Hotel properties when I was putting together the look and feel of my master bedroom."
To create a custom platform bed, she had her designer friend create a sketch, then dropped it off with a local upholsterer, who completed the bed in two weeks for $2,000. In order to choose the proper upholstery material, she accompanied her friend to a trade-only fabric showroom specializing in fabrics for the hospitality industry. There she came across a pearlescent faux ostrich vinyl that was tactile and easy to clean. Altogether the material came to $160.
Photographer: Christina Wedge
To keep her budget in check while creating a lounging space, Meghann took an armless sofa once used in her living room and re-covered it in an indoor/outdoor velveteen.
Meghann decided to squeeze in some lounge space by relocating an armless sofa from her living room into an under-used space along the bedroom's half wall. Meghann had the sofa re-covered in a dog-friendly, indoor/outdoor velveteen that fit her bedroom's color scheme and could stand up to Finnegan's notoriously dirty paws. The newly reupholstered piece fits snugly under the opening that looks out onto the loft's great room.
Just as the bedroom renovation project neared completion, Meghann's entire loft complex underwent a roof replacement. Fortunately for Meghann, the roof construction revealed a skylight over her loft that had been covered up. She seized the opportunity to fill the previously dark bedroom with ample natural light. By having a portion of the ceiling reworked to utilize the skylight, Meghann filled the entire room with sunlight lasting from early in the morning until around 6 p.m. "I love the amount of light my bedroom gets. It's a huge help in the winter months when Atlanta gets cold; it helps keep it a little warmer," Meghann says. "Overall, my favorite thing about it is how Finnegan curls up on the newly recovered armless sofa to bask in the warmth of the sunlight."
When asked if there was anything she'd have done differently, Meghann notes, "I really love everything about my new bedroom, but I wish I would have splurged for extra-cushy padding below the carpet. It's much softer than the old linoleum, but I opted for basic padding, which was a cost-saver." With her master bedroom complete, Meghann is now getting 4-star, boutique-hotel quality sleep in her own home.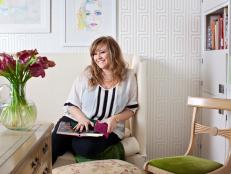 Michelle Workman re-invented her Lafayette, Calif., home's game room as a chic design studio with a budget of $4,000 and a timeline of three weeks.