6 Tips for Storing Laundry Supplies
The laundry room is an essential part of the home, but keeping it organized can be a tough job. Learn how to store laundry supplies to keep your space fresh as clean clothes.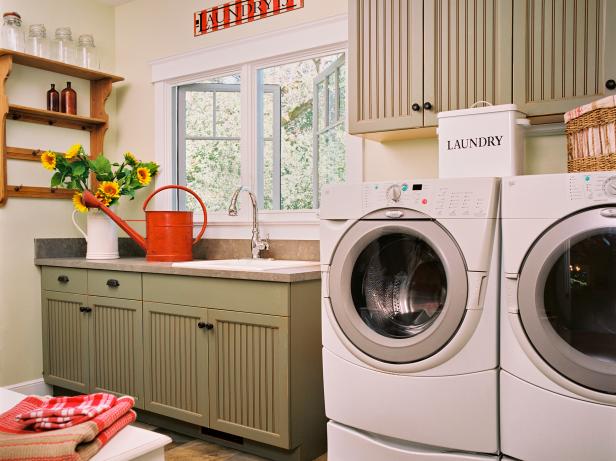 Charming Country Style Laundry Room
Accented with green cabinets and sun lit windows, this laundry room is bursting with country-style flare.
Make use of the space between your washer and dryer. Got a few inches between the two machines? Slip in a slender pullout shelf on casters. It's perfect for stain sticks, fabric softener and other small necessities.
Install a simple shelf. Many laundry rooms have bare wall space above the appliances. Even if there's a bank of overhead cabinetry, you typically have room to add a single utility shelf with enough room for odds and ends — such as a dish to collect all the loose change you find in your family's pockets.
Invest in a mobile drawer cart. In older homes, the laundry area is often in the garage, basement or another out-of-the-way spot. A drawer cart can keep all your supplies close at hand. Choose a style with sturdy bins that can support heavy detergent bottles, bleach and more.
Use a clean trash can for detergent. If you buy detergent powder in bulk, pour it into a large garbage can with a lid to avoid grappling with awkward, half-used boxes. An old-fashioned metal style adds a bit of whimsy, but a standard plastic version works too.
Store supplies in pretty containers. Want to make your laundry room extra-inviting? Transfer detergent powder, dryer sheets and more from their utilitarian packaging into glass canisters or apothecary jars.
Stash stain fighters throughout the house. Spills can happen anywhere. Keep a few stain sticks scattered around — perhaps one in the kitchen, one in each bathroom, and one in the playroom or den. That way, you won't have to run to the laundry room every time someone upsets a tumbler of juice or drops spaghetti sauce on a white shirt.