Maximum Home Value Bathroom Projects: Tub and Shower
Replace your plain white tub-and-shower unit with a more personalized look to add real value to your home. Steal these design tips.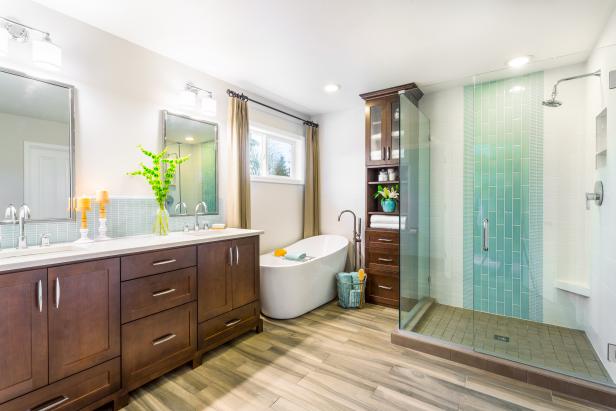 Spa-Like Master Bathroom Boasts Glass-Enclosed Shower
This master bathroom features a large double vanity and his and hers mirrors and lighting for a custom feel. Curtains soften the corner while creating privacy and framing the soaking tub. Two different accent tiles make a statement and add a pop of color against the large white tiles in the custom shower.
Today's bathtubs and showers are much more than functional; they can make a strong design statement. Whether you go with a freestanding tub, standalone shower or tub-and-shower combination, you have many options as far as style, color and tile.
Tub wraps. Rather than rip out the bathtub, many homeowners are opting to "wrap" their existing tub with a custom-fitted "liner" for an instant and affordable upgrade. Companies like Bath Fitters will take measurements and install the liner over your tub.
Less bubbles. Jetted whirlpool and Jacuzzi tubs were all the rage in past years, but some homeowners find them noisy or costly to maintain. Now the trend is soaking tubs or air tubs with small openings for bubbles, which offer less problems in the long term.
You don't need to completely overhaul your tub if it's in decent condition. There are some affordable options, so do your research, suggests Appraisal Institute president Leslie Sellers. "Some homeowners will rip out the tub and put in a new tub just because they want to change it," Sellers explains. "But that's a mistake and they'll pay for it later on."
On a Budget: Unless you're a DIY expert, it's probably best that you avoid ripping out the tub. If you don't know what you're doing, you could end up spending more on repairs. You may also want to avoid painting the tub with acrylic paint, because that usually doesn't work well. Instead, look into the wraparound tub liners that fit over your older tub to give it an instant makeover.
Mid-Range: When replacing an outdated shower, a new fiberglass tub-and-shower unit and new ceramic tile will add the most value.
High-End: In the master bathroom, you should have a tub (whirlpool or soaking, depending on your preference) and separate shower. If you desire, your shower can function as a steam room or tanning area. Other high-end features include a dry sauna, dual showerheads, built-in aromatherapy and even a fireplace.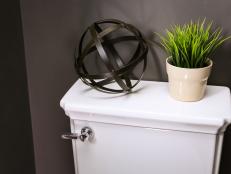 Sure, it's a toilet, but there are still ways to make it design savvy! Read on for ideas.