Bathroom Stainless Steel Sinks
Browse your options for bathroom stainless steel sinks, and prepare to add a sleek and contemporary feature to your bath space.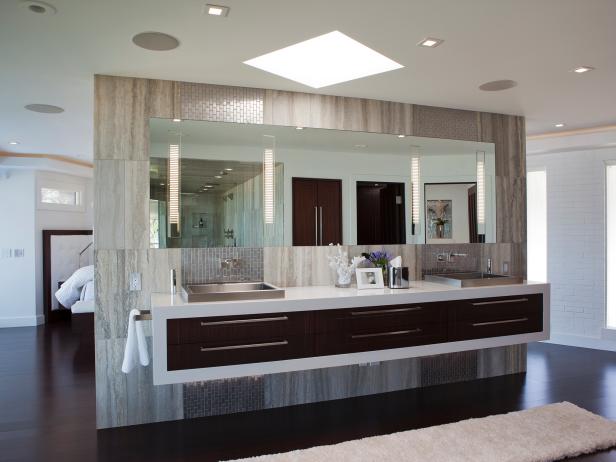 Contemporary Bathroom With Floating Vanity
In this master bathroom, a floating vanity enhances the space's open, airy feel. Contemporary fixtures like the stainless steel sinks and illuminated mirror create a sleek, clean look.
If you're looking to add some contemporary style to your bath space, you may want to consider bathroom stainless steel sinks. These sleek, durable sinks come in a variety of styles and price ranges, and they can add great visual interest to just about any bathroom design.
Stainless steel bathroom sinks come in several styles, from cutting-edge, modern approaches to more traditional offerings. If you're looking for a more strikingly modern style, consider a stainless steel vessel sink, which can sit on top of a vanity or console table. This is a popular style that works perfectly in a modern or contemporary bathroom, but it can also complement a more traditional style.
For a subtler look, consider a stainless steel bathroom sink that sits flush with a countertop. This style will still add some visual punch to a bathroom, but the low profile of the sink is more understated, and the flush design means it'll be extremely easy to clean.
If understatement and subtlety are the farthest things from your mind, consider a stainless steel pedestal sink. This gleaming icon makes a statement as bold as statuary and is sure to liven up any bath space.
Other Bathroom Sink Materials and Styles