Peter Rabbit-Inspired Nursery
Inspired by Peter Rabbit, this boy's nursery is full of elegant custom touches. Designer Stephanie Avila used teal in the curtains and rug to liven up the neutral palette, with a custom mural dressing up the wall behind the crib. The drapery over the crib adds a classic touch, as does the oversized antique mirror behind the settee.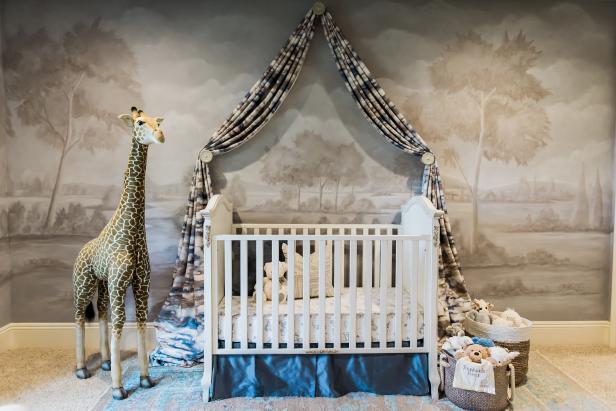 Stylish Nursery With Stuffed Animal Decor and Illustrated Wallpaper
This baby boy's nursery features a white crib with a teal bed skirt. Wall-to-wall illustrated gray and brown wallpaper acts as a backdrop, while a stuffed giraffe and baskets of other animals provide a fun touch.
What did your client want for the nursery?
During our initial consultation appointment, my client expressed that she loved the look of a nursery that I designed in the past for twin girls. With that project in mind, I knew right away that this wasn't going to be your typical boy's room and that this client really wanted a room that was layered with details and had a strong sense of sophistication. Achieving this look is very easy for a girl's room, but getting it right for a boy's room is a bit more of a challenge. Tailoring the look to ensure the results aren't feminine without eliminating the beauty is the actual beauty of this boy's room.
How did you go about creating the nursery?
My clients knew they were having a boy. My initial design challenge was that my client loved so many elements of my previous nurseries, which were designed for girls. She wanted a magical, whimsical space layered with pretty details, but she was having a boy. Every furnishing or accessory that I was considering, I had to pause and asked myself "could this be considered too feminine?" It was clear that my client didn't want a fire truck or Star Wars-themed room. We were going a completely different direction, which I was so excited about because my wheelhouse is high style, layered detail and sophistication.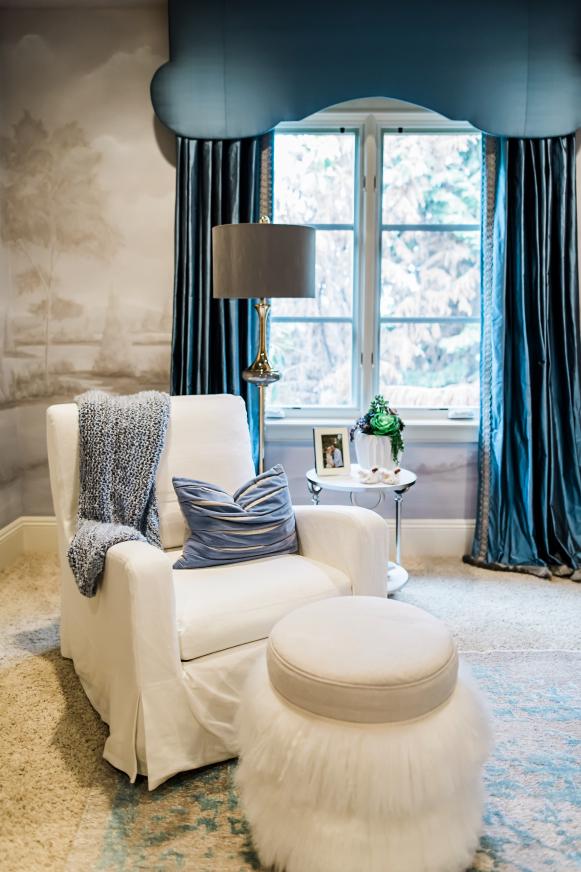 Stylish Nursery With Cozy Sitting Area and Teal Window Treatments
This baby boy's nursery features a white upholstered armchair and ottoman trimmed in faux fur, providing the perfect spot for cozying up with a little one. Teal window treatments add a pop of color, while a gray floor lamp is positioned next to the chair.
This room has several pieces that I would still use in a girl's room, including the crib, rocker, round marble side table and the settee. As for the Mongolian lamb ottoman, I couldn't complete this space without some sort of fur even if this was a boy's room. It's just part of my style to incorporate something like this. When I came across this ottoman it was a no-brainer for me. The crib draping is an element that I love incorporating into any project; however, I would definitely choose a different fabric and color palette for a girl. The customized drapery and valance is a style that I would use again for either a boy or girl. The gray and blue color palette is what sets this space apart for a boy, along with the tailored lines of the furnishings.
Was this room always meant to be a nursery?
This room was previously a guest bedroom. We removed the queen-sized bed, dresser and nightstands and took the flat-screen TV off the wall, which is where the floor-length mirror now hangs.
The wall treatment is a custom mural that was completed by my very talented artist and friend, Jan. He is my go-to for every mural that I dream up for a space. No one else will have this mural and the one-of-a-kind details that he hand-painted are perfection and really set the mood in this dreamy space. Another customized piece is the tree chandelier; it's never been made before and it was quite the undertaking. Inspired by a much larger piece in my client's winery, it's hand-carved and has integrated LED lighting and 144 crystals. It took countless hours to make and is a true work of art.
What was your biggest obstacle on this project?
Honestly, this project ran pretty smoothly for me. We did have to select new crib drapery fabric as the original striped fabric that my client wanted ended up being backordered with an arrival date well past our deadline. It amazes me that every time something like this happens, the new choice works perfectly in the end.
Aside from the crib drapery fabric, the biggest challenge, probably of my career, was the custom tree chandelier. This was something that my client requested right off the bat at our initial consultation meeting. I looked at her inspiration photo and said, "Absolutely! I have the best lighting guy and he can make anything." I truly jumped into this chandelier design like we were baking a birthday cake — easy peasy, right? Well, that wasn't the case at all. This chandelier took countless hours over a seven-month period. I found an expert lighting dream team in Hollywood that works on props and set construction for artists, shows and events including Lady Gaga, Rihanna, America's Got Talent and the Academy Awards. They jumped in and worked their magic. We installed and uninstalled this heavy, fragile piece and returned it back to L.A. three times for more fine-tuning. In the end, this dream team created a piece that is truly magical and my clients love every bit of it.
What inspired the nursery's design?
A key element that was being worked into the design from day one is the tree chandelier, so that was our starting point. I like to determine the wall treatment for a project early in the game as it can help define a space. Keeping the tree chandelier in mind and wanting an ethereal feel, I decided on an Italian-inspired landscape mural featuring gray tones with white highlights since it was for a boy's room. It also works as a soft backdrop to the other elements in the room.
Did a particular element tie the design together?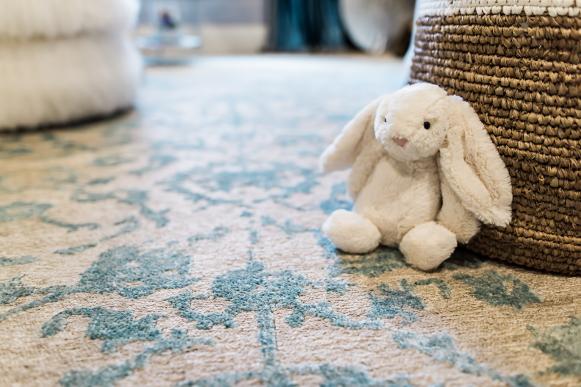 Baby Boy's Nursery With Blue Floral Rug and Sweet Stuffed Bunny
This contemporary boy's nursery features a white stuffed bunny sitting atop a blue and neutral floral rug, providing the perfect touch for the Peter Rabbit theme.
I didn't choose the area rug until after everything else had already been installed. I just couldn't find the perfect piece and I wasn't going to settle for something that wasn't exactly right. The room looked stunning, but it still lacked something to ground it and pull it all together. I kept my eye out and finally found this camel-and-aqua rug on a showroom floor and immediately had them roll it up and put it on a delivery truck. The day it arrived in the nursery, the room felt complete. It's a beautifully hand-knotted piece, with a pattern softened by intentional breaks so that it looks like a well-worn antique. This area rug is what gave the room the final luxe touch.
What are you proudest of?
This entire room makes me proud. I was able to achieve the dream nursery that my client wanted for her baby boy, and that's the ultimate goal.
My favorite feature is hard to narrow down as many items in this room are so unique. I love that this room came together from many different sources and only two of those sources are children-specific. Everything else came from places that I would shop for my own home and would use in a mature space. I wanted to offer my clients a different take on a children's space than the stereotypical kid's room. I envision spaces that have a high level of style, sophistication and functionality, while still being a fun place for kids to play, sleep and grow.
Where did you find the wallpaper? What about the antique mirror and Peter Rabbit shelf brackets?
The wall treatment is a custom mural designed by an artist that I've worked with for more than five years now. The details are quite impressive, and a lot of heart was put into it. I watched the mural come to life over a period of four full days, which is when the room began to transform into the magical space we imagined.
I love incorporating mirrors into a space and being that we were hanging shelves above the changing table/dresser, I felt that the next-best place would be behind the settee. I really wanted to reflect the beautiful mural from the crib wall, so an oversized mirror was on my radar as I searched for potential options. In any space, I feel that the larger the mirror the better — it's better to go with an oversized one for a dramatic effect. The antique gray finish of this neo-classic inspired piece works beautifully with the rest of the design, making you feel enveloped in the room. The artisan-crafted details are unique to each piece and this beauty can be re-hung anywhere else in the home and work seamlessly.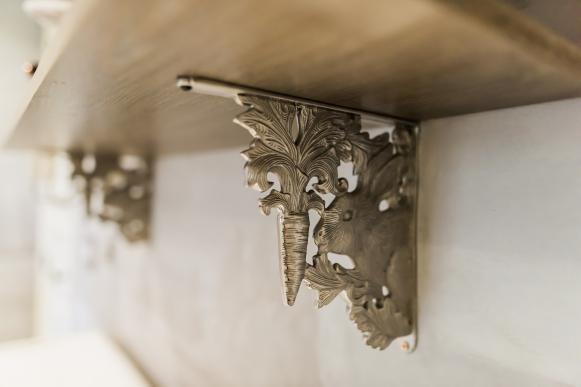 Baby Boy's Nursery With Metal Peter Rabbit Shelf Brackets
These metal Peter Rabbit shelf brackets add a fun touch to this baby boy's nursery.
I knew I needed something in the room to make you go gaga over the adorably cute baby details, and these bunny brackets were like striking gold. Hands in the air for Anthropologie finds! I had already found the vintage Peter Rabbit crib sheets while on a shopping excursion for another client, but when I saw them I immediately thought of this project and how perfect they would be with everything else we had going on. At that moment, this project became the Peter Rabbit nursery.
How is your style reflected in this project?
I envision spaces with high style and am naturally drawn to furnishings that are timeless and sophisticated. I love elegant elements and it's hard for me to stray away from this as I feel that it's important to remain consistent in my design style. I want to separate magnificent from mediocre and there's no reason why this shouldn't apply to children's rooms as well. My goals for Rockabye are exactly that.
Muted tones, oversized furnishings, artwork, crib draping: These are a few things that are consistent with a Rockabye project. I also love adding texture with faux-fur throws, beaded pillows, high-fashion drapery trimmings and runway-inspired fabrics. I'm not shopping for primary colors or designing overly juvenile-themed spaces. Although they have always held a solid place in this niche market, I find that they will run their course quickly and a re-design will be needed sooner rather than later.
What "hidden gems" are in your design?
The design for the custom valance and drapery came from an inspiration photo that I had torn out of a 2014 Elle Décor magazine. The valance was very similar, but had an ornate trim and additional details that I scaled back on due to this being designed for a boy's room. While the valance is beautiful, it is also very functional as it hides the blackout roller shade that can be used when the sun is at its brightest and when baby is ready for a much-needed nap or good night's sleep. Functionality is key in my designs and sleep is a requirement I don't take lightly.
Our custom tree chandelier is on a dimmer so at its lowest point it looks like tiny stars lighting up the room and is the perfect nightlight for this client's little bundle of joy to fall asleep to.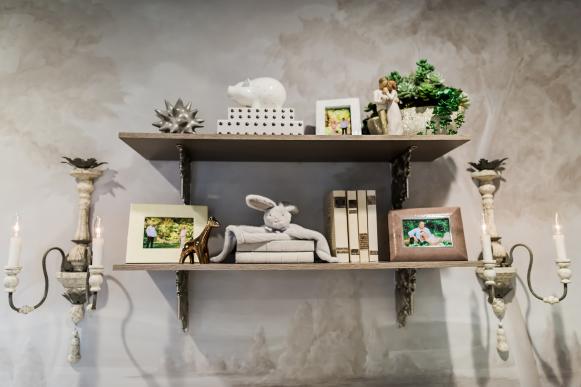 Baby Boy's Nursery With Decorative Wall Shelves and Vintage Candelabra Sconces
This baby boy's nursery features decorative wall shelves with framed photos and sweet animal sculptures. Vintage ivory candelabra sconces are positioned atop gray illustrated wallpaper.
I also framed several images from my client's maternity photoshoot and placed them on the shelves above the changing table and on the small round table next to the glider. These images are special to my client and hold beautiful memories of their new beginning.