Relaxing, Eclectic Sunroom
Delaware designer Shelley Rodner transforms a narrow screened porch into an inviting room with good lighting and furnishings.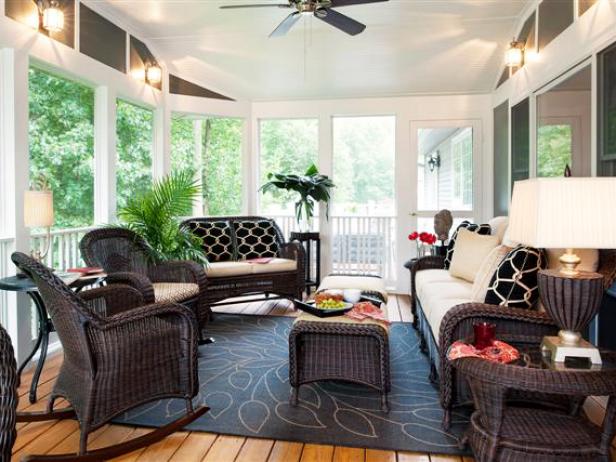 RS_Shelley-Rodner-Eclectic-Sunroom-2_s4x3
Photography by Hoachlander Davis Photography
Anice Hoachlander
Photography by Hoachlander Davis Photography
Designer Shelley Rodner works with a narrow footprint of a screened porch to create a functional and inviting outdoor living room. Inspired by surrounding nature, she chooses neutral, textural fabrics, as well as a modern botanical sisal rug.
Describe the homeowners' wishlist.
To create a functional, relaxing outdoor living space that had the feel and comfort of an indoor room.

What were the homeowners' design problems?
The overall narrow footprint and design of the screened porch made it a challenge to create a pleasing, functional floor plan.
What was your biggest obstacle in this space?
The clients requested this space to have multiple functions and perform double duty for having meals and a comfortable place to relax. By creating two separate cluster groups for dining and conversation, we successfully accomplished this.
How does the end result match up with your original vision?
I'm pleased to say that we didn't have any surprises along the way. The one area that needed some adjustment at the end was the need for additional non-hardwired lighting. The home sits on a wooded lot and their trees create a bit of shade. Several stylish table lamps suitable for the outdoors were added, which solved this concern.
What lessons did you learn?
No major surprises here. I'm currently working on another outdoor project and hope it will go as smoothly as this one did.
What are the "hidden gems"?
The homeowners wanted to incorporate a bit of nature into the fabrics selected. They were concerned about using a design such as a floral that might be so trendy they would quickly tire of it. Soft neutrals were selected for all the seating areas and a fabulous sisal rug with botanic design was added that gave them the look they desired. The rug provided just the right touch of the outdoors with its tree form leaf pattern. In addition, the homeowners could easily switch the rug at a minimal cost if they desired a different look.