Designer Alison Damonte turned this mountain hideaway into a modern retreat, complete with stylish bunk beds and pet friendly furniture.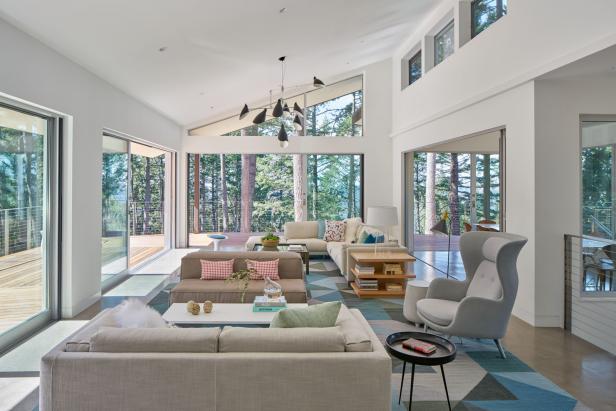 Modern Open Living Room With Blue Rug
So many windows and a ceiling that angles up make the interior of this contemporary cabin feel as spacious as the mountain setting around it. A huge rug with a geometric pattern unifies the large living area.
Bruce Damonte Photography
What were the main items on your client's wish list for this home?
This is a weekend home for our client and their two teenage daughters. In addition to their immediate family, they often host three other families at the house -- meaning it needed to accommodate up to 24 people and several dogs. The main driver in the interior design of this home quickly became "how do we make it feel comfortable for 4 or 24"? The answer was creating small, minimal bedrooms and making the larger communal spaces more intimate and inviting.

Along with having the home accommodate many people, the client wanted to spend time at the house relaxing with family and friends - not maintaining it. This translated into furniture and furnishings that were not delicate or fussy. While we selected high quality items that were well-built and intended to be used forever, we made sure that the fabrics on upholstered pieces were durable and often even outdoor fabric so that muddy paws from the dogs and wet swimsuits weren't an issue.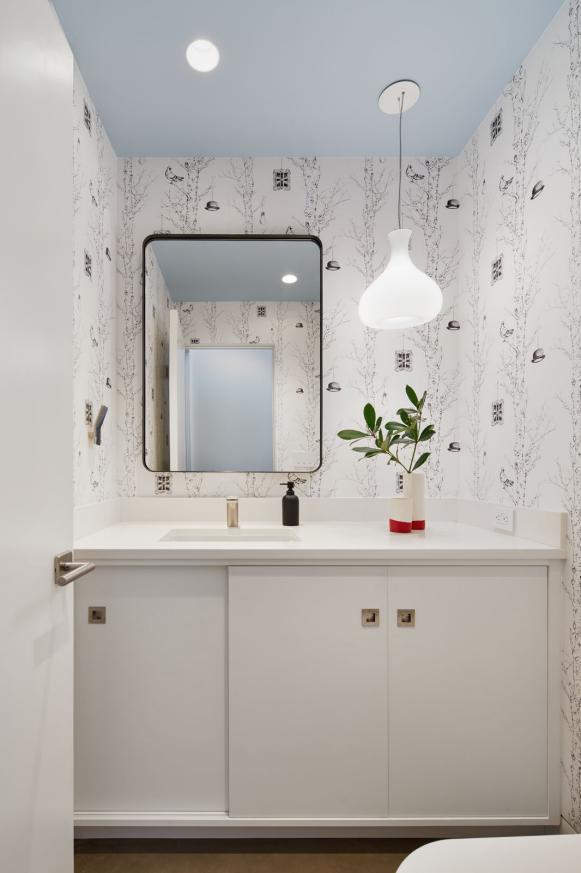 Powder Room With Black and White Wallpaper
A small space like a bathroom can be the perfect spot to try out a bold pattern. Here, whimsical wallpaper echoes the home's forest location.
Bruce Damonte Photography
The client also wanted to stay away from too much wood, both due to maintenance concerns and because the site of the house was surrounded by a dense forest. Because of this they didn't feel the need to also bring wood inside. If anything we referenced wood more than actually using it as a material: the wallpaper in the powder room is a simple drawing of a forest and in the office off the master bedroom we used a small acrylic side table that was etched with a woodgrain pattern.

What was your biggest obstacle in the design of the home?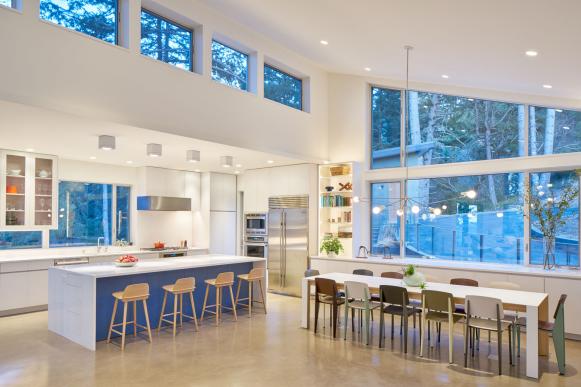 Modern Great Room With Sloped Ceiling
The lines and furnishing style of this great room are kept simple to shine the spotlight on the surroundings. Lots of windows let natural light pour into the space.
Bruce Damonte Photography
One of the main challenges of the home, was how to make it feel comfortable and inviting for various sized groups. In particular, the client wanted a large great room that combined the kitchen, living room and one dining space. This is very common request in modern homes, but often leads to a big room that is supposed to serve many functions, but doesn't really do any one of those functions well. To try to solve for this issue we created defined zones in plan with a statement lighting pendant situated in the center of each to better define the space and functions within the entire space. We also spent significant time space planning the living room, which was over 25' long. We landed on the solution of diving the living room into two smaller seating groups bridged by a two-sided sofa in the center. This way, when the house was at full capacity the guests weren't sitting in a big circle, but instead they could break into smaller groups of they wanted while all still being together in the same space. This layout also helped when it was only the immediate family at the house as they could use one seating group and not feel overwhelmed by the volume of the space.
What makes this project uniquely yours?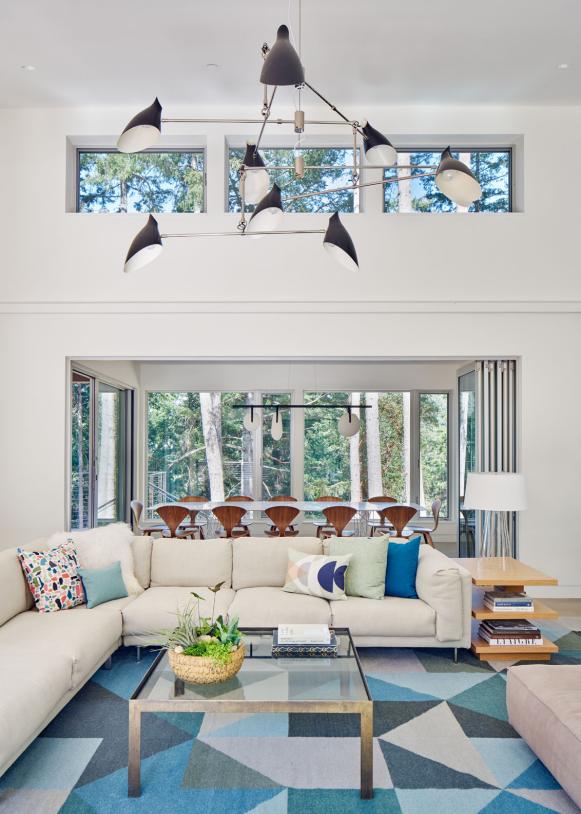 Contemporary Living Room With Geometric Rug
The light fixtures, the rug, the accent pillows, even the dining chairs fill this open concept living area with sculptural shapes and bold color.
Bruce Damonte Photography
My personal design aesthetic draws heavily on crisp graphic patterns and a bit of whimsy. We incorporated both throughout the design in elements, such as, the large rug with a triangular pattern in the great room, palyful pillows in the loft spaces and the giant David Weeks pendant in the great room that is a showstopping light fixture and a mobile that emphasizes the height of ceiling.
How did the location of this home impact your overall design?

The house is very remote and a weekend home so it would have been easy to latch on to the cliche aesthetic of a woodsy, rustic cabin (think taxidermy, Pendleton blankets, lots of knotty wood…), but the client wanted white walls and clean lines. We didn't see any reason that we couldn't do an interpretation of a lodge in the woods that was filled with modern furniture, fun, graphic patterns and beautiful lighting. No antlers necessary!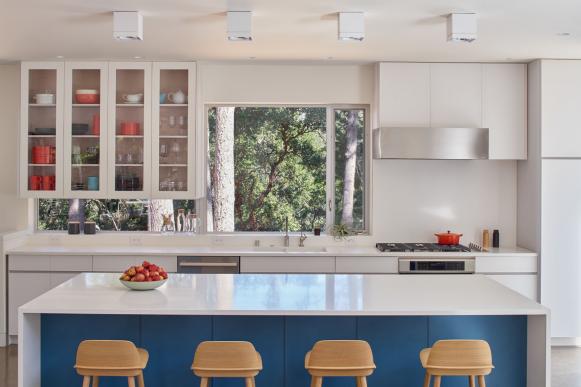 Modern Open Kitchen With Blue Island
To match the airy lightness of this kitchen's overall look, the upper cabinets were given a glass front. Colorful dishes inside add a playful pop.
Bruce Damonte Photography
The surrounding forest of this site is spectacular and the client really wanted the focus to be on the forest. Architecturally, large, operable windows and doors were used wherever possible in place of solid walls to maximize the feeling of being in a treehouse. Similarly, while the client loves color -- and particularly blue -- we tried to keep the palette in more subtle shades of beige, green and blue to reference the surroundings outside.
What was your favorite room to design?
The bunk house was really fun to design because it was an add-on space that had to be designed very quickly. It was important to the clients to disturb as little of the surrounding land as possible and keeping the footprint of the house minimal. This translated into an interior design challenge, because it meant that every nook of the house had to be usable. We created lofts in the girls' bedrooms, a secret sleeping closet and captured some additional bunk space by repurposing what was originally intended to be very large wood storage shed as a bunk house for extra guests.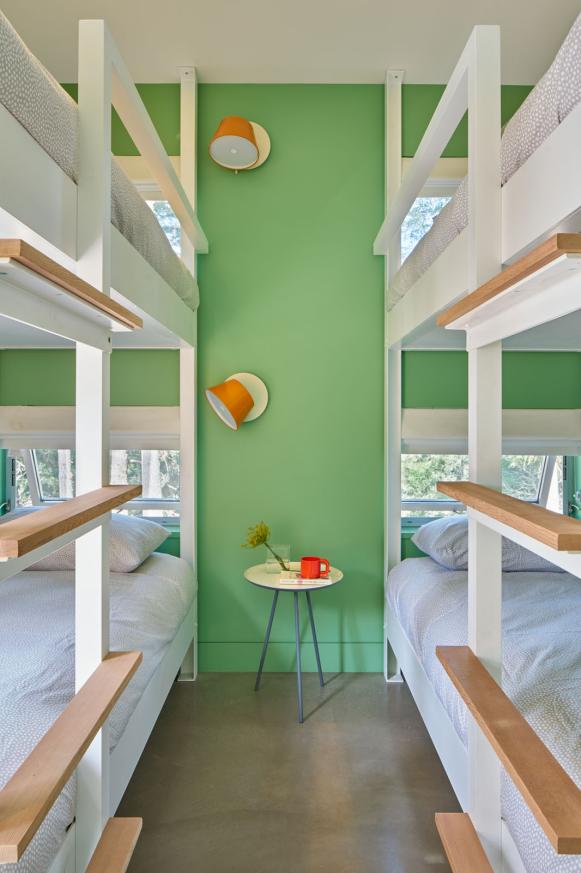 Green Modern Bedroom With Bunk Beds
Green makes a rich, earth-inspired background for two sets of white bunk beds that peek out onto the trees.
Bruce Damonte Photography
The challenge was similar to the rest of the house: make tight quarters comfortable and appealing. As in the main bedrooms thoughout, there just wasn't room for extra furnishings, so we maximized what we could work with: bold paint (Benjamin Moore Cedar Green); playful, juicy orange sconces; complementary geometric patterns on the bedding and built-in seat cushion and custom designed bunk-beds.
The bunk room was modeled after a Summer Camp cabin and was intended mainly for extra kids to use. To make sure there were no fights over who got which bed we kept things very egalitarian. Everyone gets a bright orange reading light -- even on the top bunks!