Give Your Backyard an Upgrade With These Killer Shed Ideas
Upcycled sheds are all the rage with she sheds and pub sheds ranking far above the rest. Here are my picks for other ways to use your tiny backyard extension.
While I still have love for the she shed craze, I decided to brainstorm a few more fun ideas for backyard shed upgrades that could give your home a serious facelift.
We all know about the sheds you see in the parking lots of our favorite home improvement stores. And while those sheds all seem quite functional, they leave a bit to be desired in the looks category. After recently going on a shed hunt myself, I realized that I didn't just spend WAY too much money on a home reno to stick an ugly shed in our backyard. And so my stylish shed hunt began.
I've rounded up some of my favorite chic sheds for inspiration, as well as some ideas for how you might use them as a fun addition to your home.
If you're lacking in the guest bedroom department in your home's floorplan, you might want to consider a shed as a beautiful guest retreat. This idea requires a bit more work and money, as a guest-house shed would typically work best with its own bathroom (which would require additional plumbing). And if you're already adding plumbing for a bathroom, you may also consider a small kitchen as well. You'll also need to think about a heating/cooling game plan depending on where you're located and what your climate is.
While this type of shed is likely the most expensive and work intensive, it's also incredibly functional and useful, especially if you tend to have a lot of out-of-town guests.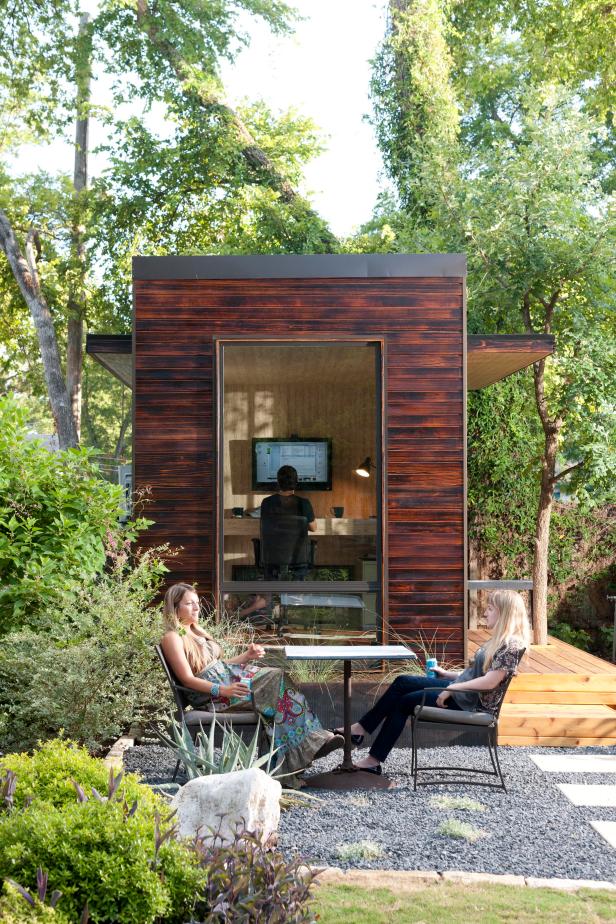 Backyard Studio Office and Gravel Patio Area
Careful construction and design provides top-of-the-line sound reduction qualities, insulating this backyard studio office from outside noises. The space is integrated into the overall home, but anyone inside it can maintain a high level of concentration.
A backyard office is a another great option for a stylish shed. Even if you do have the space in your home for an office, sometimes a change of scenery is just what you need to get yourself straight into work mode.
An office shed doesn't necessarily require plumbing, as you could easily run back into the house when you need to. Heating/cooling would be a nice touch so you can spend time in there year round. And you'll definitely want an electricity hook-up so you can use your computer and printer.
Choose a smaller shed for an office and simply make sure you can fit the basics like a desk, chair, bookshelf and maybe a small loveseat for relaxing.
A shed would also be a fab option for a backyard man cave. With an electricity hook-up you could add a TV, a mini fridge and your favorite video gaming system. Or add a bar for an outdoor cocktail den.
Set the shed up as a workspace if there's no room in the garage (think: a woodworking or DIY shed). Or, opt for a game room by putting a round table in the middle with some chairs and a mini-fridge. Now you have the perfect poker shed.
If you have a pool or a hot tub, a shed could make an amazing cabana. Set it up as a place for people to change, store extra towels and even add an extra bathroom for post-pool showers. If you want to keep it simple, set up an outdoor shower that could be hooked up to your existing plumbing. Set up a mini-fridge to keep water and ice tea on hand or to store your cool cucumber masks for when you feel like an at-home spa immersion.
A great idea for keeping the kids' daily mess at bay is a backyard kids' playroom shed. Cover the floor with a giant outdoor rug (or carpet tiles for easy clean-up!), set up a big cubby bookshelf for lots of toy storage and put in a small table with kid-size chairs to create an art workspace.
Paint the walls in chalk paint so the kiddos can draw to their hearts content. Or cover the walls in cork and use them as a giant bulletin board to display artwork.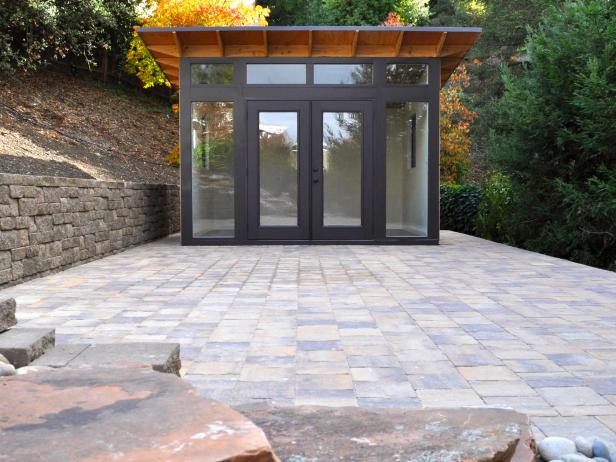 Modern Outdoor Home Gym
Modern outdoor spaces can accommodate home gyms and yoga retreats. This 10-by-12-foot single-room shed was ordered from Studio Shed. The customizable prefabricated space came with finished interior, wiring, colored-aluminum-clad Cloudlight windows and roof. The glass front and French doors were optional.
Creating a separate space for exercise and fitness is also a great option for an outdoor shed. You could create a quiet, simple space for yoga and meditation.
If you prefer to watch exercise DVDs, add extra padding to the floor, set up a TV and go to town. Add a shelf to store towels and exercise equipment, and leave a hamper so you can easily bring dirty laundry back inside with ease.
Bring in any of your preferred exercise equipment (bike, treadmill, etc). If you work with a trainer, this would also be a great spot to have your sessions.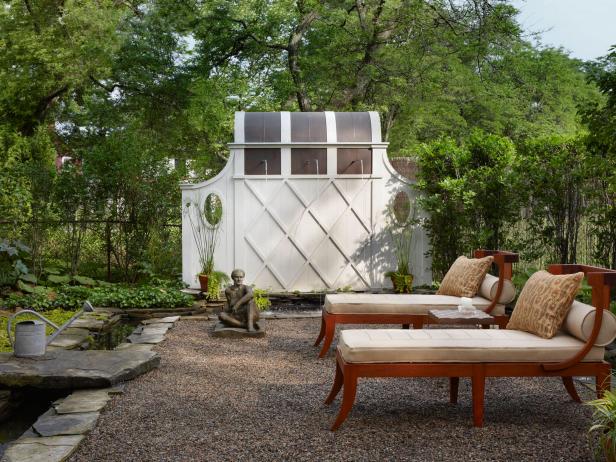 Tranquil Garden With Seating and White Storage Shed
This stunningly crafted tool shed serves as a pump house for a water feature that trickles into a Koi-filled moat that surrounds the garden patio. Designed by Art Harrison Interiors in Franklin, Mich., this ultimate garden shed complements the architectural details of the home.
Beth Singer Photographer, Inc.
If you've completely outgrown the closet space in your home, and have always dreamed of a chic dressing room, consider creating one in a backyard shed.
Bring in rolling racks for all of your clothes and cover the wall with mirrors. Add a comfy couch or loveseat and a vanity table to hold your makeup or jewelry collection. The dressing shed could turn into your own little hideaway.
If "rocking out" at home is starting to bug the rest of your family, an outdoor music shed might be just the solution for you.
Soundproof the walls to mitigate some of the noise, then set up the space as your music haven. Mount guitars on the wall, add a fun jukebox or stereo system to play along with or simply use it for band practice.
While I love a good collection, sometimes our own collections can grow beyond the space we have in our own homes. Enter: the collector's shed.
Depending on the sort of collection you have, you could use an outdoor shed to simply display and enjoy your pieces. Sports memorabilia could be displayed on the wall or in a series of shelves; Fiestaware pottery could be stacked in beautiful display cabinets; and vintage textiles or quilts could be showcased on a series of blanket stands.
Outdoor Shed Stores Garden Supplies
This stunningly crafted tool shed serves as a pump house for a water feature that trickles into a Koi-filled moat that surrounds the garden patio. Designed by Art Harrison Interiors in Franklin, Mich., this ultimate garden shed complements the architectural details of the home.
Beth Singer Photographer, Inc.
Let's not forget about those of us who really need a shed for what it was originally designed for: storage!
Even if you want to simply use your shed for storage, there are still easy ways to amp up the style factor. Use a cubby-type storage unit to line the walls and fill with baskets to store odds and ends. Neatly line up clothing racks for additional closet storage. Try vintage lockers for bulky tools that you want to keep out of the way.