Outdoor Electric Fireplaces
Gather all the info you'll need on outdoor electric fireplaces, and prepare to install an efficient and environmentally friendly fireplace in your external living space.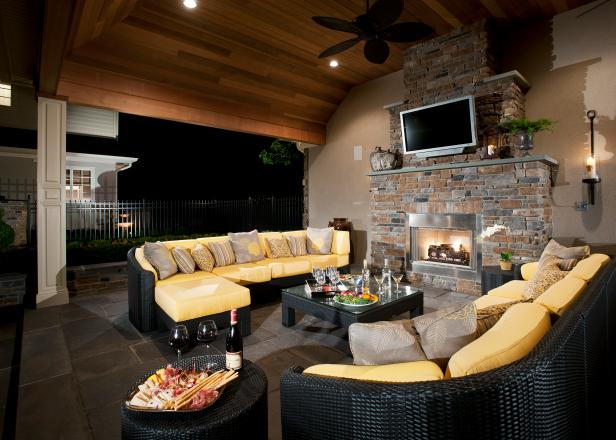 Roughing It in the Back Yard
Create a cozy living room space outside complete with fireplace and an entertainment center. www.ephenry.com
Image courtesy of EP Henry
If you're looking to add a little heat and light to your outdoor living space, but not in the market for a costly and complex fireplace install, you may want to consider the many options available for outdoor electric fireplaces. Electric fireplace technology has been around since the early 1980s, and it's steadily improved in terms of efficiency, beauty and warmth. You can find a wide range of electric fireplace options at your local home improvement store, or from any number of online or local specialty retailers.
Electric fireplaces are essentially fancy (and generally much more attractive) electric heaters. They provide the warmth of an electric heater, using similar technology, and they do so by simply plugging into a wall. Where they diverge from their more utilitarian heater cousins is in their presentation—they generally feature an array of faux firelogs, as well as key features like simulated flames and glowing embers. What they don't feature is the smoke, ashes or sparks generated by natural wood, or the need to provide fuel like propane or natural gas—these factors, in addition to their portability and comparatively low cost, makes them particularly appealing to homeowners interested in a convenient, economical and environmentally friendly outdoor fireplace option.
When considering which type of outdoor electric fireplace is right for your external living space, your first decision will probably relate to location. The major caveat for electric fireplaces is that they need a power source—unlike a modular wood burning fireplace unit, for example, which can be placed in any safe location within the backyard. Electric fireplaces need to either be located adjacent to a power outlet, or set up via an extension cord system (which can be both unsightly and unsafe). Another consideration for an outdoor electric fireplace is weatherproofing. While many units do feature the ability to withstand inclement weather conditions, the majority are mainly intended for use in a sheltered area—you wouldn't, for example, want their electrical components or power cords to endure regular soakings. So when choosing where your outdoor electric fireplace will live in your backyard or on your deck or patio, keep both its manufacturer's indications and common sense regarding electronic products in mind.
Once you've decided on a location for your outdoor electric fireplace, it's time to think about the style you'll feature. If you wish to mirror the overall style of your home or external living space, there are many options that will likely be a fit—from traditional stone and brick facades to much more contemporary or modern versions featuring sleek design and sharp angles. A wide range of artificial flame features are also available, from the traditional logs and embers to more modern, ambient styles that forego the faux.