Large Fire Pit Design Ideas
How big a fire pit do you need? Learn tips for selecting and finessing fire pit size, along with practical design ideas.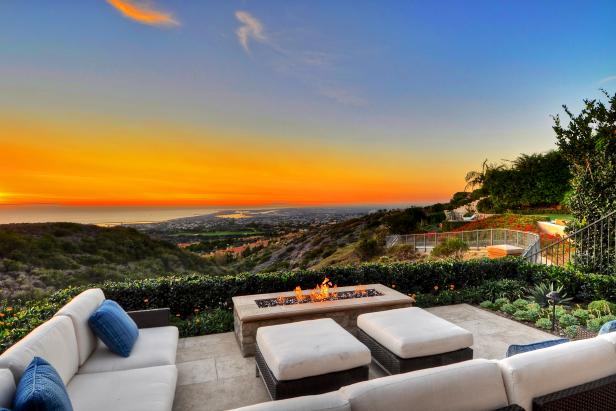 Contemporary Gas Fire Pit with Stunning Views
Earth, wind and fire. We should all be so lucky to have a patio overlooking these stunning views. This contemporary gas fire pit is perfectly situated for guests to enjoy a relaxing fire on a cool night.
Install a large fire pit, and you'll always be ready to entertain large groups, whether it's your kids' friends, your extended family, or the neighborhood block party. Or maybe you just want to create a fire pit that's a true focal point, commanding attention by virtue of its size. Go big when you install a fire pit, and your yard will definitely be the talk of the block. Discover some tips for designing a large fire pit.

Large fire pits are typically permanent structures in the landscape. They can be built from a variety of materials, including local stone, brick, fire-rated pavers, or concrete. Many homeowners who select a fire pit made from concrete veneer the surface with fire-rated tile, river rock, or stacked stones.
As you choose the site for your large fire pit, realize that this structure will naturally become a focal point in your yard. If you already have an outdoor patio or dining area, shift the fire pit away from this area, making it a separate destination. Consider installing a path to connect the two areas, using a hardscape material that ties the two spaces together from a design standpoint. Make sure any path between a fire pit and patio is well-lit.
The diameter of a fire pit includes the area where the fire will be built plus the width of the walls. A large fire pit usually measures at least five feet across and also typically requires a few more feet to accommodate fireside seating. The height of the wall around a fire pit depends on how you intend to use it. A wide fire pit coping can pull double-duty as a comfy footrest, a fireside seat, or a place to sit beverages or food.
To use a fire pit wall as a footrest, build it 12 to 14 inches high. That height easily suits most traditional patio furniture styles. The exception is Adirondack chairs, which tend to sit a little lower. If that is your seating of choice, conduct your own tests to find the ideal height.
If you plan to use the fire pit wall as seating, aim for a height of 15 to 20 inches (18 inches is just about ideal). The width of the fire pit wall should be a minimum of eight inches for seating, but 12 to 18 inches is better. If you do use the wall as seating, build the pit wide enough that anyone seated on the wall is 24 to 36 inches from the blaze itself.
Always adjust the surface inside the fire pit so the fire is built six to 12 inches below the top surface of the outer wall. Otherwise, you risk having a fire that's hidden behind the fire pit walls and only visible from a standing position.
Don't forget to consider the surface surrounding your fire pit, where you'll arrange fireside seating. Choose a material that relates to and complements your fire pit. Aim for a hard surface to provide firm footing and help prevent tripping into a wall or the fire pit itself. Also select your surface based on your furniture. Wooden pieces last longer with the least upkeep when they're placed on a solid, non-earthen footing. Metal furniture adapts well to any surface.