Make the most of space by selecting a fire pit that also pulls it weight as a table. Learn about popular styles and designs.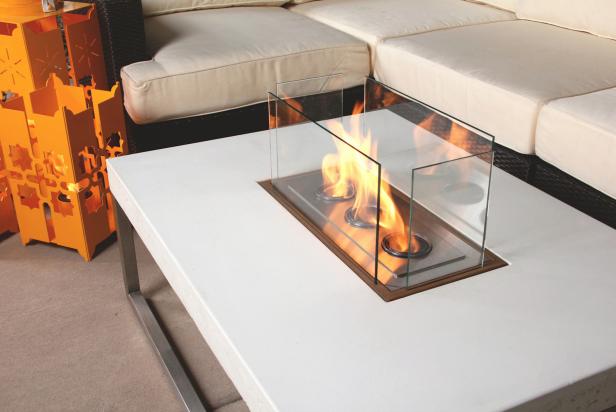 Sophisticated Style
Contemporary options include this hand-casted concrete table with a stainless steel base. The Contempo fire table, by Terra Flame Home, has South American Ipe wood accents. For the flame, the table uses a Isopropyl Alcohol-based gel canister that is reloaded like a candle, according to retailer AuthenTEAK.
Photo courtesy of AuthenTEAK
Create the ultimate al fresco dining experience by adding an outdoor fire pit table to your yard. Fire pit tables elevate fire to a new level, combining several outdoor living activities into one eye-catching feature. The result is a one-of-a-kind fire pit that gives you a place to prop your feet, set a drink, or serve supper under the stars.

Modern design innovations have elevated the humble fire pit to a conversation piece with the advent of patio fire pit tables. A fire table can be simple, like a portable bowl-shaped fire pit that has an extra-wide rim around it for supporting drinks or propped feet. These outdoor fire pit tables are typically manufactured pieces that require only the most basic assembly. Height is usually knee-high, and the design frequently includes a fire pit screen. Fuel may be wood or propane gas.

Sometimes the fire pit bowl is disguised within a boxy surround that forms a more substantial edging around the fire. These patio fire pit tables often mimic the appearance of an indoor coffee table and feature either a square or rectangular shape. The tabletop may offer a stylish surface of marble, slate, or granite, or it may showcase a beautiful wood or metal finish. Many of these fire pit tables feature a gas-fueled flame, running on either liquid propane or natural gas.

Fire pit dining tables provide the luxurious experience of outdoor eating around a central, gas-fueled fire pit. Standard size dining chairs fit neatly beneath the table, allowing family and friends alike to experience a fireside picnic.

Some fire pit dining table designs include a patio umbrella that towers above the flame, which helps contain heat within the seating area. For safety, the recommended umbrella height is 60 inches minimum. Many manufacturers recommend installing a free-standing umbrella nearby, instead of directly above the flame.

Choosing a gas-fueled outdoor fire pit table opens the door to custom designs. In these fire pits, the burners are usually contained within a stainless steel burner pan. You fill the pan with fire-resistant materials, such as lava rocks, silica sand, or fire glass. Many homeowners choose fire glass in different colors to create a mosaic-type design within the fire pit. You can also add heat-resistant ceramic or porcelain-coated fire balls or other unusual geometric shapes to an outdoor fire pit table for a one-of-a-kind look.

Some outdoor fire pit tables feature a fire pit cover that matches the table surround and converts the fire pit to table space. This type of design is handy for off-season enjoyment or times when you need the entire table surface for other purposes. The cover also protects your fire pit from the elements.

You can also find wood-fueled fire pit dining tables that offer a cooking grill that installs quickly and easily above the fire embers for table-side cooking. This option isn't available for gas-fueled flames, which aren't recommended for cooking.