Fire Pit Designs and Plans
Thinking about adding a fire pit to your yard? Discover great design ideas to make your fire pit a favorite gathering spot.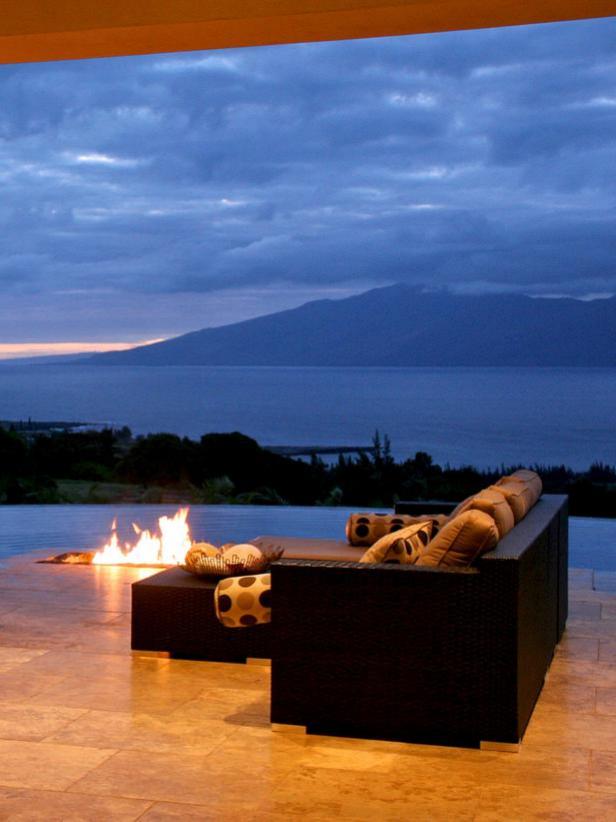 Modern Fire Pit Design with Island View
Watch the sun set over the Pacific from this Maui, Hawaii, home, where a sunken fire pit and patterned pillows create a cozy atmosphere. The modern style and clean lines also produce a simple and understated elegance without detracting from the breathtaking view.
Dress up your outdoor living spaces with the warmth and ambience of a fire pit. This hot trend makes any backyard a go-to destination, especially when you customize fire pit designs to suit your lifestyle. The simple backyard fire pit has come a long way from traditional campfire-style to sleek gas-fired fire bowls and boxes. Before you make any decisions, consider these key points to create winning fire pit designs.
Deciding which outdoor fire pit design is right for you depends on a variety of factors, including budget, where you intend to light the blaze, and how you want to use the fire pit. Before you kindle any outdoor fire pit plans, check with your local city hall or firehouse to determine what types of outdoor flames are legally permitted in your area.
A small budget may dictate a DIY fire pit, where you purchase materials and supply your own elbow grease to build a fire pit. This type of outdoor fire pit design may limit you to traditional wood-fired options, like a metal fire ring or paver stone fire box. Or you may want to explore stone options, utilizing native stone to build a ground-level fire ring.
If you're confident with concrete, you can craft permanent fire pit plans that mortar local stone or colorful tiles as part of the design. Even with a limited budget, check with local contractors that specialize in outdoor fire pit designs. You might be able to get a customized plan that you install yourself.
Location is another key consideration as you ponder outdoor fire pit designs. Where do you plan to savor the dancing flames? Many people prefer locating a fire pit near an existing patio or other outdoor living area. Always keep safety in mind when you're deciding where to create your fire pit. Avoid spots too close to flammable structures or overhanging and nearby vegetation. Also locate your fire pit near an easily accessible water source.
As you ponder fire pit designs, think about how you intend to use the fire pit. To create a gathering place, make sure your fire pit plans are large enough to accommodate more than just a few people, especially if you have teenagers whose friends will be eager to huddle around a campfire. If you hanker to roast hot dogs or marshmallows or grill meats and veggies over the flames, choose fire pit designs that accommodate these activities.
You might be counting on your fire pit to warm a patio on chilly evenings. In that case, select a design that provides maximum access to the flames, like an above-ground fire or a bowl. Also look at fire pit designs that include metal, brick, or tile copings that radiate heat. Just be careful because, when hot, these materials do become burn hazards.
Outdoor fire pit plans feature different shapes. A round fire pit offers an informal feel and allows more people to cozy up to the flames. A square or rectangular fire pit creates a more modern, contemporary look.