Chainsaw Artist and Creative Genius: Meet Griffon Ramsey
You've gotta admit, woodcarving never looked so fun.
Over 1,000 questions popped into my mind the first time I saw Griffon Ramsey at work. Her accomplishments in the world of wood artistry have taken her around the globe. Observing an artist in their element, especially one who is creating large scale wood carvings using a variety of tools – but mainly chainsaws – is really a sight to see. How did she learn to do that? How long does it take her to create a large carving? How does she find her inspiration, and… would it be crazy of me to try my hand at this?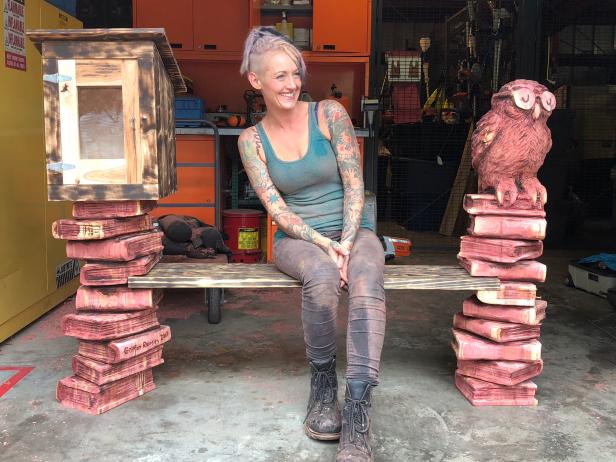 Griffon Ramsey, Chainsaw Artist
I asked her those questions, and more, when we met last month at an event hosted by STIHL, and I think you'll find yourself inspired by her perspective.
Emily: How in the world did you find yourself on the path to becoming a chainsaw artist?
Griffon: I first became interested in woodcarving when I was a small child. My grandfather would whittle small carvings with hand tools in his spare time. It was his favorite hobby and he never sold them, only made them as gifts for friends and family. Growing up in Oregon, I was exposed to chainsaw sculptures in tourist towns on the coast where the art form is popular. There was an art gallery turned roadside attraction in the town of Seal Rock that looked like an Old Western town created by the Kowalski family with the help of my carving mentor, R.L. Blair (who also made art for the Disney parks). It had trails you could explore, with funky structures and chainsaw carvings hidden in the trees. I remember being mesmerized by some totem poles I saw there. It left such an impression on me that 20 years later I told my husband that I had always wanted to try it for myself. He surprised me with a small, lightweight chainsaw as my first Mother's Day gift. However, I was pregnant at the time and too scared to use it, so I put it in our basement and forgot about it until about six years later when I decided to launch my own YouTube channel. The idea was to make something pop-culture inspired for each video, using a different material and technique in every episode. For my first video, I wanted to try something really bold, so I decided to carve the Crimson Omen from Gears of War using a chainsaw as a nod to the chainsaw-gun in the game, the Lancer. When it came time to switch to a different art form for the next video, I no longer wanted to. I was hooked!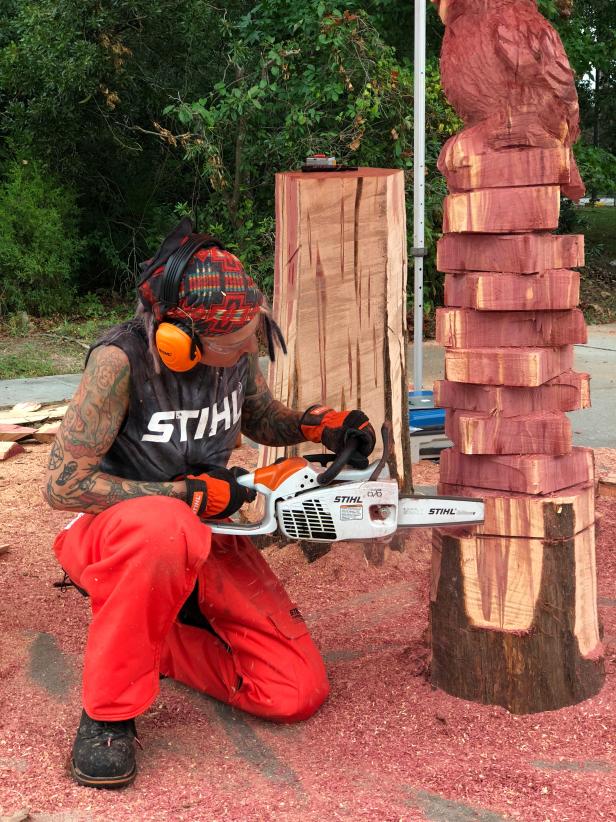 Griffon Ramsey, Chainsaw Artist
No turning back! Isn't it funny how things work out, the first video of your series ended up kickstarting your passion? I do kind of wish I knew what your plan had been for episodes two, three, four and beyond, but I love how you stumbled into this career path.
Do you keep track of where your carvings end up?
I've sold my work all over the United States and Canada, as well as Australia and Great Britain, and I recently did a chainsaw-carving event in Germany and have an upcoming event in Japan. I have clients that are homeowners, apartment renters, businesses, and entertainment companies that either buy sculptures from my website or hire me for a range of things: creating custom artwork, live art performances and online promotion.
Can I share a before-and-after photo of the octopus you just carved for a client? The vision you had for the piece is unreal!
The piece I'm working on right now is my favorite, but the octopus was great – and it was the biggest chainsaw carving I've made so far.
When I saw you carving live, I was amazed how quickly you transformed a long cedar log into an owl atop a stack of books (a project intended to be donated to a local charity). You had a few chainsaws at your fingertips that day, but which are your favorites?
My go to, more versatile carving saw is the STIHL MS 193 C-E with 12" carving bar (which has a quarter tip, and 1/4 pitch chain).
The carving bar and chain are different than what you'd find on a "typical" chainsaw (the ones I use to cut trees and branches in my yard aren't carving saws). Your preferred saws are for precision.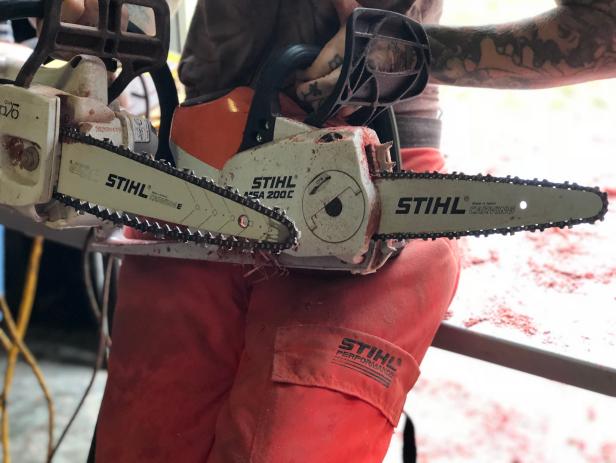 Griffon Ramsey, Chainsaw Artist
If someone (me!) wanted to try making a carving, what kind of tips can you offer? My husband has tried it and attests that it's a lot harder than it may seem, in part due to the planning that goes into cutting a piece of dimensional art.
The steps and process may vary, but the basic steps you'd follow are:
Find a good carving wood (cedars, cypresses, some pine varieties, oak)
Remove the bark
Secure the material so that it doesn't move while you're working on it
Use a longer guide bar for the first block out cuts, swapping out for increasingly smaller bars to get more detail
And finish the detail by using other tools, such as grinders, sanders and small rotary tools.
When you finish the carving, remember to treat it for the final destination (exterior varnish for outside, for example).
I always suggest that clients keep the carving out of direct sunlight, and keep it elevated so it isn't resting in standing water. That will help the carving last longer.
Thanks for all the tips! I hope a backyard totem pole isn't too much for a first-timer like me… maybe I'll find out in the process. Good luck with your upcoming events, Griffon! If you'd like to see more of Griffon's work, visit her YouTube page.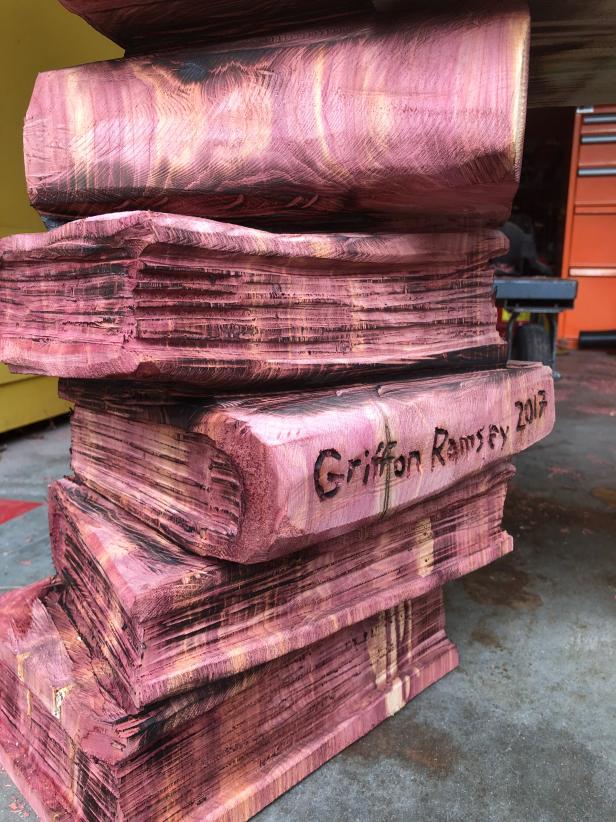 Griffon Ramsey, Chainsaw Artist
Griffon Ramsey is a professional. Only properly trained professionals should attempt these techniques.