Swimming Pool Specialty Features
From waterfalls to swim-up bars, consider the costs when adding extras to your pool.
There are plenty of extras you can add to your pool such as waterfalls, slides, diving boards and swim-up bars, among other things, but you have to consider the added cost and the aesthetic as well. Sure, they might be fun at a water park or resort, but you have to think about the big picture. What might have seemed like a good idea at the time may turn out to be a detractor when you or your kids tire of them.
Many people like to add waterfalls to in-ground pools for a jungle or rainforest feel. If you have your heart set on adding a waterfall, your best bet is to work with a landscape architect or designer early in the planning process of your pool.
We're sorry, there seems to be an issue playing this video. Please refresh the page or try again in a moment. If you continue to have issues, please contact us here.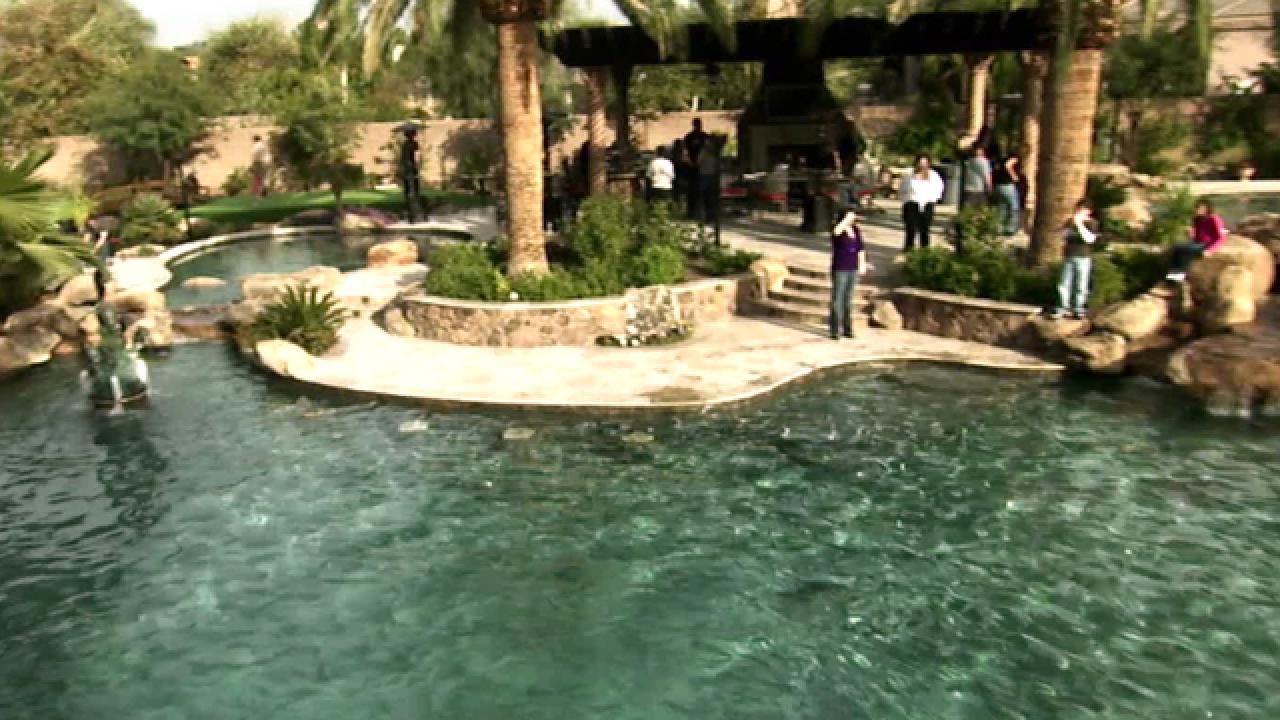 Designers can create a waterfall that acts as the return for the filtered pool water as long as it's properly built. "A water feature provides sound that can be soothing and relaxing," says Tom Mortland, pool division manager at Liquidscapes. "But you have to have a clear understanding of the finished product." You can achieve the same effect by installing a fountain near the pool without all the added cost of adding a waterfall.
If you have kids that would enjoy a water slide then there are plenty of options for slides that will dump them into the water, but beware: A pool slide may seem like great fun when kids are small but they may quickly outgrow the thrill and you'll end up with a permanent structure that no one uses. Pool designers agree that they are installing fewer slides on pools than they were years ago as they tend to be dangerous when poolside horseplay gets out of hand. They require plumbing hook-ups that keep the slide wet, an additional cost to the overall cost of the pool.
Like a slide, a diving board can offer tons of fun for kids and adults alike but may end up not being utilized as much when the thrill wears off. And, if you are not necessarily into diving, then don't install one. Additionally, a diving board requires a deep end of a pool and they can be dangerous if not properly built and inspected regularly for safety. Plus, insurance costs go up as there is a liability issue. Plenty of people get hurt diving into backyard pools. Keep this in mind when deciding whether or not to add one to your pool.
A bar built into a pool is the norm in most resorts but may be impractical in your backyard and an additional cost you may not need or want to incur. Instead, the trend in pool design is leaning more toward a shallow tanning ledge built into one end of the pool that can accommodate lounge chairs and a small table that sit in just a few inches of water.