Outdoor kitchen doors are important for the functionality of your outdoor kitchen as well as the protection of your equipment and accessories.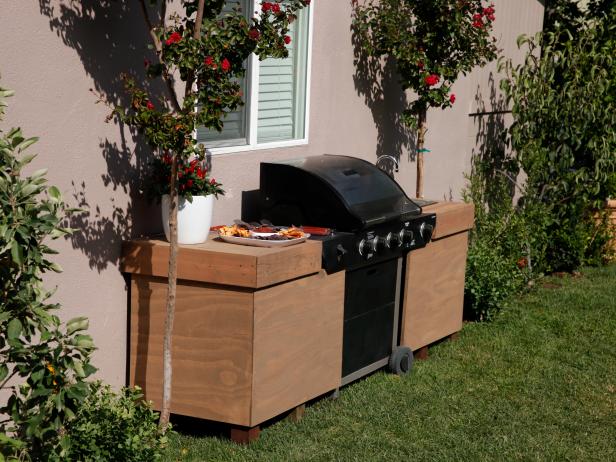 HORJD404_after-grill-sink-barbecue_h
Detail of the built in cabinet and sink onto the existing grill at the home of La Trice and Tony Torrez which underwent a makeover that turned the overly hot and sunny yard into a backyard vacation spot. The couple shortened their home to make more room for a backyard space then weren't sure what to do with it. There is now an outdoor dining area, a large v-shaped deck, a pergola off the back door porch and an extended vegetable garden with shade to be built into each of these areas.
Outdoor kitchen doors are different from outdoor kitchen cabinets because doors are typically better sealed, have locking capability and offer an extra level of overall protection for whatever's behind them.
It's true that outdoor cabinets are built to be more protective than indoor kitchen cabinets, but for an extra level of protection look for doors that have seals, closing latches and locks to protect delicate or expensive parts of your outdoor kitchen.
The most common kind of outdoor kitchen door you will find is stainless steel. Stainless steel has a classic, professional kitchen look and boasts a long life span. It's also very easy to keep clean. Many outdoor kitchen door manufacturers also offer matching stainless cabinetry, appliances, accessories and even countertops. The popularity of stainless steel makes finding doors, cabinets and accessories easy and budget-friendly, too.
There are several standard features you will find when looking for outdoor kitchen doors. Most doors or door kits come with a door, a handle, hinges, and an enclosure for mounting the door. You will find a lot of variety in the types of handles and hinges in outdoor kitchen doors. When you're choosing a door, think of the functionality first. The most stylish option may not have the highest protective standards.
The primary parts of outdoor kitchen doors that affect their protective qualities are handles and hinges. To determine what kind of handles and hinges you want, consider the purpose of the door. Are you looking for safety from theft, protection from the elements, or maybe both?
Handles will largely be a matter of style preference, but some handles depend on locking and sealing capabilities. There's a wide variety of hinges that can be externally or internally mounted. Concealed hinges are commonly used to create a seamless look and provide protection against theft. If you're looking for stylish hinges, butterfly hinges typically come in a variety of cutouts and materials to match other hardware. If you're not into stainless steel, just about any outdoor kitchen cabinet can be converted into a door. Accomplishing this will require a little bit of handiwork and knowing exactly how you want the door to function.
If you need a door that locks, consider installing concealed hinges on the inside of the cabinet so they are not easily removed. Humidity is another concern for the longevity of your outdoor kitchen, so doors with seals will be important. Be very careful if you decide to add seals to a door or cabinet yourself. A proper protective seal is difficult to accomplish unless you really know what you're doing. Consult your local hardware store or handyman for tips on converting cabinets into sealed doors.
More Ideas for Your Outdoor Kitchen
Other Outdoor Kitchen Inspiration