Outdoor Kitchen Costs to Consider
Learn to make a budget so your outdoor kitchen won't be a wallet buster.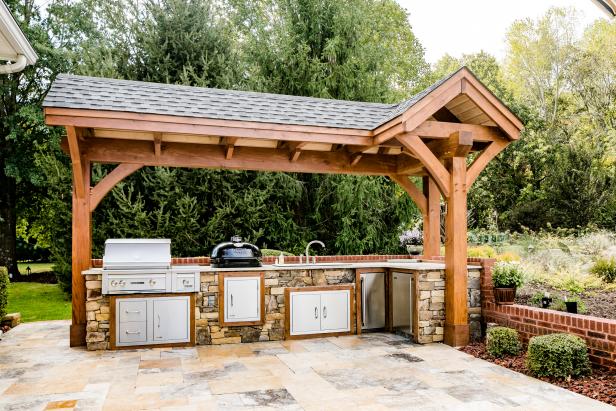 Outdoor Kitchen With Wood Beams
An outdoor kitchen like this instantly upgrades any outdoor party. Grill, roast, prep, mix up drinks...everything the chef needs is here.
You can spend just about anything on an outdoor kitchen, from a few hundred dollars to many thousand. But should you? Before you visit a single showroom, where it's easy to be seduced by the gleam of stainless steel, or talk to even one contractor, you need to have your budget in place.
The first step to a smart budget is to decide how much you have to spend. Evaluate your resources and how much you can and should spend. Consider using cash. With savings accounts earning so little these days it's not a bad time to invest those funds in your home.
Other options are home equity loans, home equity lines of credit, or a cash-out refinance, in which you refinance your mortgage, increasing it by the amount of the project.
Price out all the elements of the kitchen, remembering to include small details like hardware and light fixtures, which can add up in a hurry. Have this list in hand when you talk to potential contractors. It will give your contractor a sense of what you want to include in the kitchen, show that you've done your homework, and let the contractor adjust his bid to include actual products.
Where to Save, Where to Splurge?
Unless you have an unlimited budget, you'll need to make some compromises. The grill is one place you don't need to compromise. "You want to buy the best grill you can afford," says landscape architect Richard Gibney, of Gibney Design Group. "That doesn't mean the biggest, or the ones with the most features, but the one that will perform well and last."
The professionals we poled also agreed that a sink is a worthwhile splurge, and a refrigerator is handy, especially for entertaining. "But if it's between a sink and a refrigerator, I'd go with the sink," says landscape architect Steve Chepurny, of Beechwood Landscape Architecture and Construction. "You can always fill it with ice and use it as a cooler for a party."
Things you can safely cross off your list? An outdoor dishwasher, oven and rotisserie. They're conveniences, but you can wash dishes inside, keep foods warm on the top rack of your grill, and use indirect grilling techniques to cook whole birds and large pieces of meat.
A custom-built pizza oven is a dramatic focal point, sure, but it's a lot of work to use and clean and you're probably better off with a countertop model for a fraction of the price. Stone counters and floors look great, but tile is much less expensive (and a particularly budget-savvy choice if you live in a warm climate).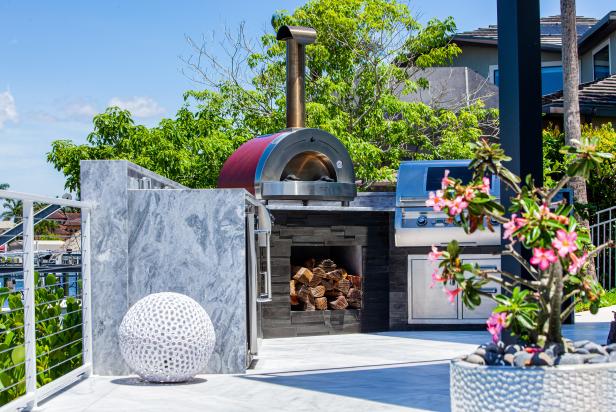 Outdoor Kitchen With Oven
This outdoor kitchen is ready to whip up fun al fresco meals. The space includes an oven (pizza night!), a gas grill, a mini fridge and room to prep.
Aesthetics are important but when it comes to building an outdoor kitchen, functionality and durability reign supreme. Read our professional tips to budget, plan and design an outdoor kitchen that will add value to your home and lifestyle.
Explore beautiful outdoor kitchen design ideas for inspiration for your own backyard cooking space.
Know what questions to ask when choosing professionals for your outdoor kitchen project.