How can you tell if bagged soil is any good -- before you take it home? Read on.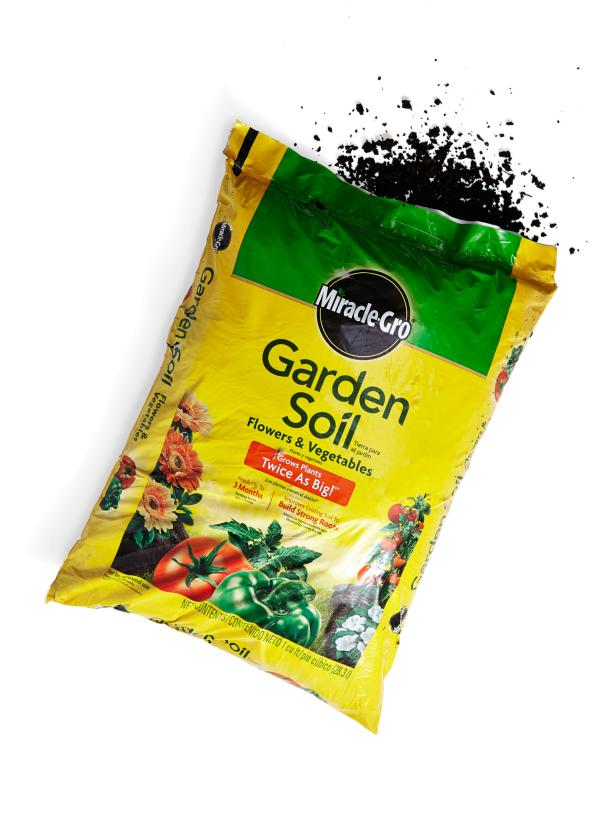 Garden Soil Bag
HGTV Magazine narrows down the mammoth selection of lawn care products to just a few essential helpers. A 50-50 mix of quality topsoil and compost, garden soil is a must if you're setting up a new flower bed or a vegetable plot. Just spread a four-inch-thick layer over the existing soil before planting. You can also use garden soil to pep up established plants that look scraggly. Buy a bag with fertilizer already mixed in and you won't need to worry about feeding your plants for the first few months. Chris Lambton's Pick: Miracle-Gro Flower and Vegetable garden soil, $8 for 2 cubic feet, lowes.com
Q. I shop at several different garden centers, and there seems to be a lot of variation in quality, even within the same brand. One batch that was supposedly top soil turned out to look like ash, and everything I planted in it died.
A. Bagged soil can vary enormously in quality, but the fine print on the bag can provide clues. Some products labeled "top soil" are, contrary to the name, not good for planting. Before you buy, read the fine print; soil that's said to be useful for filling holes in the yard or building up landscape beds is not good garden soil meant to support and nurture plant life.
Also, take advantage of the occasional ripped bag you might find in the garden center: Rubbing a bit of the contents between your fingers and doing a sniff test will tell you if the soil is rich and full of organic matter. If it's gray and grainy — or has an unpleasant odor — give it a pass.
Bagged compost and manure products typically cost about the same as top soil at big discount lawn and garden centers. Mixing some of either with the bagged top soil increases the likelihood of achieving an excellent soil mix for your plants. Whichever bagged soil or amendment you choose, be sure to mix it well with the existing soil.
Remember that compost is the single best way to beef up the soil you already have, and you can generate that at home — in surprisingly large quantities.