Tips for Making Cut Roses Last
Check out these tips for prolonging the beauty of cut roses.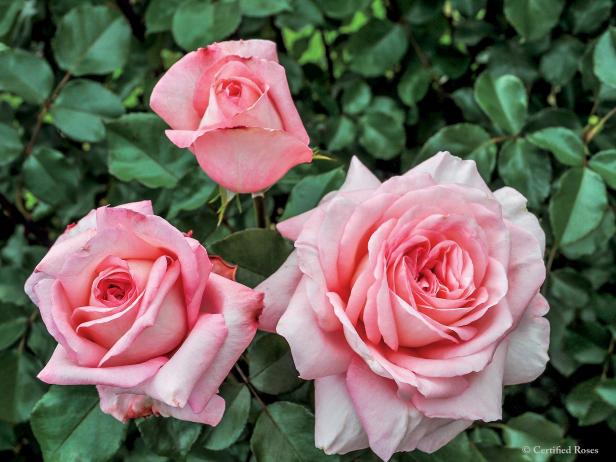 Edmunds' Roses Savannah Hybrid Tea Rose
Savannah, a hybrid tea rose, should take a bow. This variety was named Best Hybrid Tea, Most Fragrant Rose and Most Outstanding Rose at the 2015 Biltmore International Rose Trials. It's able to withstand the heat and humidity in southern gardens and is especially resistant to black spot and mildew. The vigorous shrubs grow to 4 feet in zones 5-9, producing glossy green leaves and lots of fragrant, salmon-pink blooms in the summer.
It's not every day that most of us receive roses, and those long-stemmed beauties that arrive on Valentine's Day have a sentimental value beyond their natural beauty that recipients want to keep as long as possible.
With proper care and handling Valentine's Day roses can be enjoyed long afterward. Here's how to do it:
Roses in a box need to be opened immediately. If this can't be done, put the entire box in a cool, dark place until they can be prepared.
To arrange roses, choose a deep vase, fill it with lukewarm water and mix in the floral preservative provided by the florist.
Without scraping or cutting the bark, remove any leaves that may fall below the waterline when placed in the vase, as leaves in the water will promote bacterial growth.
Use a sharp knife or shears to cut an inch off the base of the rose stem while holding it under water. This will prevent air from blocking the flow of water to the head of the bud, which causes roses to droop.
If you want to give your arrangement a professional look, create a tape grid across the top of the vase and place a single rose in each of the grid boxes, thus keeping the roses evenly spaced in the vase.
Keep the vase full by adding fresh warm water every day. Completely change the water every three to four days.
For maximum longevity, re-cut stems under water when you change the water and always remember to remove any leaves that fall below the waterline.
Give roses a facelift. Gently remove discolored or drooping petals from roses to give them a fresh, just-received appearance even after several days.
Place the vase in a cool spot, away from direct sunlight, heating and cooling vents and appliances like televisions which give off heat, causing flowers to dehydrate.