Learn how to help thyme survive the winter months.
Q: Why do my thyme plants get woody and die out? How can I protect them over the winter?
— Ken W., northwest Ohio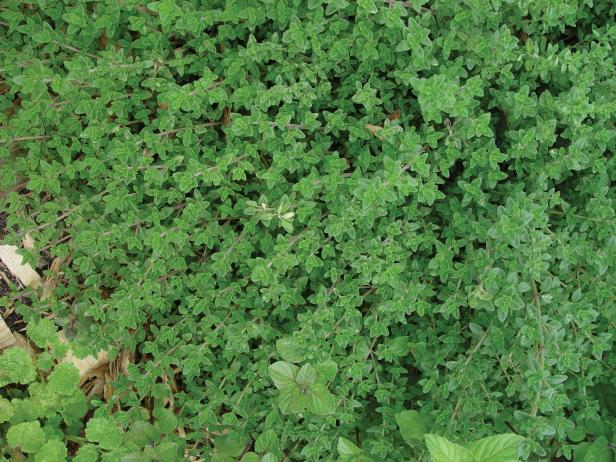 Thyme 'Creeping'
A short-lived perennial herb, 'Creeping' thyme, is relatively easy to overwinter indoors. Grow it as a houseplant in a sunny window. Outdoors in hardiness zones 5 to 9, it fills in between stepping stones and makes an aromatic groundcover.
A: The hardiness of thyme depends on which cultivar you use in your garden. Most selections of thyme (Thymus sp.) are hardy to USDA Zones 5 to 9 and marginally hardy to Zone 4 with added winter protection.
In areas with cold winters, thyme is considered semi-evergreen, meaning that the plant will retain some of its foliage during winter but not all. Since thyme is a Mediterranean herb, it prefers full sun and well-draining soil. The keys to successful overwintering are good drainage and winter mulch. If thyme has been struggling all season long in a poorly draining soil and hasn't died yet, it will surely not make it through the winter with the added cold stresses. Plant in a raised bed or improve drainage with organic soil amendments such as compost.
Add a two- to three-inch layer of mulch to help protect plants through winter. Don't apply mulch before the onset of cold temperatures as it can cause the soil to heat up and actually make plants less winter hardy. Instead, apply mulch during an extended period of cold temperatures. This will prevents fluctuating soil temperatures that cause plant upheaval during periods of freeze and thaw.
You can help your plants out by providing them with adequate water throughout the summer and early fall. A plant that hasn't been thirsty for moisture will go into the winter months healthier and more tolerable of cold conditions.
Also avoid severe pruning from late summer to fall. This kind of pruning will encourage new growth on plants, only to be nipped by the frost. It's still fine to harvest clippings for cooking, but save the heavy pruning for early spring.
Thyme does become woody with age. If you don't want woody plants, replace them by purchasing new plants, growing them from seed, or starting new ones from cuttings.
If you still don't have great luck with overwintering thyme, you may want to treat it as annual and replant each year.