Q&A: Norfolk Island Pines
A gardener seeks advice on the best way to take care of a Norfolk Island pine.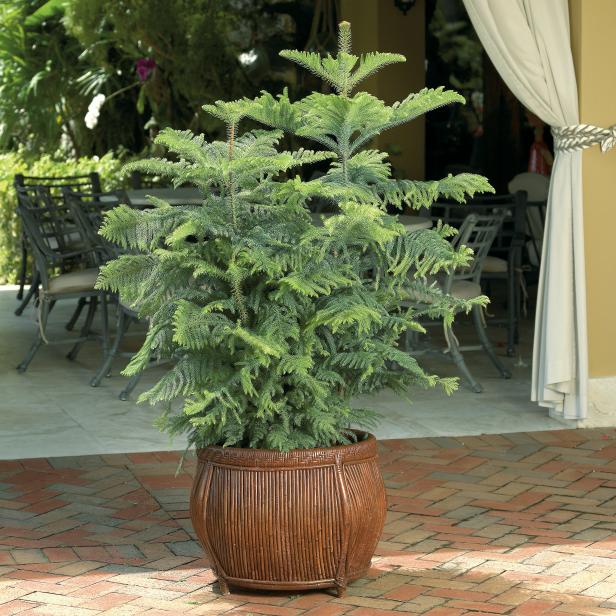 Norfolk Island Pine
You've probably seen Norfolk Island Pines (Araucaria heterophylla) decorated with small ornaments or red bows for Christmas, but they also make great year-round houseplants. Keep yours in medium to bright light and water often enough to keep the soil moist, but never soggy. If your pine starts to look weak and spindly, it probably needs more light; brown, dry tips on its branches mean it needs more moisture.
Q: I just bought a Norfolk Island pine (Araucaria heterophylla), and it doesn't have instructions on how to care for it. I can't find it on a web site. Please tell me how to best care for this Christmas tree.
— Clovis, Calif.
A: It sounds as though you plan to use it indoors as a Christmas tree. Norfolk Island pines are often grown as houseplants, but in your gardening region they can also be planted outdoors. Indoors, provide bright light and average to cool temperatures. Water regularly from spring through autumn, but sparingly during the winter months. Mist leaves occasionally; this is especially important during the winter months when indoor air can dry out quickly.
Norfolk Island pines are slow-growing and relatively easy to care for. If you plan to plant the tree outdoors, wait until the weather warms in the spring before taking it out. Otherwise it will be overly stressed in trying to make the transition from your nice warm house to the cold outdoor temperatures. Outdoors, provide full sunshine and regular water during the months of active growth. You can keep your tree in a container, or plant it directly in the ground in average, well-draining soil.