Ornamental Grasses for Every Situation
Choose the ornamental grass based on the season, the height and the type of soil.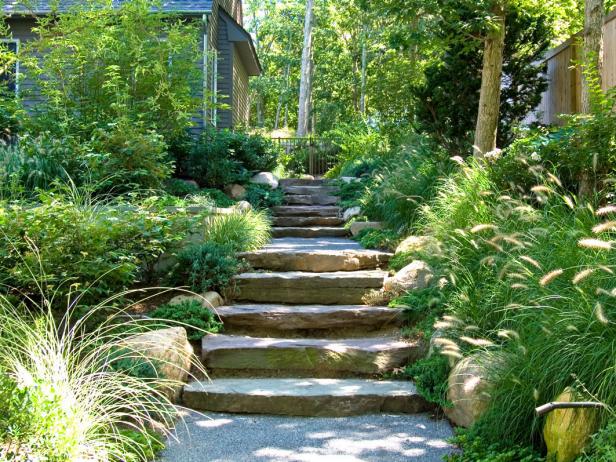 Flowing Ornamental Grasses
No other plant can add movement and catch light like ornamental grasses. They can soften, yet enhance masonry elements with their airy form and uniquely capture and filter the sun's rays. Tip: Be sure to place them where they can catch the light, which will shine through their foliage and flower heads, making them glow and shimmer in the breezes.
Dream of the size, texture and color of the ornamental grass you want and there's a variety to suit. But even better, you can choose according to the season, the height, and the type of soil — and amount of sun — you can offer. Here are some top hits in each category:
Pampas grass (Cortaderia selloana), 3-10 feet

Lemon grass (Cymbopogon citratus), 3-6 feet

Amur silver grass (Miscanthus floridulus), 8-12 feet

Switch-grass (Panicum virgatum), 4-10 feet

Fountain grass (Pennisetum setaceum 'Cupreum'), 1-2 feet
Cool-season grasses

Feather reed grass (Calamagrostis acutiflora), 4-6 feet

Sedge (Carex), 3 inches to 4 feet

Tufted hair grass (Deschampsia caespitosa), 1-4 feet

Blue oat grass (Helictotrichon sempervirens), 1-5 feet

Squirreltail grass (Hordeum jubatum), 1 to 2-1/2 feet
Sun
Pampas grass (Cortaderia selloana), 6-10 feet

Dwarf pampas grass (Cortaderia selloana 'Pumila'), 3-5 feet

Ravenna grass (Erianthus ravennae), 3-12 feet

Maire's fescue (Festuca mairei), 2-3 feet

Hare's-tail grass (Lagurus ovatus), 1-2 feet

Porcupine grass (Miscanthus sinensis 'Strictus'), 4-6 feet
Little bluestem (Schizachyrium scoparium), 2-5 feet
Shade
Sedge (Carex), 3 inches to 4 feet

Tufted hair grass (Deschampsia caespitosa), 1-4 feet

Variegated hakone grass (Hakonechloa macra 'Aureola'), 6-18 inches

Japanese blood grass (Imperata cylindrica 'Red Baron'), 1 to 1-1/2 feet

Variegated silver grass (Miscanthus sinensis 'Variegatus'), 4-6 feet

Frost grass (Spodiopogon sibiricus), 2-4 feet
Giant feather grass (Stipa gigantea), 1-1/2 to 7 feet
Wet Soil
Feather reed grass (Calamagrostis acutiflora), 4-6 feet

Sedge (Carex sp.), 1-4 feet
Horsetail (Equisetum hyemale), 1-4 feet

Manna grass (Glyceria maxima), 2-3 feet

Miscanthus, 2-7 feet
Banded bulrush (Scirpus tabernaemontani var. zebrenus), 2-4 feet
Moist Soil
Miscanthus sinensis 'Morning Light', 4-5 feet

Miscanthus sinensis var. purpurescens, 3-4 feet
Needlegrass (Stipa calamagrostis), 2-3 feet
Dry Soil
Tufted hair grass (Deschampsia caespitosa), 1-4 feet
Switch-grass (Panicum virgatum), 4-10 feet
Indian grass (Sorghastrum avenaceum), 2-5 feet