Learn about the different kinds of perennial grasses, including ornamental grasses and perennial ryegrass.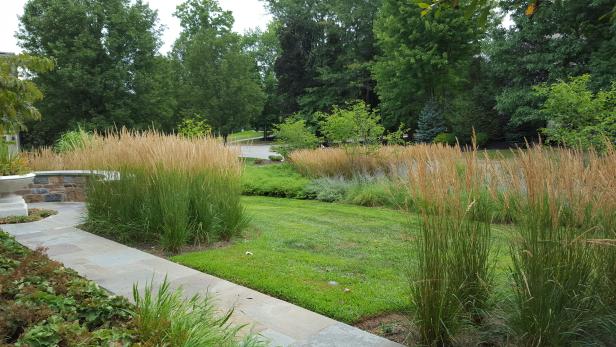 Ornamental Grasses and Low Growing Herbaceous Plants in Garden
This garden features low selections of ornamental grasses and herbaceous plants that form a dense tapestry that respects architecture and the classical form of an existing urn.
Fill your yard with healthy perennial grasses, and you'll have a beautiful landscape, including strong turf and dynamic planting beds. Perennial grasses encompass plants like ornamental grasses, as well as turf grasses and perennial ryegrass. Take the guesswork out of perennial grasses by learning where to use each type in your home landscape.

When most gardeners encounter perennial grasses, they're dealing with ornamental grasses. These perennial grasses can form a backbone for planting beds, introducing year-round interest and color. Count on ornamental grasses to add movement to plantings, with leaves and seedheads that dance and wave in the wind. The movement effect intensifies with taller grasses, like miscanthus, switch grass, or bluestem. But even smaller ornamental grasses, such as blue oat grass and blue fescues, can strike up a rhythm with the breeze.

Ornamental grasses also can bring color to plantings. Many offer leaves with shades of blue, bronze, wheat, or variegations. Some grasses have rich burgundy hues, while others glow with gold tones. Seedheads add another dimension of interest to ornamental grasses, changing color as they grow and mature. Seedheads also linger well past frost, decorating the winter landscape with color and texture.

Some ornamental grasses spread by runners and can become invasive. Others grow in tidy clumps that don't spread. Research the perennial grass you're considering to make sure you're prepared to deal with its growth patterns. In cold regions, most ornamental grasses need to be pruned in early spring, before new growth begins. Cut plants to a cone shape, with the center of a clump slightly higher than the edges.

Perennial ryegrass is a kind of cool-season turf grass that's a bunch-type grass, meaning it grows from the crown of the plant instead of by runners that root as they grow. Fine-textured ryegrass can grow in full sun or partial shade and stands up to drought and disease fairly well. Most often perennial ryegrass is grown in home lawns, around schools and parks, on athletic fields, recreation areas and golf courses. It can be grown solo as a lawn, but it's usually used in combination with other turf grasses, including Kentucky bluegrass and tall or fine fescues.

In the South, homeowners sow perennial ryegrass seed to overseed warm-season turf grasses, like bermudagrass or zoysia. In winter, these warm-season grasses turn a buff color once cold weather arrives, and by sowing a crop of perennial ryegrass, the lawn stays green all winter long.

Perennial ryegrass seed germinates quickly and establishes rapidly, too. Once established, perennial ryegrass stands up to foot traffic well. This cool-season grass actually boasts the highest wear tolerance of all cool-season turf. Keep it mowed to a height of one to three inches. During prolonged drought, you'll probably have to water perennial ryegrass to keep it green.