Landscape Lighting Design Ideas
Set your yard aglow with landscape lighting design ideas.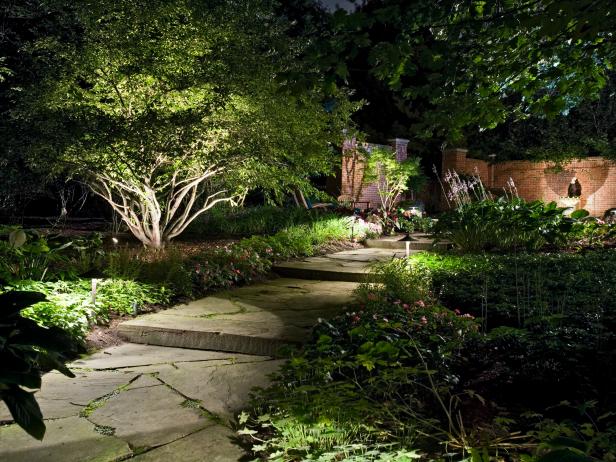 Path Lighting
Landscape lighting is an important safety element for any outdoor space. In this garden, a series of path lights illuminates the meandering walkway that leads to the destination terrace.
Lighting is an important part of your landscape plan. Your home's curb appeal isn't just for daylight hours. Check out these ideas for landscape lighting design:
Path lights and driveway lights: Lights that provide safety to your family and visitors are an asset to your home. They can be installed easily by you or a professional and can be your choice of electric, solar or battery-powered. Path lights light the way to your home and create ambience around your walkways and driveways. Choose from styles such as miniature glass lanterns, plastic mushroom lights, stone pillar lighting and more.

Uplights and spotlights: In addition to lighting traffic areas on your property, you landscape lighting design plan should also include uplights and spotlights that create a focal point on your house or in your yard. Have a beautiful weeping willow out front? Why not spotlight it? What about a stained glass window or other unique architectural feature on your home? Uplights are great along the front of your house, because they allow visitors to see the shape of your home without shining right into your windows.

Hardscape lighting: Perhaps you have an arbor, pergola, poolhouse, covered patio or other structure that needs to be lit for nighttime use but could also benefit from ambient showcase lighting. Consider cool or indirect lighting to create a moonlight effect in the structures at nighttime. Lighting an outdoor fireplace or barbecue area is also a nice touch.

Lighting art and water features: If you have architectural columns, statues or water features on your property, then using a combination of uplights, path lights and spotlights can showcase these elements and make them visual focal points in your yard. If you have sculptures, highlight those. Otherwise, choose something sculptural on your property and highlight it – such as a column, brick post or exterior crown moulding. A swimming pool lit from the inside and spotlit from the outside makes a great focus feature.

Fixed lighting: When choosing landscape lighting, don't forget that exterior lights attached to your home count as part of your landscape lighting design plan. Choose porch lights, street lanterns, driveway lights and other permanent fixtures in a style that complements the style of your home – and let that style dictate all other landscape lighting choices. Lampost lights come in solar varieties and with other options, so don't worry if you can't hardwire them to your home's electricity.