How to Install Landscape Lighting
Installing landscape lighting adds curb appeal to your home.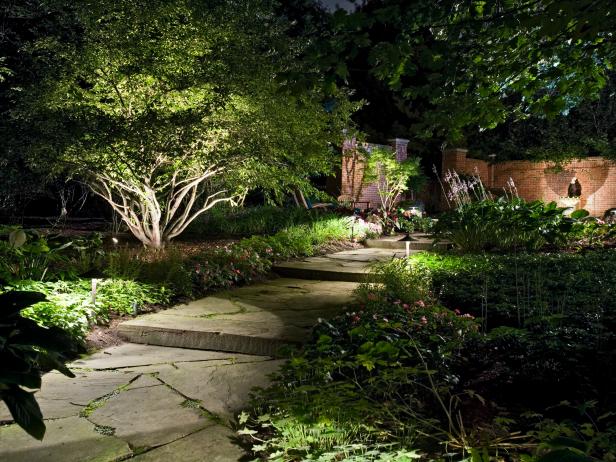 Path Lighting
Landscape lighting is an important safety element for any outdoor space. In this garden, a series of path lights illuminates the meandering walkway that leads to the destination terrace.
Installing landscape lighting doesn't have to be a daunting task. With so many options on the market today – including solar, LED and low-voltage landscape lights – you can choose a style and method that suit your home, wallet and skill level. Below are a few steps that will help you learn how to install landscape lighting.
Devise a landscape lighting design plan by drawing a picture of your home and yard or by using a D.I.Y. landscape design template. Determine where you need lighting based upon your outdoor activities. Mark the areas on your drawing where you will be using spaces after dark.
Determine what kind of lighting you need: will you need pathway and driveway lights, lanterns or street lights/lampposts? What about spotlights and "uplight" spots for focal points and special architecture features? Will you need ambient lighting for a sitting area or hardscape light for a structure such as a pergola or a pool? Divide these lights into categories.
Determine how many lights you need for each category.
Decide what type of lighting fits your budgets and needs. Will everything be hardwired and electrical? Will everything be solar? Will you choose a mix of electrical, solar and battery-powered lighting, depending upon each area's frequency of use?
Do your style research. Peruse online lighting websites and find the styles that mesh with your home's architectural style or visit your local garden center or hardware store to take a look at the styles available in inventory there.
Find out if your lighting installation requires an electrician and/or a permit. A quick call to your local government can help you find out if any permits are needed (this is usually for vary large or intensive jobs where huge amounts of dirt are to be moved).
Determine your materials and supplies. The installation of solar lights will be different than the installation of electrical lights, so make sure you determine exactly what's needed to do the job.
Buy landscape lighting kits if available. Many outdoor lights – especially path lights – come in handy kits with detailed instructions and all necessary materials. Check to see which of your lights come in kits.
Perform any yard prep work such as digging, clearing debris or relocating beds or pathways.
Get busy.
Happy installing!