How to Design a Landscape
Designing a landscape can be a breeze with the proper resources and tools.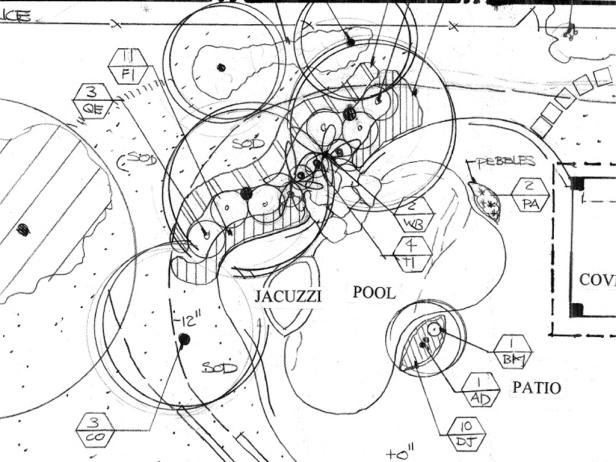 Detailed Landscaping Plan
Once you have chosen a focal point, make a landscape plan using drafting software or paper. Draw the hardscape features first, then think about the style — do you want jungle-like landscaping, formal gardens or a minimalist look with pebbles and a few specimen plants? As you draw your layout, note the specific plants you intend to use. Consider how much sun each area gets and research which species thrive in your hardiness zone. Drive around your neighborhood for ideas. A shrub that is thriving in a sunny spot in your neighbor's yard will likely do well in a sunny spot in your yard. If you are unsure of which plants to use, consider hiring a professional landscape architect to draw up your plan. You can still do the actual landscaping yourself.
If you want to know how to design a landscape, there are more resources available today than ever before to help you get started.
Below are a few steps for how to design a landscape, including landscape design tools, virtual landscape design and helpful templates that will allow you to complete much of the design work yourself.
Start virtually. Thank goodness for computers and the Internet. Although they sometimes seem to be at odds with the natural world, tech gadgets have made designing and planning a landscape much more simple for the average person. Dozens of landscape design tools are available online via a simple search. Templates are great, because they allow you to create and move landscaping zones around to get the right fit – sort of like putting puzzle pieces together. You might also discover a configuration or zone you hadn't even though of! Try them out and see how far you can go.
Consult a pro. Online tools can be a great way to get a feel for ideas you like and zone solutions that might work for your yard. However, nothing beats professional consultation from a landscape designer. Pros visit your property and understand topographic issues that a computer can only guess; landscape designers think ahead to avoid problems that could arise with drainage or sun exposure, and they can recommend or provide landscape installers to handle the labor for you.
Know your dollars and sense. It's not impossible to create a beautiful landscape design on a small sum, but setting a realistic budget will greatly aid you in your choices – both for plant life and hardscapes. Budgeting for labor is equally as important as your costs to fill your landscape zones with plants and materials. Getting an estimate from a landscape designer or installation company can help you decide how much, if any, of the project you'd like to install yourself in order to save money.
Consider maintenance. In our busy world, who has time to maintain an intricately landscaped property by herself? Garden enthusiasts enjoy the work of weeding and pruning, but busy lifestyles may not allow the required time to maintain multiple landscaping zones on a single property. Decide how much – if any – of your landscaping you'll maintain yourself. Then, budget and design accordingly to include plans for hired hands or low maintenance plants.