Cultivate Flower Beds Year-Round
Design a flower bed that's both colorful and visually appealing throughout the changing seasons.
Here are some ways to incorporate year-round color without year-round work.
We're sorry, there seems to be an issue playing this video. Please refresh the page or try again in a moment. If you continue to have issues, please contact us here.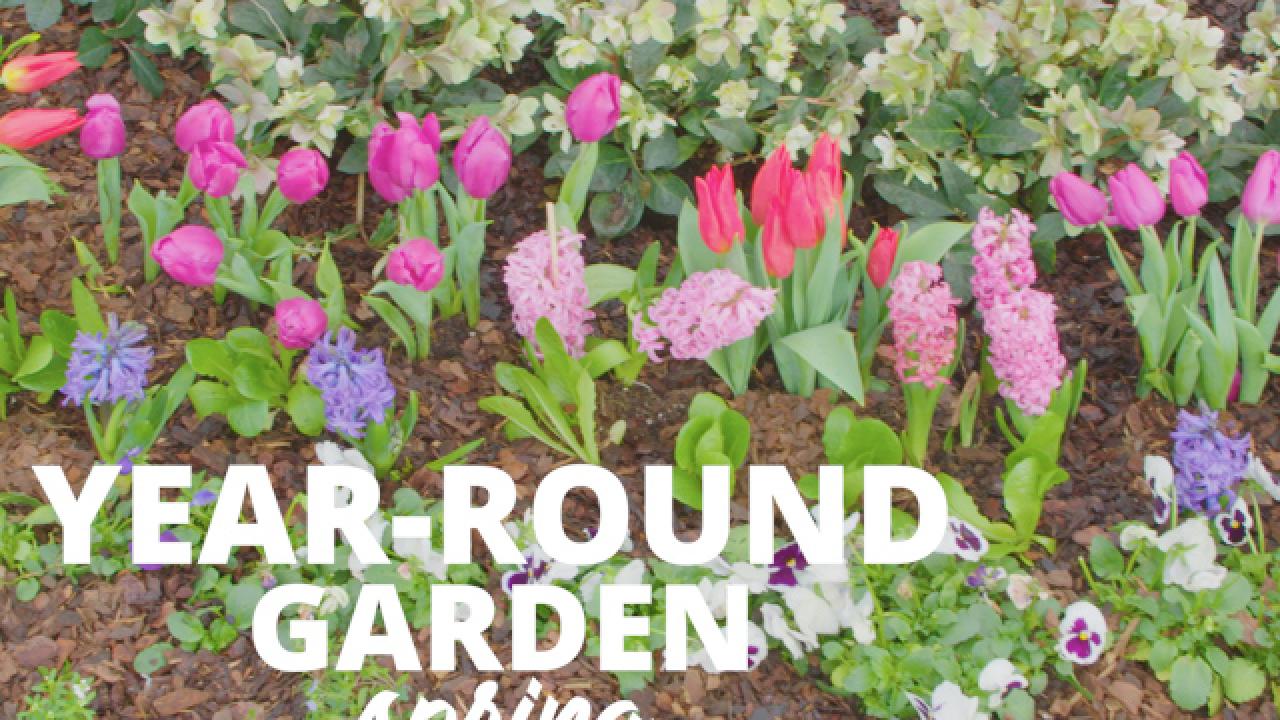 Integrate annuals such as the zinnia into your flower beds to provide a long period of color without an expensive price. This particular zinnia does best in full sun and average soil. It is also resistant to mildew, easy to grow and offers a long period of color.
Verbena spreads easily, prefers full sun, and can be grown from cuttings.
This carpet petunia does especially well in full sun and spreads out about 3' to 4' to provide a lush space with full sized flowers and lots of color.
Impatiens is another good color option for shaded or partially shaded locations.
Perennials offer a lot of color without a lot of work. While perennials tend to have specific blooming times, you can plan beautiful seasonal flowers by scheduling your plantings accordingly.
Asters prefer full sun, average soil and are a great choice for fall color.
The gerbera daisy grows best in full sun and is easy to care for.
Lobelia requires a location with full sun, grows about 2 to 3 feet in height and attracts hummingbirds.
False dragonhead needs lots of room to spread, full sun to light shade and provides a long blooming season.
Azaleas are known for their dazzling spring display of blossoms, but some deciduous varieties also bloom in the fall and feature colorful foliage, as well.
For spring color, bulbs are exceptional. Mix bulbs with perennials and annuals for a seamless transition from spring into summer.
Annual and perennial flowers and foliage highlight the summer months.
Most roses require a lot of preparation for rich, light, well-aerated soil with compost. Check with your local nursery to determine the correct rootstalk for planting. And in cold areas, plant your rose crown at ground level. Then, protect the crown with a mound of mulch.
Prune roses back in the springtime about 8 to 18 inches.
Lightly prune roses in the fall.
To correctly prune a rose, make an angled cut just above the bud.
Low-maintenance roses may vary in size from low, medium and tall shrubs to rambling vines.
During the fall and winter months, roses feature rose hips along the stems.
Cold winter areas may require plant grafting.
Colorful foliage is an inexpensive way for year-round color.
Variegated bougainvillea features cream and pink in leaves, as well as highlights the other colors in the landscape.
Coleus is easy to grow from seed or cuttings, and it displays a variety of different leaf shapes and colors. The best growing conditions are in full sun to partial shade. Pinch back the foliage to keep the shape compact. Butterflies are also attracted to the delicate flowers if the coleus.
Fountain grass intensifies in color during the fall and features ornamental seed heads during the winter.
Avoid too much color.
For short growing seasons, incorporate fruit bearing plants like the American holly that is an especially good choice for southern gardeners. In general, holly prefers full sun to light shade, is easy to grow, and provides birds with a delicious treat.
Mix berry plants with colorful foliage, and pick plants to complement the berry color.
When selecting colorful foliage plants, don't overlook cool colored foliage. These help highlight other colors nearby.