Landscape Edging Ideas and Options
Try some of these landscape edging ideas that work for many different yards.
Edging is often overlooked in landscape design plans, but should be considered a necessity for the creation of neat, maintainable landscaping zones.
The best-dressed garden borders feature finished edges. Discover inspiration for your yard in our gallery of lawn edging ideas.
Nobody likes a messy yard, a borderless wild bed spilling out of its bounds, or an unkempt pathway that screams of neglect. Guess what? Finding and using the best landscape edging ideas can cure many of these and other landscape design dilemmas.
Below are a few ideas and options for using edging for landscaping and for creating a neater landscape that can reduce the amount of time you spend on your landscape maintenance:
Edging with style: An abundance of edging products and materials are available at your local garden center, with plenty of options to create a look that matches the style of your home and that adds pleasing contrast to your garden or lawn. Consider bricks, stones or concrete block edging for a decorative effect — these products can be stacked or installed vertically or horizontally to create depth, define lines between beds, pathways and grassy areas, and to build short walls that bridge slightly higher elevations to gentle slopes. For a cottage feel, vinyl picket fencing or latticework can be installed around beds for a shabby chic look.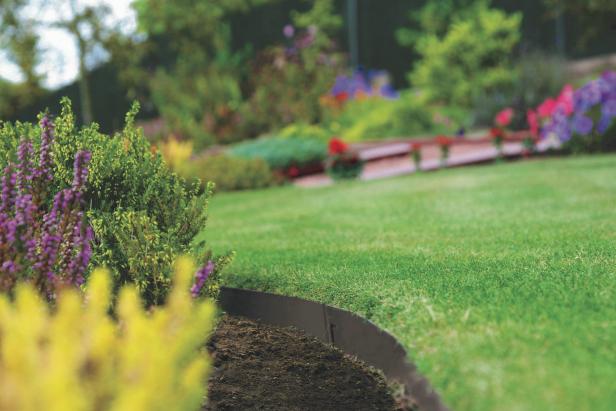 Steel Garden Edging
Keeping lawn edges neat along planting beds, paths and driveways doesn't have to be a time-consuming nightmare. With proper lawn edging, you elevate the look of your yard by defining lines. Edging also makes garden beds look professional and polished. Lawn edging comes in variety of materials at a range of price points. Flexible steel edging scores as a top-of-the-line treatment that boasts durability and good looks. It's maintenance free, and you can mow over it without damage.
EverEdge.com, available at KinsmanGarden.com
Edging in disguise: Many types of edging products are low-profile and are used as weed barriers and lawn separators instead of design elements. They are typically installed into the ground with an inch or two of above ground clearance to hold in mulch or other groundcover. Aluminum or steel edging is great for straight-line areas and won't rust, rot or become brittle. It's installed with stakes and can be molded into shapes and curves. Recycled brown lawn edging coil provides a textured, wood grained look that blends with mulch, rocks or soil. This type of edging is installed with plastic stakes and blocks spreading of grass and maintains a durable boundary.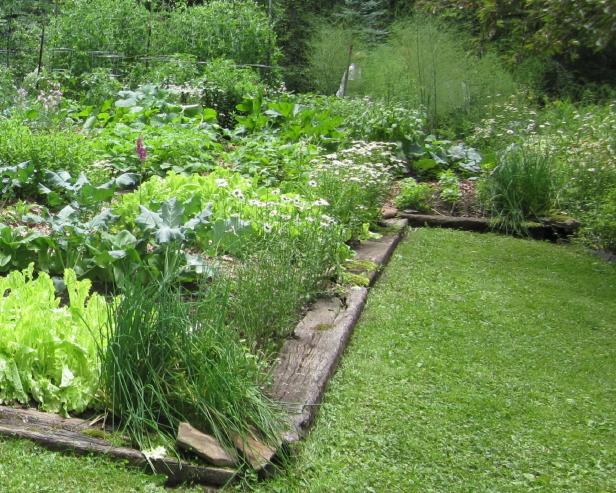 Landscape Timber Bed Edging
Turn to landscape timbers for an easy DIY lawn edging that keeps grass from invading planting areas. To install, you'll need to dig down a few inches to create a stable footing for the timbers. To help timbers last longer, it's a good idea to add a layer of landscape fabric topped with gravel between the timber and soil. Nestle timbers into soil as deeply as you want, but try to keep them raised at least a few inches to create a grass-proof barrier. Use a wider timber (6 inches minimum) if you're stacking timbers and want them to serve as seating.
Edging with a dual purpose: If you want to create greater definition between your landscaping zones, consider using landscape timbers or synthetic blocks to build borders or mini-walls around beds or to divide lawns from driveways, pathways and porches. This mode of edging can be used to create terracing and raised beds, as well.
Visit your local garden center and take a look at all the varieties of edging options available. It's best to see them in person and consider the texture, material, size and flexibility of the products before making your final decision on how best to utilize landscape edging in your yard.