Top 10 Ways to Keep Pets Safe in the Garden
Find out what experts, veterinarians and horticulturalists across the country advise for keeping your pet safe.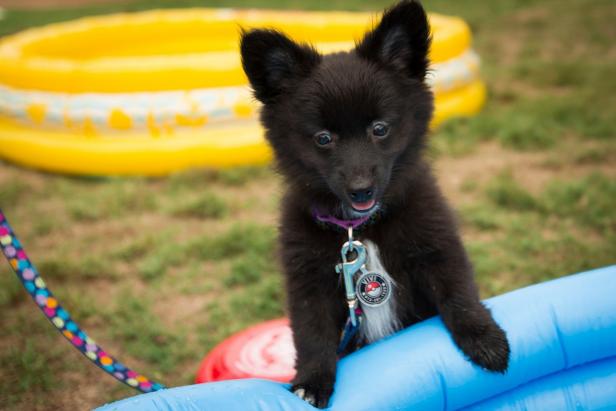 Doggie Cool Down
Your pet should always have a source of water and a place to cool down in hotter months. All the vets we spoke to, however, advised not letting your pet free range in the yard if there are risks. They can drown, choke, and fall, just like a toddler. Always puppy-proof your garden and consider consulting an expert landscaper as well as your vet when it doubt. 
Image Courtesy of Barkitecture
1. Consider Tossing the Lilies, Forever
"I urge my clients to never have lilies in their home or in their garden if their cats go outside. Even if you have a lily bouquet on top of your fridge where you don't think your cat can reach it, cats are curious and will find a way if interested. Cats can develop toxicity from eating any part of the plant and even from getting pollen on their fur. The toxic component of lilies is rapidly absorbed and filtered by the kidneys where the problem occurs. Clinical signs of toxicity include vomiting, lethargy, anorexia, and kidney failure. The toxin causes the kidneys to shut down and can ultimately cause death if not treated early and aggressively." – Dr. Jami-Lyn Derse, Veterinary Housecall Care
"Taller grasses might harbor ticks and fleas in brush. Frontline tick and flea control is a good preventative option. Inspect your pet, especially around the ears, face, and paws, and use flea/tick products prior to venturing out. You also can ask your vet about a Lyme disease vaccination." – Dr. Jeffrey Levy, House Call Vet
3. Provide Plenty of Shade
"Dogs can get skin cancer although not often. It is more common in white-coated dogs as they have less pigment in their skin. Providing protection form the sun such as with a doghouse is the best protection. Just like in humans, limiting exposure is best. Sunscreens can be applied to some areas—tips of ears, bridge of nose. Zinc oxide is toxic if ingested and should not be used. White coated cats seem to be much more prone to developing skin cancer, especially on tips of their ears and nose. As with dogs, limited exposure is best or applying sunscreen can help." – Dr. Doris Cato, Royston Animal Hospital
4. Store Garden Supplies Away From Pets
"Never store any gardening or yard supply in an area where animals have access. If your pet has even eaten a gardening product they will do it again even if they have gotten sick in the past. Restrict yard access after applying and gardening products -while most are safe once applied they can post risks to pets right after application." – Dr. John Tegzes, ToxVet.com
5. Evaluate Hardscape Options Carefully
"Asphalt is hot and harsh on paws. Synthetic lawns hold heat as well. Gravel can get lodged between large dog paw pads, and small dogs may choke on it. Decomposed granite stays cool and is not a chewing hazard." — Cassy Aoyagi, Form LA, environmental horticulturist
"Poop should never be composted due to the bacteria and parasites that can be present in the stool. It should also be removed from your dog's run immediately. Certain bacterial strains of E. coli/salmonella can actually be transmitted to humans through contact with infected stool. Hookworm and roundworm eggs passed in stool turn into larvae that can also infect humans." – Dr. Doris Cato, Royston Animal Hospital
According to several of our experts, there are two types of bacteria lurking in the soil that can cause severe harm to pets and people. Toxoplasmosis is usually transmitted from cat feces. Blastomycosis is a garden bacterium that develops in damp leaves.
"The most common injuries I see associated with gardens are those caused by thorns. Both rose and cactus thorns can cause serious injury to the eye and are notorious for becoming lodged in the feet." – Dr. Gaylord Brown, Chief Veterinarian Delta Rescue
9. Keep a Pet First-Aid Kit
Most of our experts warned us of the potential threat that stinging insects pose for our pets. If it's crawling or flying, your cat or dog is probably going to chase it. A small dose of Benadryl is safe for treating stings, but always call your vet first.
There are hundreds of plants that are toxic when ingested by pets such as yew, holly, tulips, azaleas, sago palms, chrysanthemum, oleander, poinsettia, English ivy, and rhododendrons. Walking the perimeter of your garden on a regular basis and taking inventory of plants can help prevent potential illnesses from occurring.