Discover plants that stir interest during the garden's quiet season.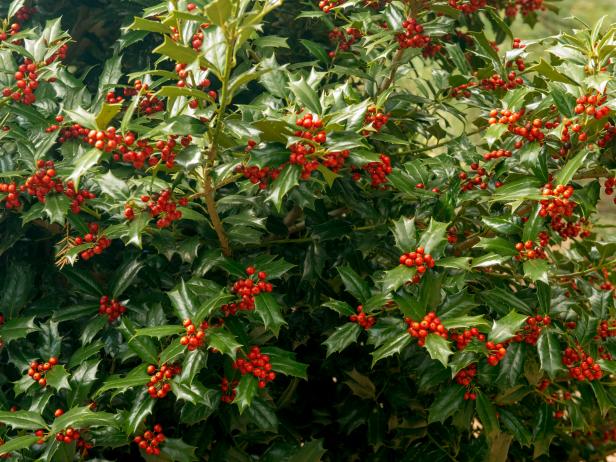 Holly Bush
Hollies bring an eye-catching display of evergreen leaves that is often punctuated with bright red or gold berries.
2013, HGTV/Scripps Networks, LLC. All Rights Reserved.
Give your yard a dose of winter color by including plants that steal the spotlight during cooler weather. Kick off your cool-season color with the beautiful blooms of camellia. The waxy-petalled flowers linger long on plants, displaying shades of red, pink, coral, white and bicolors. Plants are evergreen, growing to form shrubs or small trees. Once established, camellias are drought-tolerant.

Do your homework before buying a camellia to be sure you're choosing the hardiest one for your region. Gardeners can enjoy these rose-like blooms as far north as zone 6. In the coldest zones, select early-flowering types to enjoy a fall and early winter bloom and spring bloomers for color on the other end of winter. In regions with mild winters, count on camellias to toss open blooms from fall to spring.

Hollies bring an eye-catching display of evergreen leaves that is often punctuated with bright red or gold berries. Winterberry hollies are deciduous, and the berry-bedecked branches truly stop traffic. Cotoneaster is another leafy evergreen that you can depend on for a dazzling berry show in even frigid winters, while nandina shows off its berries in areas with milder winters. Tuck these plants in front of solid backdrops so the berries can shine.

Traditional evergreens also bring reliable color to winter landscapes. Pine, spruce, fir, juniper, yew and arborvitae withstand even the coldest winters. Along with familiar green hues, look for needled evergreens in shades of blue and gold. You can also find evergreens in any size—dwarf varieties to suit tiny front door gardens or towering trees for sprawling acreages.

Many woody plants enhance winter views with architectural branch structures. Doublefile viburnum has a symmetrical, tiered branch structure that's beautiful covered with snow. Native serviceberries also earn rave reviews for snow-covered branches. Japanese maples often have artistically shaped trunks, as does Harry Lauder's walking stick. The contorted branches on this shrub or small tree come into focus as winter arrives.

Other shrubs and trees boast beautiful bark that stirs winter interest. Paperbark maple, river birch, quaking aspen, sycamore and crape myrtle all have eye-catching bark. Red and yellow twig dogwood each inspire with their colorful winter stems, which show up best against dark evergreens or a snowy landscape.

Witch hazel, a native shrub or small tree, opens strappy flowers in late winter to early spring. The blooms offer shades of yellow or orange and a sweet fragrance. Fall foliage is a striking gold, so this plant pulls double duty in terms of seasonal interest. Other woody winter bloomers include winter jasmine, with cheery yellow blossoms, and star magnolia, which opens pale blush to white flowers with a sweet fragrance.

Close out winter with a flourish of color, courtesy of bulbs and perennials. Snowdrops, winter aconite and glory-of-the-snow grow from bulbs and return reliably year after year. Lenten roses (hellebores) offer leathery evergreen leaves accented with rose-like flowers in shades of pink, red, maroon, chartreuse and white. Plants self-sow readily, forming low-maintenance colonies.