Make Winter a Productive Garden Season
Don't give your green thumb a long winter's nap. Learn ways to make winter down time useful.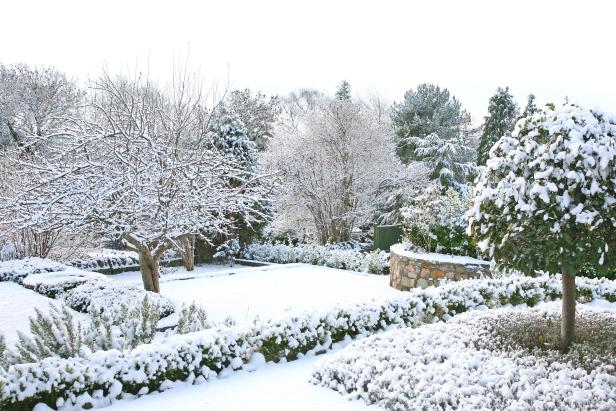 Formal Garden Covered With Blanket of Snow
Winter is a good time to evaluate your garden's design. Start by looking at your garden from indoors and other vantage points. Examine bed lines and paths. Are they logically placed, or do you need to add a new formal path? Determine if there is balance in the plantings or if one area seems too heavy or too light.
Transform the garden's quiet season into one of its most productive by tackling tasks that can help you get a jump on next year's growing season. In all but the warmest regions, winter often dictates a time of rest for gardeners. With outdoors offering too-cold or too-wet conditions, many green thumbs take seasonal vacations in winter, resting, perusing seed catalogs and anticipating spring. Winter's quiet days can actually become your garden's best season if you use the time wisely. Learn a few ways to make winter one of your most productive seasons—without growing a single thing.
Start by looking at your garden from indoors—and other vantage points. Examine bed lines and paths. Does the design seem organic or forced? Are paths logically placed, or do you need to add a new formal path? Is there balance in the plantings, or does one area seem too heavy or too light? Consider hardscape elements like a trellis, obelisk, patio or outdoor furniture. Are items placed in ways that combine function with design, such as being a focal point or adding a needed vertical element?
As you ponder your garden design, think about the plantings. Do you have plants that add winter interest, such as colorful stems, berried branches or structural branching? Is there a spot where you could use evergreens to add winter color? Many perennials have seedheads that offer strong winter forms. Examples include black-eyed susan, bee balm and tall sedums like 'Autumn Joy'. Ornamental grasses also inject winter scenery with eye-catching texture and shapes.
Make plans for the coming year's garden. Choose which new crops you want to grow. Commit to try at least one new edible crop—you'll expand your palette and garden experience. If you grow vegetables in a dedicated garden, sketch out next year's planting plan, taking care to rotate crops throughout the space. Save garden plans from year to year. Once you have three years' worth of designs in hand, you can start repeating them year after year. If you need to add shrubs or trees to your yard, start researching the topic now. Check with local garden centers during their winter quiet time to learn about varieties they recommend.
Check your garden notes and photos from this past growing season. Identify pest, disease or other problems you encountered, such as blossom end rot on tomatoes or aphids on roses. Research the problem and learn what you can do to prevent future occurrences. It's also a good idea to review which edible crops did well and if yields were too much, too little or just right.
Last but not least, use evenings and weekends that would otherwise be gardening time as an opportunity to get tools in tiptop shape. Sharpen all cutting blades, including the lawnmower blade. Oil hinges on cutting tools like loppers and pruners. Remove rust on digging tools and give them a newly filed sharp edge to take some of the effort out of next year's planting chores.