Garden Gloves, Hats and More to Make Your Work Easier
Protect yourself from scratches, harsh heat and broken nails with top-rated hats, gloves and one cool tool belt.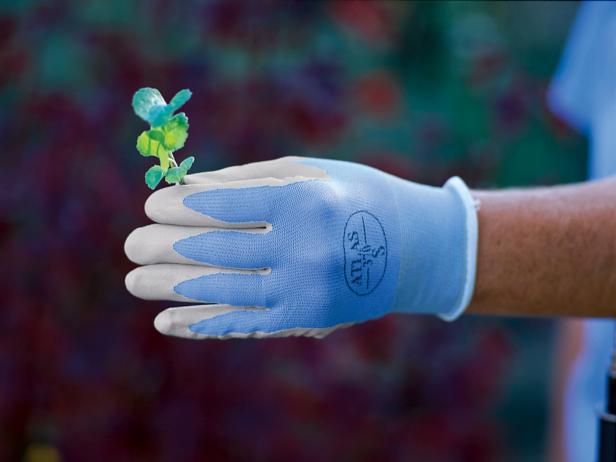 Nitrile Gloves
Though they are lightweight and come in a variety of fun colors, don't let appearances fool you – these gloves are tough. A thin layer of ultra-flexible nitrile make these gloves able to withstand tough abuse from the garden. www.gardeners.com/
Image courtesy of Gardener's Supply Company
If you love gardening — but you don't love broken, dirty fingernails or a sunburn on your face and ears — it's smart to invest in good garden gloves and a hat with a shady brim.

Gold Leaf Gloves from Gardener's Supply Company are among the few products ever endorsed by the British Royal Horticultural Society. The gardeners at Buckingham Palace also wear them, so you know they've got to be good. For everyday, all-around gardening chores, try the Soft Touch Gloves. They're made with deerskin leather on the palms, a combination backing of Lycra, nylon and foam and adjustable Velcro cuffs. Rose gardeners or anyone who works with thorny plants or brush can use Gold Leaf Tough Touch Gloves. Their tough, protective gauntlet covers wrists and forearms.
Gold Leaf Winter Touch Gloves from Gardener's Supply Company are made with a Thinsulate thermal layer to keep your hands warm and dry in nasty weather. The Dry Touch Gloves are a practical choice when the garden is wet or muddy; they're made of a specially treated deerskin, so you can rinse out the dirt and let them air-dry, and they'll remain soft and flexible. Gold Leaf Gloves are available for men and women.
Foxgloves come in as many bright colors as the flowers they're named for. Foxglove Originals are made from a water-resistant material that's pliable but strong. If your hands tend to swell a little after working in the garden, you'll appreciate the stretchy, breathable fabric. Long cuffs help keep out dirt and debris. Rated for UPF 50+ sun protection, the gloves can be machine-washed and dried, or you can hang them to air dry. If you need more coverage, opt for Foxgloves Elle, which go all the way up to your elbows. Foxgloves Grips are slip-resistant; textured silicone ovals on the palms and fingertips to help outdoor photographers and sweaty gardeners hold onto their gear. Foxglove color choices come straight from the great outdoors: Crow Black, Spring Green, Fuchsia, Iris (purple), Moss, Periwinkle, Tulip (red) or Sahara (beige). Find them at Foxgloves.

OK, maybe you don't need a belt for your garden tools, but the Gardener's Supply Company's Bloomin' Tool Belt isn't just cute. It's also handy, especially if you've ever put down your best binoculars and lost them in the yard (I was bird-watching). Individual pockets slide on or off the belt, so you can carry only as many as you want. It's also nice to scoot them around to your back when you bend over or sit. I like to keep a small notepad and pen in my belt, so I can remind myself to go back and stake the beans or spray the eggplants, and I tuck a cold bottle of water in the mesh pocket so I can stay hydrated. The belt, made of nylon webbing, buckles on and fits waists up to 44 inches.
It's nice to have a terry-cloth sweatband to help wick away perspiration on hot days, like the built-in band in Coolibar's Sun Shade Visor. The visor is hand washable, made from cotton canvas and air-dries quickly. Rated UPF 50+, it has a 4"-wide brim to shelter your skin from damaging rays. It's great for the gardener who wants to be fashionable, thanks to a cute bow that ties in the back. The visor comes in pink, lilac, blue and other colors. Best of all, you can roll it up and stick it in your pocket at the end of the day, and it'll pop right back into shape.
A little rain never stops me from wandering around to check out my flowers (but I don't step in the beds, since wet soil is easily compacted), so I have straw hats for sunny days and a rain hat for drippy ones. Gardener's Supply Company's Women's Misto Sombrero Rain Hat is a waterproof option for rainy-day gardeners like me. An extra-wide brim shields your eyes and face from the sun on fair-weather days, and a chin strap keeps the hat secure if it's windy. This one even floats, in case it falls off while you're planting water lilies in your garden pond. Available in three sizes, in black or khaki.
My absolute favorite garden hat is my old Tilley, but I'd like to try Tilley's new LTM10 Back-Vent Nylamtium® Hat. The vent in the crown lets air circulate, while the UPF 50+ fabric and broad brim guard against the sun. It promises to be as lightweight, durable and easy to pack as my original.