Climate Change in Your Own Backyard
Our planet is in trouble, but you can help by making changes in your garden.
Despite warnings from scientists, people have been debating whether the world is experiencing climate change for decades--until the 2015 Paris climate talks, when representatives from 200 nations finally concluded there's a problem, and it's up to all of us to fix it.
Reaching that historic agreement was the most important thing that came out of the talks, says environmental horticulturist Kim Eierman, the founder of EcoBeneficial!, a horticultural communications and consulting company.
"Homeowners can feel helpless," Eierman says of the negative impact of carbon emissions, overdevelopment and other factors. "But there's a lot each and every one of us can do to make a collective difference."
Most of us see three major effects of climate change, she adds: increased risk of floods and droughts; extreme weather events; and rising temperatures. "The overall pattern shows that these things are happening," and she says they'll get worse if we don't act. "Becoming a steward of your own landscape is super important."
How can you help? Eierman shared ten tips you can use, whether you garden on a patio, an apartment balcony or acres of land: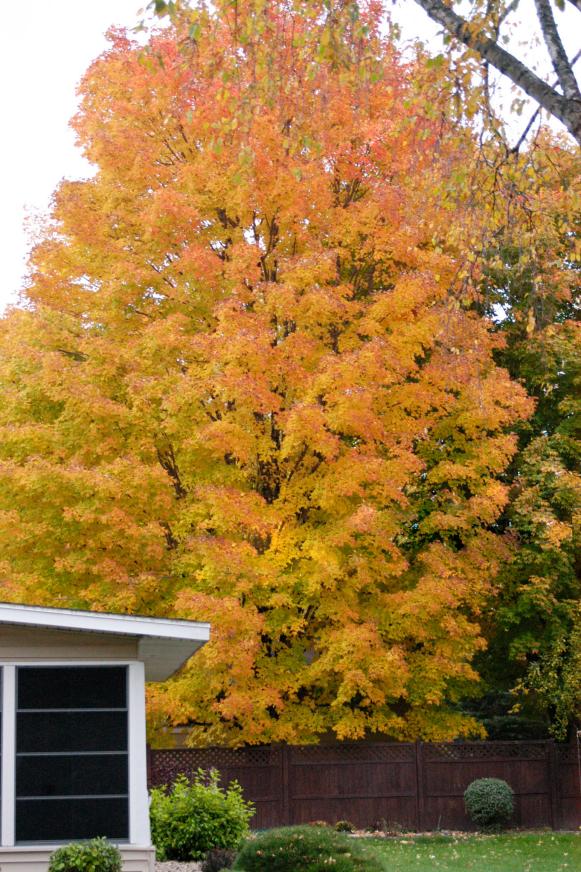 Sugar Maple in Fall
Traditional wisdom calls for fertilizing trees in early spring, if needed, but some research indicates that fall may be a better time. Wait a month after the first hard frost to feed; fertilizing while the temperatures are still warm and the tree is actively growing may lead to new growth that is killed back. For best results, test your soil and ask your local county extension agent for advice on what kind of fertilizer and how much to use.
1. Plant more trees. "Trees do so much that we take for granted," she says. "Go into a city in a hot climate in August and stand under a tree on any street. Then step out and stand on the sidewalk. You'll feel the incredible cooling effect that trees have. Their leaves and bark also hold enormous amounts of moisture that cools the air as it evaporates." Roots absorb rainwater to control soil erosion and recharge the water table.
Plant evergreens and deciduous trees. "Deciduous trees cool the earth in spring, summer and fall, and drop their leaves in winter to allow the sun's warmth to come through. Evergreens serve as windbreaks year-round."
2. Respect the root zone of your trees. A typical tree, Eierman says, has a root system that extends 2 to 2 ½ times beyond the canopy. "Most roots are within the top foot or so of soil, so when you put in a walkway or add an extension to your house, heavy equipment compacts the soil, cuts roots, and compromises the ability of the tree to withstand storm events." Also, allow fallen leaves to stay at the base of the tree. Leaf litter helps hold moisture in the soil and serves as mulch. When leaves decay, they return valuable nutrients to the soil.
3. Replace or reduce your lawn. Eierman suggests replacing exotic turf grasses with biodiverse and preferably native plantings. Most turf grasses are shallow-rooted and high-maintenance; she calls them "green deserts." Some native grasses have roots that go many feet deep. "Little bluestem, for example, holds an enormous amount of moisture but also tolerates periods of drought. That's the power of deep roots."
4. Plant more diversely. Research shows that gardens and landscapes with many different species of plants are better able to resist pests, diseases and the affects of climate change, Eierman notes. Natives are an excellent choice, because these plants can support native fauna.
5. Reduce hardscaped areas—that is, walks, driveways, paths or other surfaces that rainwater can't enter. Water that runs off carries oils and toxins into our water supply. But replace hardscaping with vegetation, Eierman says. "Not lawn. When you need hardscaping, use permeable materials."
6. Create a rain garden to help handle the water that falls on your ground.
7. Don't plant along the edge of a water feature, pond, stream or lake. Grow a buffer of vegetation to help keep fertilizer and chemicals from getting into the water. This also helps control erosion and creates habitat for wildlife.
8. Use better planting practices. "Put the right plant in the right place," Eierman says, and plant at a time of year when the days are warm but the nights are cool -- the fall can be a great time to plant. Plants will be less stressed, require less water and develop healthier root systems.
9. Be thoughtful about plant choices. Try "multiple duty plants" that provide many ecological functions, Eierman says. For example, blueberries have flowers that are attractive to native bumblebees, edible berries, pretty fall colors and deep roots that hold the soil.
Eierman believes it's not too late to turn climate change around. "We're capable of making small changes in our landscapes that can make enormous environmental differences in every landscape. We've got to think of ourselves as stewards. We can have more beautiful landscapes filled with life."