Avoid Bamboo Like the Plague
Consider how fast bamboo spreads before deciding whether to put it in your garden.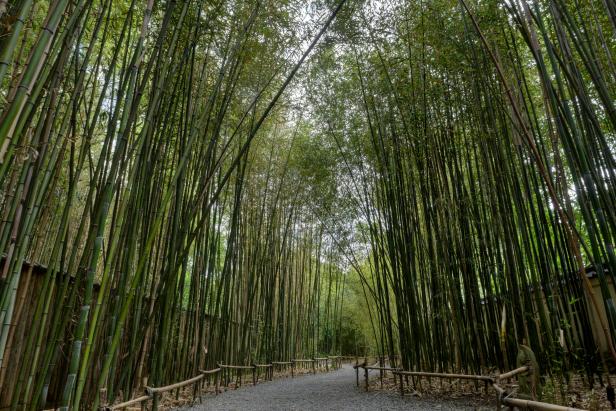 Bamboo Immersion
The name Nashville evokes images of country-western music legends and the Grand Ole Opry but it is also home to Cheekwood Botanical Garden and Museum of Art which is well known among the locals for 55 stunning acres of boxwoods, perennials, a sculpture trail, water features and other themed sections. One of the most alluring attractions is Shomu-en, the Japanese garden which includes a walk through a dark bamboo forest.
Image courtesy of Cheekwood Botanical Garden & Museum of Art
Looking for the perfect privacy screen for shielding your back yard from nosy neighbors? For many, the quick -- and I do mean quick -- solution is bamboo.
Bamboo, which technically is a giant grass, is one of the world's most invasive plants. Once established, it is literally next to impossible to control. The sprouts that shoot up from the ground each spring can grow 12 inches a day! The underground roots of common running "fishpole" bamboo, which can easily reach 15 feet tall, can travel as far as 20 feet or more from the original clump.
More Advice
Learn why bamboo plant is either loved or hated, plus get to know varieties of both clump and running bamboo types.
There's no denying bamboo makes a pretty exotic screen. And with its slender form, it is seemingly ideal for tight urban spaces. Yet, in no time new shoots will appear outside its planting space, creating a maintenance nightmare.
Controlling Running Bamboo
If you simply want to control its spread, it's best to create a barrier, though sometimes even that doesn't work. Dig a trench two feet deep around the clump and insert 24-inch-wide aluminum flashing, leaving several inches of it above ground to prevent its roots from climbing over. Still, know that bamboo has been known to run even below concrete barriers and resurface on the other side, so this is no guaranteed fortress.
You can also grow bamboo in containers. In time, the bamboo will become extremely pot-bound and begin to grow outside the pot, and you may notice a distinct lack of vigor. You'll need to choose whether to put the bamboo in an even bigger pot or give it a home in the ground.
If you really want to get rid of all your bamboo, brace yourself for being a vigilante. As soon as the first sprouts emerge in spring, knock them back to ground level using a shovel and continue for several weeks while the shoots are tender and before they become woody and tough. Then, using a paintbrush, apply the strongest recommended strength of Roundup to the cuts. Finally, keep an eye out throughout summer for those stubborn renegade runners.
So is all bamboo evil and therefore must be destroyed? Not at all. Some clumping (vs. running) varieties are not invasive at all. Still, to be safe, it's best to use them in container gardens, which make great accents and focal points, especially the popular black bamboo varieties.
Be aware that most clumping bamboos are not cold hardy, so it's best to treat them as annuals. The Fargesia genus provides some of the hardiest clumpers, and one cultivar in particular, 'Green Panda,' reaches 6-8 feet, so when planted in a group it makes an excellent screen (Plant bamboo in spring, not fall, to avoid winter burn on plants).
Other Options
Gorgeous ornamental grasses add movement, color and texture to gardens made in the shade or sun.
If you'd like to avoid bamboo altogether, consider a few alternatives for screening, such as the grassy-like Carex, or sedges and evergreen conifers such as 'Green Giant' thuja, "Emerald Green' arborvitae and Leyland cypress.
And just to set the record straight for all you indoor gardeners, that "Lucky Bamboo" that became all the rage several years ago . . . it's not a bamboo at all but a dracena.
Ah, the wonders of this mysterious grass continue to run rampant!