9 Ways to Garden Smarter, Not Harder
Follow these tips to help your garden thrive without breaking a sweat—or your budget.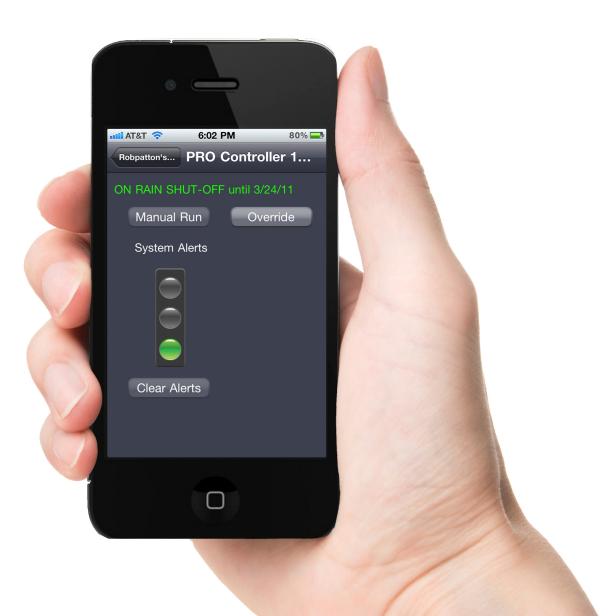 Irrigation Guru
Gadgets like this Cyber Rain irrigation controller monitor the weather and adjust the watering schedule in your garden so your plants don't drown or dry up. There are lots of low-tech ways to make your gardening tasks easier, too.
Image courtesy of Cyber Rain
You don't have to be into smartphones or other "smart gear" to be a savvy gardener, although technology can help. It's just as important to use good gardening techniques and eco-friendly ways to make gardening easier on your back and your budget—as well as more fun.
Check out our tips below and grow your green IQ:

Pre-packaged seed pods or tapes can make sowing your next garden go a lot faster. They're especially helpful for tiny seeds like carrots, which can be hard to handle and space properly. Some tapes or packets come with a carefully selected mix of flowers so you get a bed of compatible, color-coordinated plants.
Wi-Fi timers and other irrigation system controllers make watering a snap; they're great for gardeners who tend to forget this chore until their plants are wilted and dry. Some devices sync with real-time forecasts to turn your sprinklers on and off when they detect a change in the local weather or even the season. You'll find models that connect to your smartphone, tablet or other mobile device so you can change your watering schedule anytime and from almost anywhere.
You may know that many bees and butterflies are disappearing due to loss of habitat, overexposure to pesticides, and other issues. We can help wild creatures by growing more plants that provide the pollen or nectar they need for food, such as native wildflowers, flowering herbs, berries and flowering vegetables. Even leaving patches of dandelions, clover and other weeds around your yard can help. In turn, bees and other pollinators help increase the yield in our gardens so we reap bigger, better harvests.
Sticking your finger into a potted plant is still a good way to tell if it needs watering so you don't drown it with too much water or let it dry past the point of no return. But there are also easy-to-use sensors on the market to help you conserve water and cut down on your utility bills. Some are handheld meters that you insert into the soil to see how much moisture it's holding. Others are wireless sensors that send info to your mobile device not only about moisture levels, but also about humidity, temperature and other growing conditions.
Being a smart gardener isn't all about helping yourself; it's also about caring for the environment and making life better for the next generation. So don't toss that plastic pot or tray in the trash where it will end up in a landfill. Check with a local nursery, garden center, county extension service office or your city or county government to find a recycling center. Don't forget about composting, either, which might be the ultimate in recycling. Put lawn clippings, green kitchen scraps, eggshells, coffee grounds, shredded leaves and the like in a pile and use the result to improve your soil naturally.
If your utility bills soar in the summer, plant deciduous shade trees to help shade your home. You won't need to run your air conditioning as often, and when their leaves drop the sun can warm your house during the fall and winter. Bonus: trees are handsome additions to your landscape. Learn more about landscaping to save energy, and find trees recommended for your region.
Save money by swapping seeds or plants for your garden. You can start your own swap, trade for seeds online or join a membership exchange like the one offered by non-profit Seed Savers.
Harvest rainwater. Admittedly, making your own rain barrel takes a little work, but the payoff comes through lower water bills and the satisfaction of saving a precious natural resource. Don't have time or energy for another DIY project? Install a premade rain barrel kit.
Look for drought- and heat-tolerant varieties of your favorite ornamentals and edibles. You'll get better results with plants that are adapted to your region and they won't require as much care. A xeriscape garden can be part of this strategy.