Tomato Peach Salad Recipe
Put your summer produce to good use in this delectable salad that makes your garden the star.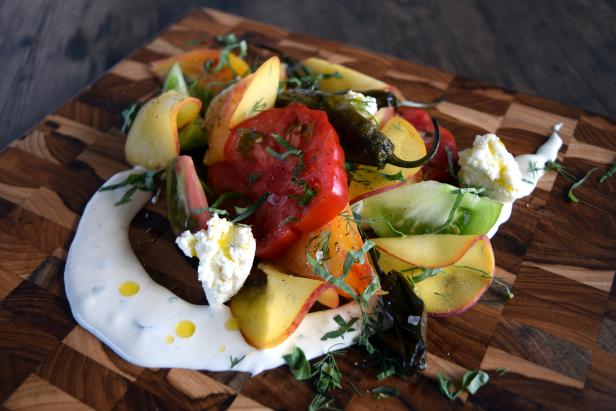 Tomato Peach Salad
This recipe from Chef Tom Gray of Moxie Kitchen + Cocktails in Jacksonville, Florida combines tomatoes and peaches in a refreshing and colorful summer salad.
Summer is made for light, refreshing salads tailor-made for outdoor enjoyment. Chef Tom Gray of Moxie Kitchen + Cocktails in Jacksonville, Florida puts summer produce into a delectable salad with his Tomato Peach Salad Recipe.
Serves 4 – 6

Ingredients:


4 ripe tomatoes – garden or heirloom type
2 ripe peaches or nectarines – based on availability
12 Shishito peppers or other mild pepper – washed and dried. Leave whole with the stems on.
Extra virgin olive oil -for sautéing
1 sprig each of basil, dill and tarragon – washed and dried
4 ounces ricotta cheese
1 fresh lemon
Prepare immediately before serving.

Place the ricotta cheese in a small bowl and microplane fresh lemon zest onto cheese.

Squeeze the juice of the lemon onto the ricotta and gently mix.

Add a pinch of freshly ground black pepper and sea salt to taste and mix well. Set aside.

Toss the washed peppers lightly in olive oil. Sauté in olive oil until lightly blistered and softened, about 3-5 minutes. Hold at room temperature.

Wash and remove core of tomatoes. Slice into ½" thick slices and lay on platter in random pattern. Season lightly with sea salt and freshly ground black pepper.

Cut the peaches or nectarines in half and remove pit. Slice thinly with a mandolin over the tomato in a random pattern.

Drop dollops of the ricotta cheese-lemon mixture randomly onto the tomatoes and nectarines.

Lay peppers on and drizzle lightly with extra virgin olive oil.

Garnish with torn herbs and serve immediately.