Simple knife skills will unlock fennel's flavorful nature. Learn how to tackle this oversize bulb.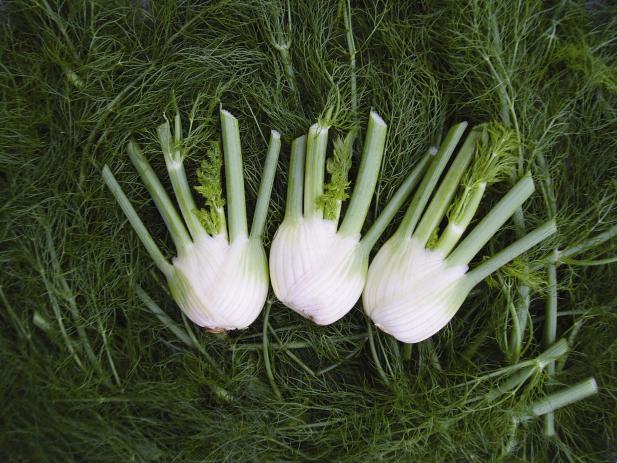 Fennel
Feathery fennel has a slight licorice taste. For a refreshing drink, chop the bulbs and stems coarsely and put them into two quarts of water with a thinly-sliced orange. Refrigerate the mix for a couple of days to let the flavors mingle, strain it, and serve it over ice. Kept in the fridge, the infusion should last for a another day or two. If you prefer, substitute a quart of sparkling water for the ordinary water when you prepare the mixture, and add another quart of sparkling water just before you serve it.
Fennel is a garden mash-up: part herb, part vegetable — but all parts delicious. Botanically it's treated as an herb (look for seeds in the herb section), but in the produce aisle, it's usually tucked among vegetables like celery and greens. Fennel grows best in fall and winter, which is when bulbs typically appear at farmers' markets and in CSA boxes.
Also known as anise, fennel offers a licoricey bite that fits anywhere on the menu — in a before-dinner cocktail, main dish, sides or dessert. Traditionally it's paired with seafood, salads and veggies. Every part of the bulb is useful, including ferny leaves (a garnish with taste and good looks) and celery-like stalks (fantastic in slow-cooked stock). To savor all that goodness, you only need basic knife skills. Here's how to cut fennel bulbs.
Rinse bulb and fronds to remove any obvious soil. Pinch and toss any dead patches of fronds. Remove stalks, slicing them close to the bulb. Save stalks for stock, stew or roasting meats. To store, wrap the stalks in plastic and stash in the fridge. If using soon, slip the cut ends into a vase of water. Use a vegetable peeler to remove bruises or dings on outer bulb layers. Alternately, remove outer layers and compost them.
Cut off the bulb base plate so the bulb sits flat. Slice the bulb in half, cutting it pole to pole (through the stem and root end) or across the equator (perpendicular to stems). We're cutting pole to pole because it provides some versatility for later cuts.
A fennel bulb is similar to an onion, with layers. The main difference is that the core in a fennel bulb is larger, extending further into the bulb. The core is edible, but many people remove it prior to cutting the bulb.
Flip the bulb cut-side down and start slicing, making the cuts parallel to the pole line. Keep the core and slice off layers held together by the core. Use this type of slice for grilling — layers won't fall through the grate. Remove the core before slicing, and you wind up with loose layer slices (top of photo). For shaved slices, run the bulb over a mandolin.
To dice, keep the core intact and cut through the bulb (pole-to-pole) in a series of narrow, side-by-side cuts. Extend cuts just to the core, but not into it, so the core holds the sliced bulb together. Turn the bulb and slice crosswise, creating the size dice you desire.
Fennel provides a unique flavor. This herb packs a tasty punch that blends beautifully with autumn apples, acorn squash, seafood and roasted poultry. Here's some inspiration to start cooking with fennel.
Salad and slaw. Shave or dice fennel bulbs into salads with summer squash, cucumber or apples, add feta or goat cheese, and your favorite dressing. Or toss with chopped radicchio and endive, add citrus sections and whip up a citrusy vinaigrette. Create apple-fennel slaw by shaving ingredients with a mandolin. Add pecans and drizzle with dressing.
Seafood. Pair fennel with shrimp, salmon or your favorite fish. Cook seafood as usual, adding fennel to the pan to soften (and season fish).
Roast. Slice or dice, mix with other veggies (beet, butternut squash, sweet pepper), toss with olive oil, and oven roast. Serve solo or over quinoa, pasta or rice.
Pesto. Toss roasted fennel bulb with pine nuts, parmesan, olive oil and fennel fronds to make a tasty pesto.
Slow-cook. Use fennel stems to create a bed for roasting meats or add stem and bulb pieces to a slow cooker with chicken or pork.
Grill. Toss fennel bulb sections with olive oil and roast on a grill or in a basket. Grill solo or with other cool-season veggies, including radicchio, carrot, parsnip or winter squash.
Braised. Sautee and braise fennel bulb sections with chopped tomatoes. Serve as a side to mild white fish or toss with pasta (add chunk crab for real yum!).
When buying fennel, look for heavy bulbs with tight layers. Choose bulbs with firm (not limp) stems and fronds still attached — not just for the extra goodies, but because stems help the bulb stay fresher longer.
Wrap uncut fennel bulbs loosely in plastic and tuck in your fridge's vegetable drawer. As the bulb dries out, the flavor dissipates. For best taste, use store-bought bulbs within five days. Farm-fresh bulbs retain flavor longer, up to 10 days.