Gold Standard: Okra Beignets
Two great Southern specialties—okra and deep-frying—come together in this James Villas recipe.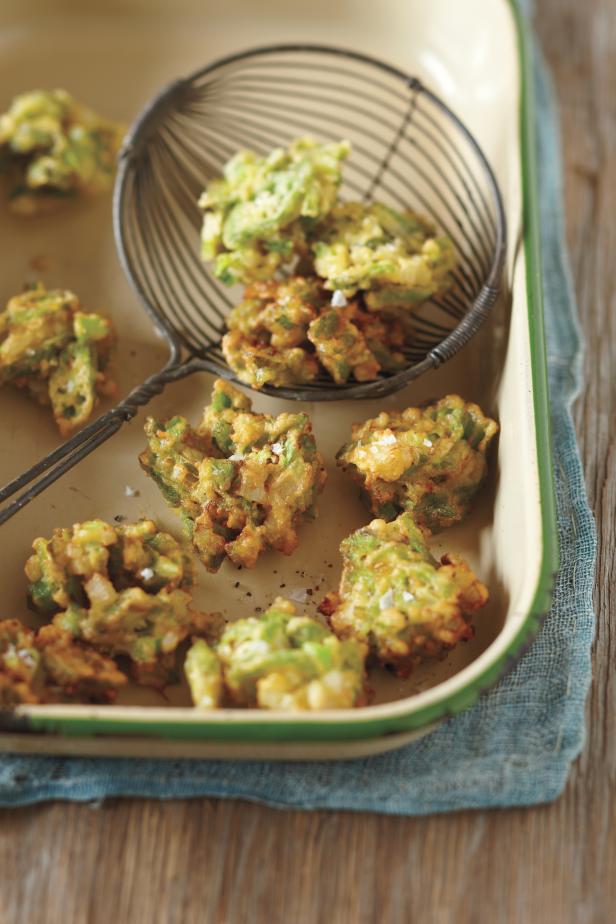 Okra Beignets
Turn your garden-fresh okra into delicious nuggets of deep-fried goodness with the help of Southern Fried cookbook author James Villas.
2013, Reprinted with permission from the publisher, Houghton Mifflin Harcourt, from Southern Fried by James Villas. Photography by Jason Wyche
Turn your garden-fresh okra into delicious nuggets of deep-fried goodness with the help of
Southern Fried
cookbook author James Villas.
These spicy beignets were inspired by the ones Bill Neal fried up when he opened Crook's Corner restaurant in Chapel Hill, North Carolina, and, quite frankly, you'll never taste a more delicious okra dish. Just remember never to crowd the skillet when frying the beignets, and don't try to keep them warm in the oven, which only makes them soggy. When shopping for fresh okra, always look for small, firm pods with no dark spots.—James Villas
1 pound small, firm, fresh okra
2 medium onions, minced
1⁄2 small green bell pepper, seeded and minced
3 tablespoons all-purpose flour
1⁄4 cup fine dry bread crumbs
1⁄2 teaspoon salt, plus more as needed
1 large egg
1 tablespoon half-and-half
1⁄2 teaspoon Tabasco sauce
Vegetable shortening for deep frying
Rinse the okra, remove the stems, and thinly slice the pods. In a bowl, combine the okra, onions, and bell pepper and toss till well blended. Add the flour, bread crumbs, and 1⁄2 teaspoon salt and toss again. In a small bowl, whisk together the egg, half-and-half, and Tabasco till well blended, pour over the okra mixture, stir till well blended, and let stand for about 30 minutes.

In a large, heavy skillet, heat about 1 inch of shortening to 375°F on a deep-fat thermometer, drop the okra mixture by tablespoons into the hot fat, fry till golden brown and crisp on all sides, 3 to 4 minutes, and transfer with a slotted spoon to paper towels to drain. If you like, sprinkle with a little extra salt. Serve piping hot.