Garden to Table: Cauliflower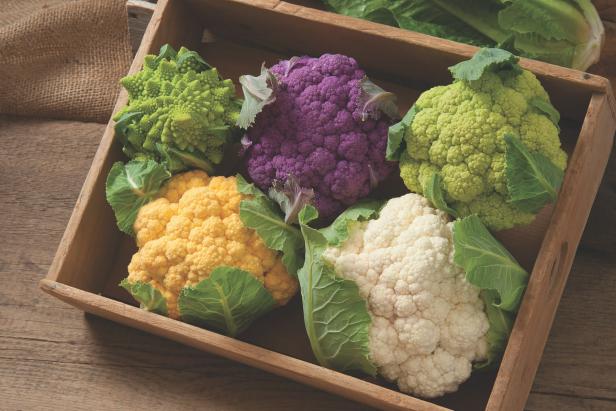 Colorful Cauliflower
Nutrient-rich cauliflower provides vitamin C, fiber and folate. Because it absorbs flavors easily, you can spice or season it for a variety of recipes. Use it instead of chicken in Chinese dishes, cut it into steaks, whip up a cauliflower curry stew, or crumble the florets and cook them like ground beef. Cauliflower florets can also be rolled in bread crumbs and cheese, sprinkled with hot sauce and served like Buffalo wings.
Courtesy's Johnny's Selected Seeds

Perhaps you've never noticed. But there's something mysterious and sultry about the cauliflower. She is a flower, after all. But as the flower of a plant closely related to cabbage, perhaps her beauty is easily overlooked. We like to think of cauliflower as a veiled beauty, which you appreciate all the more once you really understand her. What other vegetable looks like a cloud while delivering all the earthy odor and texture of a broccoli? And cauliflower is a solid math nerd too, with a very unusual fractal pattern noted by geometrists.

Cauliflower is not easy to keep pristine while growing in the South. Rich in protein, thiamin, riboflavin, niacin, magnesium, phosphorus, folate and vitamins C, K and B6, fresh, local, organically grown cauliflower is a real treat where we come from. Clearly, we are not the only vegetable lovers inspired by cauliflower. In colder, more northern parts, there are cauliflower festivals and even a Long Island Cauliflower Growers Association. Mark Twain was inspired to write, "[t]raining is everything. The peach was once a bitter almond; cauliflower is nothing but cabbage with a college education." Artist Brock Davis even recreated some of history's famous explosions with cauliflower.

Grow, cook and eat your own at home for best results.—Joe & Judith

Amazing, Fremont, Cassius, Veronica Romanesco, Early Snowball
Collared with green leaves, cauliflower is like a soft globe, ruffled and lobed. Most varieties come out white, but try Romanesco for a green flair, as well as amazing architecture, or purple or orange types.
Cauliflower distinctly packs one of the nuttiest qualities in the garden. It is one of those few vegetables that will maintain its sovereign texture regardless of the culinary preparation.
We typically grown cauliflower as a fall crop due to our Southern humidity and short spring season.
In lieu of starting with seeds in the soil, we sprout young transplants in the greenhouse 4-6 weeks before planting. In our experience, a larger seed tray cell provides a bigger root and a more vigorous plant when put out in the soil.
Cauliflower has a high nitrogen fertility demand. We amend with feather meal to provide additional nitrogen as well as farm-made compost. It also loves calcium and gypsum, or calcium sulfate, which can be a great mineral addition.
We transplant young plants 12" apart in the row and 18" between rows, although cauliflower might prefer more space. It is one of the bushiest plants in the garden.
The trick to cauliflower is to plan ahead of time to put plants in the ground so they mature before the first hard freeze arrives and to pay close attention to the development of the bloom head, or crown, which originates from the heart of the plant.
Sometimes growers will tie the outer leaves together to provide additional insulation for the crown and add a more blanched, or sweeter quality.
Aphids are our most challenging pest and we use insecticidal soap to control them in the event of an infestation.
Cauliflower is also highly susceptible to mildews, especially in a humid climate or covered with row cover. This is tough to control organically and might require understanding that a mildewed head is still good to eat or discussing the blemishing with one's customers.
A real team player, cauliflower is a great addition to your fall menu. Ever-adaptable, cauliflower is a great option for steaming, roasting, frying or pureeing. So put your garden harvest to good use with these delicious FN Dish recipes. Add some luscious cheese — a real great taste enabler — to your cauliflower dish with Bobby Flay's Cauliflower Goat Cheese Gratin. Looking for something more exotic? Tuck into Claire Robinson's Roasted Cauliflower with Dates and Pine Nuts from Food Network Magazine. Learn more about all of your cauliflower options from our friends at FN Dish
In this Garden to Table feature, farmer-bloggers Judith Winfrey and Joe Reynolds offer their tips for sowing, growing and harvesting. And then we kick it over to FN Dish for some delicious recipes using this seasonal produce.—HGTVGardens