The superlative carrot is a total package for health, longevity and vigor.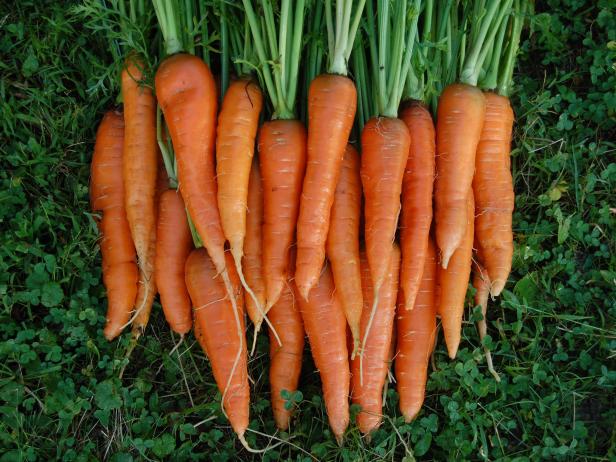 Carrot 'St. Valery'
The non-profit Seed Savers Exchange says 'St. Valery' was mentioned in gardening literature as early as 1885. This heirloom has red-orange roots that grow to 12 inches, with a fine-grained flesh and sweet taste. 'St. Valery' keeps well in storage.
Vaudeville heroine and sex symbol, Mae West, once said, "I never worry about diets. The only carrots that interest me are the number you get in a diamond." But the good news for all of us who love to grow good food, is that many people disagree with Ms. West. The superlative carrot is a total package for health, longevity and vigor. Like the rough coal that pupates under extreme pressures to become a diamond, the carrot is a magic, thing of beauty lying deep beneath the soil. Carrots have made an incredible trajectory in history from the thin, scraggly, woody taproot that agriculturalists first discovered to become the sleek, plump, beta-carotene loaded vision of beauty that we know today.
Closely related to fennel, parsley, parsnip, and cilantro, the dual-purpose carrot has herbal, floral character from the essential oils found in the leaves, roots, flowers and seeds of the plant. It is hard to imagine it today, but the carrot's contemporary orange patina was not bred out of the plant until a millennium after its discovery. The original carrot color schemes were white, yellow, purple and red, still found today in heirloom varieties grown and preserved.—Joe & Judith
Yaya, Cosmic Purple, Dragon, St. Valery, Amarillo, Red Cored Chantennay
Conjuring up all the hues on the horizon when the sun sets, carrots radiate those treasured pigments upward from below in perfect oranges, purples, yellows, reds and whites. For true beauty, split a young carrot in half and marvel at the concentric M.C. Escher-esque architecture found in its growth rings.
Like a perfect movie heroine, carrots manage to bring a toughness of character as well as the vision of a perfect flower. Everyone that reads this blog knows how we revere texture, and carrots do not disappoint with unprecedented levels of crunch. But the carrot is additionally unafraid to impart perfect essential oils of fragrance onto any accompanying dish.
Carrots prefer a soil that has some tilth, or loosened depth. Before seeding, work soil with a pitchfork to loosen topsoil. Compost and worm castings can be very useful in breaking up compacted topsoil.
Sow seeds directly and keep well-watered until emergence of seedlings. Carrots often take two weeks to germinate. A word of caution: Don't use seed older than one year for germinating carrots. We seed in rows roughly 6-8" apart.
As soon as you see the emergence of first true leaves, hoe in between rows to cultivate out faster-growing weeds. Keep plants weeded to ensure healthy and quicker growing carrots.
Many folks thin carrots to 2-3" in between plants. In order to skip this stage, we use carrot varieties that grow deep and do well pushing themselves apart under the soil.
When harvesting, check the width of the carrot's root to determine its size. We harvest carrots fresh and bunch them together with their greens. For storing carrots, we pull carrots first and separate greens. Carrot roots by themselves can store for months, but they only hold for a couple of weeks with their greens still attached.
Carrots have a reputation for being those constants of the lunch box, the crudité supporting player. Maybe we just aren't giving these root vegetables their due?
Punch up the flavor potential of your carrots with these Coriander Glazed Carrots from Food Network Magazine. Keep that spicy theme going with Food Network Magazine's Glazed Salmon with Spiced Carrots. And carrots pair so nicely with all thinks sweet (think carrot cake!), which is why we love this rustic and delicious Brown Sugared Carrots with molasses and rosemary recipe from Alex Guarnaschelli.
But there's even more carrot goodness in store, from an Alton Brown Carrot Cake to a Food Network Magazine Horseradish-Crusted Brisket with Carrots, all at FN Dish.
In this Garden to Table feature, farmer-bloggers Judith Winfrey and Joe Reynolds offer their tips for sowing, growing and harvesting. And then we kick it over to FN Dish for some delicious recipes using this seasonal produce.