With the right preparation, these are the jewels of your kitchen.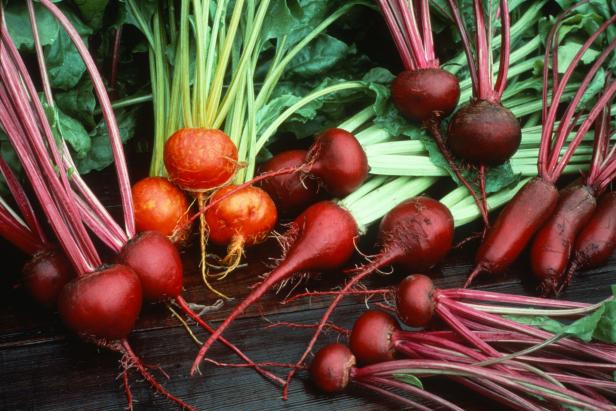 Beets
Vegetables that need moderate amounts of fertilizer are plants like beets, potatoes, okra and carrots. Start by planting them in loose, well-drained soil that's been enriched with compost, and mix fertilizer in the planting holes or rows. They probably won't need feeding again.
Beets are truly the rubies of the fall season here in the South, ushering in cooler temperatures, sultry, sugary roots and delicious and nutritious greenery. At our farm, beets can play triple-duty, providing delicious young plant thinning as "baby vegetables" for celebrated chefs like Restaurant Eugene's local hero Linton Hopkins; as well as a tasty green to sauté or steam with garlic and coarse sea salt and; of course, a sweet ruby root for our market customers.
Like spinach and chard, beets live in the chenopod family. In our opinion, they are the hard-won treasures of the garden because of their difficulty to grow in our summer-heavy Southern climate. All seeds' ability to germinate and do well are defined by soil temperature and, in the South, most cool weather crops fair poorly in the deep heat months. On an extended field trip to Vermont this summer, it was surprising to see beets and tomatoes growing alongside one another on friends' farms.

In the South we must wait for the longer nights of fall (or springs' frosty mornings) for the roots and leaves of beets, carrots and collards. Beets — in addition to being chock-full of nutrients, and highly regarded as a "heart healthy" vegetable — have not been overlooked in literature. Of her, Tom Robbins writes, "the beet is the most intense of vegetables. The radish, admittedly, is more feverish, but the fire of the radish is a cold fire, the fire of discontent not of passion. Tomatoes are lusty enough, yet there runs through tomatoes an undercurrent of frivolity. Beets are deadly serious."—Joe and Judith
Red Ace, Ruby Queen, Early Top Wonder, Chiogga Guardsmark.
Though we love the stripy wonder of the Chiogga Guardsmark, we find the young plants nearly impossible to distinguish from pigweed (Amaranthus palmeri), that most cursed, thorny weed. So we only grow the red varieties now.
Earthy, sweet with minerality and depth. Soul satisfying.
In the spring, directly sow seeds a couple of weeks before the last frost. In the fall, sow seeds as soon as you can after summer solstice. Be sure the soil temperature is not too hot so as not to stress the plant or cause it to bolt.
Keep seeds well-watered until germination and begin to cultivate in between the rows as soon as your beet seedlings are established.
Beets are sensitive and grow irregularly in the soil if you have a boron deficiency. Get an annual soil test to determine any missing nutrients or micronutrients.
Make sure to thin beets to 2-4" for best success in growing big roots. Beet "seeds" really contain the potential to germinate multiple seeds.
If you plan to over winter beets, you'll need to cover them with woven fabric for frost protection and make sure to harvest before the first early spring or summer heat wave to avoid any bolting, or flower setting.
Roots can be stored in a root cellar or refrigerator if tops are cut off beforehand. If you hold beets in storage with their green tops still attached, the whole vegetable will wilt.
Though many of us are used to beets straight from the can or jar, nothing beats a farm-fresh, glistening magenta beet. With the right preparation, these are the jewels of your kitchen.
Our friends at FN Dish recommend that when you're selecting beets at the market, look for perky greens, and steer clear of limp, lifeless ones. Because they have a tendency to turn things pink, wear gloves and protect porous surfaces when working with beets in the kitchen. Instead of boring old — anybody can do that — white potatoes chips, load up on nutritious beets by frying them up in delicious Sweet Potato and Beet Chips with Garlic Rosemary Salt. These hearty root vegetables also lend themselves beautifully to roasting. Try the Salt-Roasted Beet Carpaccio from Food Network Magazine, or the heady decadence of Slow-Roasted Beet Salad with Blue Cheese. Better yet, explore FN Dish for even more delicious recipes.
In this Garden to Table feature, farmer-bloggers Judith Winfrey and Joe Reynolds offer their tips for sowing, growing and harvesting. And then we kick it over to FN Dish for some delicious recipes using this seasonal produce.