Dirty Green Tomato Martini
Don't dump that canning brine! Use it to make a fantastic martini.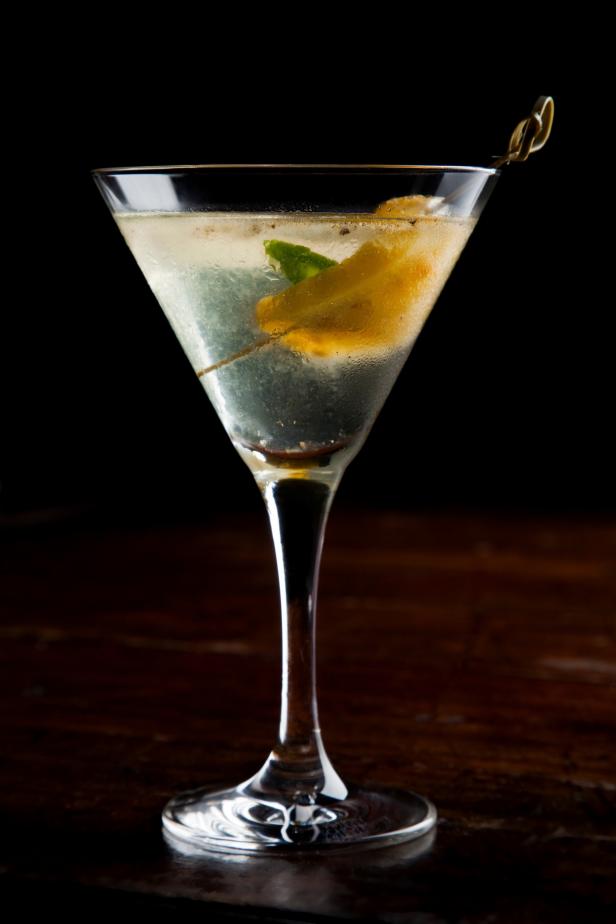 Dirty Green Tomato Martini
The Dirty Green Tomato at The Grocery in Charleston, South Carolina, is flavored with a brine full of onion, green tomatoes, jalapenos, sugar, salt and spices. 
Image courtesy of The Grocery
The Dirty Green Tomato at
The Grocery
in Charleston, South Carolina, is flavored with a brine full of onion, green tomatoes, jalapenos, sugar, salt and spices. 
While many chefs take the nose-to-tail approach when it comes to animals, chef Kevin Johnson of The Grocery in Charleston, South Carolina, takes the same approach to vegetables. He believes in using every possible part and preserving everything he can.

"We preserve for several reasons throughout the year," Johnson says. "Sometimes when we have an abundance of a particular ingredient, sometimes for garnishes, and we always try to preserve fruit for both sweet and savory applications. It allows us to support local farms far more than if we only used the product when it's fresh."

At the "Harvest To The Fullest" class at the 2014 Atlanta Food & Wine Festival, Johnson spoke about "outside the jar" applications for pickled or preserved items. "In addition to adding pickled items to sandwiches or charcuterie plates, we mince them into relish, puree them for marinade or vinaigrettes and use them to flavor braised meats," he says.

But what about the brine? Yep, he has a use for that as well.

Johnson uses the brine from his pickled green tomatoes behind the bar. His Dirty Green Tomato cocktail has just two ingredients: vodka (or gin) and brine. Shake and strain. Done.

"Using the popularity of the dirty martini as inspiration, we used the pickle juice instead of olive juice and it has been on the menu since day one," Johnson says. "It has acidity and salt, which really rounds out the drink. There's a small level of sweetness, but the salt, hint of jalapeno and vinegar make it a really well-rounded cocktail."
2 ounces vodka or gin
1 ounce pickled green tomato brine (recipe below)

Combine vodka and brine in a martini shaker with ice. Shake and strain into a martini glass. Garnish with a pickled green tomato.
Spicy Pickled Green Tomatoes
1 onion, julienned
3 pounds green tomatoes, sliced about 1/4-inch thick, halved if necessary
3 jalapeno peppers, thinly sliced
5 cups white vinegar
2 1/2 cups sugar
2 teaspoons salt
3 tablespoons mustard seeds
2 tablespoons black peppercorns
2 tablespoons celery seed
Pinch of chili flakes

Preheat the oven to 375 degrees F. Place a large canning pot on the stove with enough water to cover the jars.

Toast the spices in an oven-safe dish for 5 minutes or until fragrant.

In a large bowl, combine onions, tomatoes and jalapenos. Place the mixture into sterilized jars. After spices are toasted divide among the jars.

Bring vinegar, sugar and salt to a boil. Carefully pour the mixture into the jars, leaving about 1/4 inches of headroom at the top of the jar. Twist the lids back on, but not too snug. Place jars into the boiling water, let water return to a boil and set the timer for 10 minutes.

Carefully remove the jars and let them rest about 15 minutes. Invert jars for several hours to help create a better seal. Store them at room temperature and wait three days to consume.

You can also do these pickles "icebox style," or in a plastic container in the refrigerator. Let them sit for three days before eating.