The Joys of a Kitchen Garden
Good for the soul -- and the stomach -- kitchen gardens are more than just a source of fresh produce. They're a return to simpler times.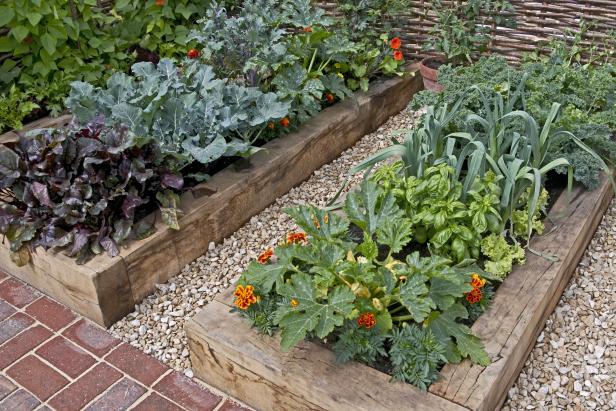 Kitchen Garden With Herbs and Vegetables in Raised Beds
Your kitchen garden can be as elaborate as a large plot of land sporting many raised beds and trellises or as simple as a few pots on a sunny balcony. As long as you have a spot that gets five to six hours of sun (hopefully near the kitchen, thus the name), well-amended soil or a good potting medium and are committed to the process, your garden will thrive.
Ever since I was a child, I've heard about the garden my grandmother nurtured in her backyard in Montebello, Calif. Her larder was filled with beans, tomatoes, squash, berries, lettuce, radishes and onions. Interspersed with the edible crops were lots and lots of fragrant flowers.

My mother, who doesn't recall eating store-bought vegetables until she was fully grown, has kept the memory of her mother's garden alive with her own patch of Japanese eggplants, pickling cucumbers and bumper crops of outrageously sweet tomatoes. She's passed the love of gardening on to her children and is now working on the next generation.

Today's kitchen plot provides gardeners with more than just a way to grow produce not available at the local store. There's nothing quite like working the soil and enjoying the superior taste that comes from pickling fruits, vegetables and herbs right when they're ready. And it doesn't have to be grand.

Your garden can be as elaborate as a large plot of land sporting many raised beds and trellises or as simple as a few pots on a sunny balcony; it can be traditional, containing many of the same crops our elders grew, or more daring, with new ones such as mesclun and tomatillos. As long as you have a spot that gets five to six hours of sun (hopefully near the kitchen, thus the name), well-amended soil or a good potting medium and are committed to the process, your garden will thrive.

Think small, says Paul James, host of Gardening by the Yard. "You'd be amazed at what you can get into 100 square feet or less. That way, when weeds or bugs inevitably attack," he says, "they'll be manageable and you won't throw in the towel and say 'I quit.'"

Paul's first rule for a new gardener is simple: grow what you like. There's no point in planting beets or zucchini if nobody in your household will eat them. Second, consider how big a particular plant will get. Some plants overwhelm the rest of the garden. "I wouldn't consider growing corn or more than a few tomato plants in a small garden," he warns.

Here are the basic steps for a successful kitchen garden:

Select your spot. It should be a sunny, well-drained location, preferably close to the kitchen, that's also sheltered from persistent winds. Measure your plot, then head back indoors for grid paper and a pencil.

Make a plan. Whether your garden will be 20 feet by 20 feet or half that size, plan before you plant, says Michael MacCaskey, author of Gardening for Dummies. He suggests that gardeners leave a central path wide enough to accommodate a wheelbarrow or cart and paths 1-1/2 feet wide between individual beds. Within this space, you can plant such sprawlers as zucchini and cucumbers, vertical crops such as corn, trellis plants like peas and beans, and root plants such as potatoes, carrots and beets. Michael advocates companion planting so crops can help one another thrive. "Lettuce doesn't like the hot afternoon sun so if you plant lettuce to the north of the corn, it will get afternoon shade. This year, I had one trellis with beans, cucumbers and sweet peas, and in their shadow I had parsley, which also loves the shade."

Choose between seeds and bedding plants. The far simpler option is bedding plants purchased from a local nursery or garden center. "There's no calendar counting, no figuring out last frosts," says Michael. Bedding plants also are far more forgiving of soil that hasn't been finely cultivated. If you're using containers or are otherwise tight on space, look for bush or compact varieties. "Nurseries are perfectly fine, too, for buying seeds," he notes. "If you're buying an F1 hybrid and all the companies are selling it, it's exactly the same plant. If it's an open pollinated or heirloom plant, the seed quality could be variable so you want to buy from a reputable source. Then check to see that the packet provides essential information, that the seeds are disease resistant and that the package is easy to reseal if you don't use all the seeds."

Make sure your climate and length of growing season will support the crops you choose. If your season is only two months long, it's pretty hard to grow a melon. If you live in the Southwest, you probably won't have good luck growing the same variety of tomato that people in the Northeast do. Ask your extension agent or an experienced gardener which varieties do best in your area.

Prepare the soil. "If you don't take time to amend the soil, then you can't expect your garden to produce well or to look like the pretty picture you see in books and magazines," says Paul. "I encourage people to add as much organic matter as possible. It's next to impossible to get too much of it. And you do it only once per season." He suggests working leaves, plant waste or other coarse material into the soil in the fall to allow enough time for decomposition. Depending on where you live, you may need to adjust the amount of pH to get it just right for your crops. Most vegetables require a pH of between 6.0 and 6.8. Your local extension office can help you with advice on testing and improving your soil.

Try raised beds. "For a lot of the country, raised beds give you a two-week head start in spring," Paul says. "The soil warms up faster and stays warmer longer so you can extend your growing season another two weeks in the fall." Raised beds also improve drainage and virtually eliminate the soil compaction created by foot traffic: plant roots love fluffy, loose soil. A bed height of eight to 12 inches supported by landscape timbers is ideal.

Schedule your plantings according to heat or chill requirements and days to maturity of each crop. What's frost tolerant? What requires intense heat? For best results, you'll need to know. Some crops do fine in early spring before the last frost. These hardy veggies include beets, carrots, parsnips, peas, radishes and Swiss chard, as well as many salad greens. After the last frost, beans, corn, squash and many herbs can be planted by seed. The most tender of plants — cantaloupe, okra, lima beans, peppers, eggplant and tomatoes — prefer the warmest, sunniest and driest spot in the garden, and should be planted when soil has warmed to at least 60 degrees. Your fall garden can yield broccoli, kale, spinach and turnips well past frost.

Paul suggests staggering planting to make your harvest longer. He uses lettuce as an example. "Plant one row of lettuce, then another one the next week," he explains. "Keep going as long as your season allows so that you're not inundated with, say, four rows of lettuce ripening all at once. That works well with carrots and beans too." After an early crop is harvested, plant a summer one in its place.

Lend a little elbow grease to your garden at least every few days. "A vegetable plant should never falter in its growth," says Michael. "A tree or shrub can go through drought or wintertime; it can experience natural dormancy or natural slow growth. But you never want a vegetable to stop growing. So provide the conditions for optimum growth all the time." That means feeding the plants at appropriate stages of growth, thoroughly watering the soil, weeding, and keeping on top of pests and disease. And, the best of all: picking the bounty when it's ready.

Pest Control: Less Is Usually Best

Before you head for the insecticide, consider Paul James' tips for bug control.

"Oddly enough, cutting back on spray is one of the first steps," he says. "Too often people will reach for a broad-spectrum insecticide, which does get rid of bad bugs but also wipes out the beneficial insects."

A healthy plant can withstand a lot of bugs, Paul says, and if the gardener holds off for about a week, natural predators — such as ground beetles, damsel bugs and braconid wasps — may move in and help control the problem.

For those who want to introduce beneficials, such as ladybugs, be sure there's a good supply of aphids for them; otherwise you'll be doing the entire neighborhood a favor but perhaps nothing for your own garden.

As for four-legged pests that feed off the crops — deer, rabbits and raccoons, for example — Paul is philosophical. He's tried a lot of methods, even exotic elephant manure (which he calls pachy-poo). It is good for the garden, he says, but isn't so hot at controlling wild animals.

Fencing can work with rabbits if it's both high enough and low enough below ground, Paul says, but he thinks the high deer fencing is expensive and obtrusive.

His favorite solution for handling garden pests: figure out how to coexist peacefully — and plant a little extra.