Create a Japanese garden that celebrates nature and provides an escape from everyday stresses.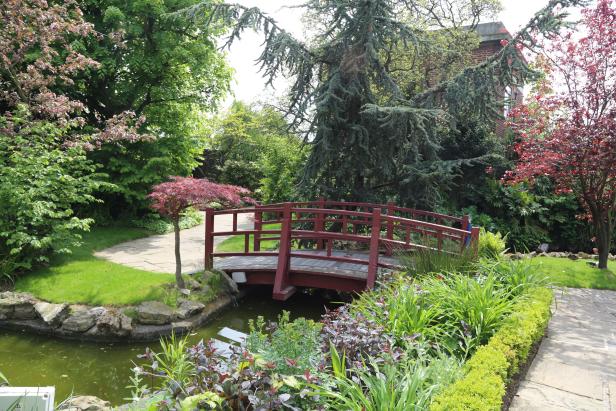 Secret Garden
Hard to believe, this beautiful garden, Japanese maples, lawn, flamingos, wood ducks, bridges and all, exists on the 6th floor of a London building in the midst of a busy high street. Divided into a Spanish, Tudor and English Woodland garden, this magical public garden is a must-see for gardening fans.
Craft the perfect escape from the stresses of modern life with a Japanese garden. This garden design style works hard to create a space that mimics nature in an artistic way. A Japanese garden features specific natural elements: stones, plants and water. Other items, such as gates, fences and ornamental lanterns also contribute to the garden's understated elegance. By presenting these elements in specific ways, a Japanese garden design offers a simple, yet sophisticated beauty.
Early Japanese gardens literally sprouted out of the Zen lifestyle. As a result, Japanese gardens are typically quiet, reflective places that encourage meditation and self-reflection. Each element used in a Japanese garden design is intentionally selected and sited to promote pausing and pondering.

Stones are the most important element in traditional Japanese gardens and may even have spiritual significance. In your Japanese garden, position large rocks first and design the rest of the garden around those. Arrange stones in groups of two, three or five, and strive to create asymmetrical arrangements. To mimic nature, dig the base or portions of a rock into soil.

Plants in a Japanese garden impart profound symbolism. Evergreens, including pines, yews and camellia, represent stability and longevity and are prized because they remain green year-round. Plants that change through the seasons, such as Japanese maples, flowering cherries and azaleas, serve as a powerful reminder that life is short. Other plants commonly used in Japanese garden designs include chrysanthemums, bamboo, rhododendron, Japanese kerria and Japanese iris.

In Japanese gardens, green is the predominant hue, with splashes of color strategically placed. Stones, moss and bamboo contribute quieter hues to the scenery. Select plants carefully with an eye to leaf texture and plant shape to infuse a Japanese garden with subtle beauty and interest.

Water is another key element in a Japanese garden design. The water may be a simple reflecting pool, trickling fountain or splashing waterfall. Some Japanese gardens include a dry creek. Try to include moving water of some form, because that soothing sound encourages meditation.

Bridges also play a role in Japanese gardens. The design can be a basic and functional plank affair, or it can feature intricate arches and carved railings. A raised deck over a dry creek also qualifies as a water element in a Japanese garden, because it gives the illusion of water. Achieve a similar effect by placing stepping stones in a dry creek to serve as a crossing point.

Include meandering footpaths in your Japanese garden, and use a variety of materials underfoot in different sections of your garden. Aim to design a path that forces guest and gardener alike to look where they're walking. This creates a powerful metaphor for dwelling in the moment and contemplating one's path in life.

It's wise to fence your Japanese garden, because the fence shuts out the outside world—literally and figuratively. In a Japanese garden, one should only focus on the scenery at hand and not be distracted by other burdens or concerns. A gate also serves as an effective reminder to leave all troubles outside.