Flower Garden Design Ideas
Give your yard a splash of living color by adding flower gardens. Get tips for creating a beauty spot in any size yard.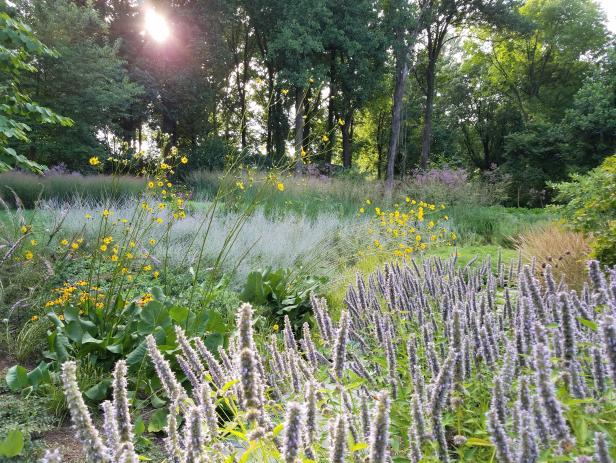 Gorgeous Garden Full of Lush Greenery and Perennials
The changes in light, the movement of herbaceous plants and their continual seasonal evolution make this a beautiful garden to explore.
Discover the satisfaction that flower gardens can bring to your life. Beautiful bloomers fill any setting with color and fragrance and can also grace interior settings with pretty bouquets. Creating eye-catching flower bed designs isn't difficult. Look for flower garden ideas in your neighborhood, on local garden tours and in public gardens. By following a few simple design principles, you can surround your home with beautiful flower gardens.
Start your flower bed designs by determining where you want the bloomers to strut their stuff. Are you creating a view from an existing outdoor space, like a deck, patio or outdoor seating area? Or do you want to design a garden that's viewed from indoors? Consider your options carefully. You might even be able to craft a flower garden design that serves up gorgeous scenery from multiple vantage points.
Once you have your site selected, invest some time to watch the sunlight play through that space. The secret to terrific flower bed designs is putting the right plant in the right place. Some flowers need full sun to stage the most dramatic show; others shun the spotlight and do their best work in low light. Knowing your garden's light level makes plant selection easier.
Create flower bed designs having blocks of the same or similar color. Repeating colors causes the eye to move through the planting, taking in the whole vista. Use clumps of the same plant, such as silver lamb's ears (Stachys byzantina), to pull off this visual effect. Or achieve the same result by repeating the same shade (silver) using different plants, such as Powis Castle artemisia (Artemisia 'Powis Castle'), English lavender (Lavandula angustifolia) and annual dusty miller (Senecio cineraria).
Although you might not think to include foliage plants in flower garden designs, they definitely belong there. Single-hued foliage gives your eye a place to rest among many colorful bloomers. Silver-leafed plants especially provide an effective foil between multihued flowers. White blossoms provide the same result. As you craft flower bed designs, use ornamental grasses, sedges, hostas and other leafy plants to create steady, season-long color.
Include curves in your flower gardens. Curves create a sense of movement for the eye, and they effectively increase your garden space in the wide swoops of the curve. Before creating curves, take a test drive with your mower to make sure you can easily maintain the lawn along the sweep.
With new flower gardens, it's also a good idea to live with a curve a few days before breaking ground. Define your bed edge—including curves—with a rope, garden hose or flour strip. View it from various indoor and outdoor vantage points. If you plan to add a trellis or bench, add that (or a close approximation thereof). Use a stack of pots or bamboo stakes to mimic a trellis you haven't yet purchased. By creating the visual look of your garden, you can refine it before planting.
Include a focal point—an object that commands attention and draws the eye into the planting. This could be a structure, such as a birdbath, tuteur or gazing ball, or it could be a striking plant, such as bear's breeches (Acanthus mollis), New Zealand flax (Phormium spp.) or an artfully pruned shrub or small tree. In curving beds, position focal points at the incurve, the narrow section of the bed. Large containers also make great focal points. Tuck them into beds for a dramatic pause, or use them as a repeating element within a flower garden design.