DIY Craft Project: Make a Just-for-Kids Plant Stand
Get your kids in the garden with this easy and fun family project.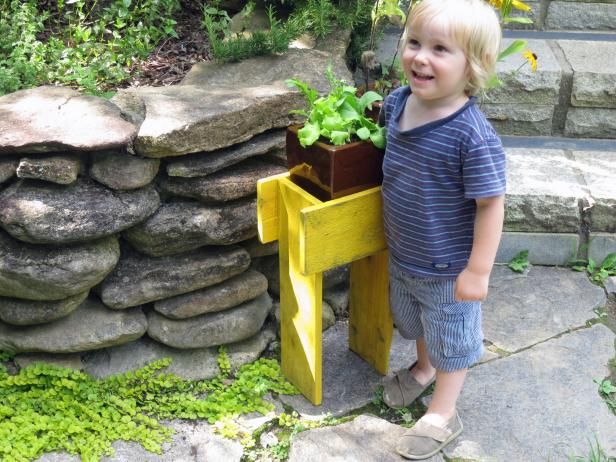 Make a Child's Plant Stand
Crafting plant stands for children is easy to do, beautiful to behold, and a wonderful welcome to the joys of growing food oneself. You will need: wooden window planting box with drainage holes/ two  1" x 6" x 19" boards, preferably cedar / two 1" x 2" boards, at least the width of the top of the planting box, preferably cedar / sixteen 1.25" screws / potting soil / lettuces, leafy greens or herbs
Image courtesy of Ashley English
Children and plant stands are a natural fit. The extra bit of height afforded by the stands takes their shorter stature into account, while simultaneously offering a means of injecting a bit of color and whimsy into the garden. Everyone wins!

As the season begins to shift toward cooler nights and shorter days, many crops grown in spring can again safely be planted. Lettuces, leafy greens and herbs would be ideal for putting in plant stands. Children can be dispatched to fetch some lettuce for a salad or to grab a few sprigs of herbs for flavorings and garnishes. If several children are present in one household, each stand could hold a different lettuce variety. When the salad bowl is passed, pride over "their" lettuce could be displayed!
Here I'm offering two options for creating children's plant stands, each one simple in construction yet beautiful in design. Both options can involve children in the construction, if desired, as long as parents handle the drilling and cutting.

The first option uses a pre-made planter box, attaching it to two boards to create a base stand. The second stand uses four boards to create a cube top. Ceramic, terra cotta or plastic pots can be placed down into the cube. Alternately, large plant pots can be placed atop the cube top. Either way, the bottom of the cube is open, allowing water to drain down and away from the plant.
Cedar is a lovely choice to use with either plant box option, as it's a durable wood that doesn't deteriorate quickly. That way, children can continue to enjoy their plant stands, growing right alongside whatever they've planted!
To get your little ones growing, follow the steps in the gallery below.