Create a Charming Cottage Garden
Add a little romance to your garden with our favorite cottage garden flower and design ideas.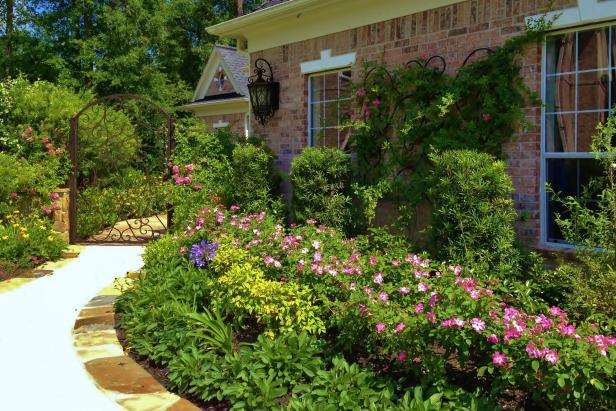 Cottage Landscape - Add Curves
A classic English cottage garden is popular because of the natural feeling they evoke. They feature a colorful array of practical, easy to grow flowers, shrubs, and trees in a traditional setting.
Charming, romantic cottage gardens are believed to have originated during the Elizabethan era. According to historians, they began as informal plantings of vegetables, herbs and fruits around English homes and probably expanded to include flowers and shrubs as families became a little more prosperous and had more leisure time to garden for beauty as well as for food.
Violets, daises, hollyhocks and many other flowers were commonly found in these lovely gardens. Today this "old-fashioned" design is still popular with gardeners who want a natural, casual look.
For a true cottage garden, choose plants with lush, many-petaled blooms; climbing vines, such as clematis, wisteria and honeysuckle; rambling roses; and a rich variety of fragrant flowers and herbs. Don't forget lilacs, hydrangeas and other blooming shrubs.
Perennials make an excellent backbone for these gardens. Tuck daffodils, crocus and other bulbs or annuals in and around them, and add an apple, pear, or crabapple tree if you have room. Remember to let your plants mingle and blend together, and avoid putting them in straight lines. Part of the fun of a cottage style garden is letting your plants grow exuberantly.
Add heirloom plants, if you wish, but don't hesitate to try modern varieties that have been bred to resist diseases and re-bloom vigorously.